The Dentist
The dentist pulls out a Novocain needle to give the man a shot, so he can extract the man's tooth. 'No way! No needles. I hate needles' the patient said.
The dentist starts to hook up the nitrous oxide and the man objects I can't do the gas thing. The thought of having the gas mask on is suffocating to me! The dentist then asks the patient if he has any objection to taking a pill. 'No objection,' the patient says. 'I'm fine with pills.'
The dentist then returns and says, Here's a Viagra tablet.'
The patient says, 'Wow! I didn't know Viagra worked as a pain killer!'
It doesn't' said the dentist, 'but it's going to give you something to hold on to when I pull your tooth.      
#joke
A jeweler watched as a huge tr
A jeweler watched as a huge truck pulled up in front of his store. The back came down and an elephant walked out. It broke one of the windows with its tusk and then, using its trunk like a vacuum cleaner sucked up all of the jewelry. The elephant then got back in the truck and it disappeared out of sight.
When the jeweler finally regained his senses he called the police. The detectives came and he told them his story.
"Could you describe the elephant?" the cop asked.
"An elephant is an elephant," he replied. "You've seen one you've seen them all. What do you mean 'describe' him?"
"Well," said the policeman, "there are two types of elephants, African and Indian. The Indian elephant has smaller ears and is not as large as the African elephant."
"I can't help you out," said the frustrated jeweler, "he had a stocking pulled over his head."
Funny video of the day - Ultimate Explosive Fails Compilation
Because he said ...
R
Because he said ...
My wife only has sex with me for a purpose. Last night she used me to time an egg.
It's tough to stay married. My wife kisses the dog on the lips, yet she won't drink from my glass!
Last night my wife met me at the front door. She was wearing a sexy negligee. The only trouble was, she was coming home.
A girl phoned me and said, 'Come on over. There's nobody home.' I went over. Nobody was home!
A hooker once told me she had a headache!
If it weren't for pickpockets, I'd have no sex life at all.
I was making love to this girl and she started crying I said, 'Are you going to hate yourself in the morning?' She said, 'No, I hate myself now.'
My wife is such a bad cook, if we leave dental floss in the kitchen the roaches hang themselves.
I'm so ugly I stuck my head out the window and got arrested for mooning.
The other day I came home early and a guy was jogging, naked. I asked him, 'Why?'He said, 'Because you came home early.'
My wife's such a bad cook, the dog begs for Alka-Seltzer.
I know I'm not sexy. When I put my underwear on I can hear the Fruit-of-the-Loom guys giggling.
My wife is such a bad cook, in my house we pray after the meal.
My wife likes to talk on the phone during sex; she called me from Chicago last night.
My family was so poor that if I hadn't been born a boy, I wouldn't have had anything to play with.
#joke
"Sailing is like oil
"Sailing is like oil drilling because they're both crewed businesses."
An Unexpected Delay
Mullah Nasruddin had saved up to buy a new shirt. He went to a tailor's shop, full of excitement. The tailor measured him and said, "Come back in a week, and--if Allah wills--your shirt will be ready."
The Mullah contained himself for a week and then went back to the shop. "There has been a delay. But--if Allah wills--your shirt will be ready tomorrow."
The following day Nasruddin returned. "I am sorry," said the tailor, "But it is not quite finished. Try tomorrow, and--if Allah wills--it will be ready."
"How long will it take," asked the exasperated Nasruddin, "if you leave Allah out of it?"
#joke
Although long deceased, Tom an
Although long deceased, Tom and Jerry have received many paws-to-mouse accolades.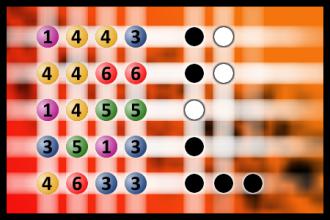 Which is a winning combination of digits?
The computer chose a secret code (sequence of 4 digits from 1 to 6). Your goal is to find that code. Black circles indicate the number of hits on the right spot. White circles indicate the number of hits on the wrong spot.
A middle-aged woman had a hear
A middle-aged woman had a heart attack and was taken to the
hospital. While on the operating table, she had a near death
experience. Seeing God, she asked, "Is my time up?" God said, "No, you
have another 43 years, two months and eight days to live." Upon
recovery, the woman decided to stay in the hospital and have a face-lift,
liposuction and tummy tuck. Since she had so much more time to live, she
figured she might as well look even nicer. After her last operation, she
was released from the hospital. While crossing the street on her way
home, an ambulance killed her. Arriving in front of God, she demanded,
"I thought you said I had another 40 years? Why didn't you pull me out of
the path of that ambulance?" God replied, "Girl, I didn't recognize you"
#joke
What do you want for Christmas?
The Santa Claus at the mall was very surprised when a young lady about twenty years old walked up and sat on his lap. Santa doesn't usually take requests from adults, but she smiled very nicely at him, so he asked her, "What do you want for Christmas?"
"Something for my mother," said the young lady.
"Something for your mother? Well, that's very thoughtful of you,'' smiled Santa. "What do you want me to bring her? "
Without blinking she replied, "A son-in-law!"
Knock Knock Collection 106
Knock Knock
Who's there?
Juicy!
Juicy who!
Juicy what I just saw!
Knock Knock
Who's there?
Julia!
Julia who!
Julia want to come in!
Knock Knock
Who's there?
Julia!
Julia who!
Julia want some milk and cookies!
Knock Knock
Who's there?
Julie!
Julie who!
Julie you door unlocked?
Knock Knock
Who's there?
Juliet!
Juliet who!
Juliet me in or not!
#joke
Elephant fart
Four farmers were seated at the bar in a tavern. At the table next to them sat a young girl.
The first man said, "I think it's WOOMB." The second replied, "No, it must be WOOOOMBH." The third said, "You both have it wrong -- it's WOOM." The fourth stated, "No, it has to be WOOMMMMBBB."
At this, the young lady could stand it no longer. She got up, walked over to the farmers and said, "Look, you hayseeds, it's WOMB. That's it, that's all there is to it." Then she left.
Eventually, one of the famers broke the silence by saying, "Well, I don't know. A slip of a girl like that, I don't see how she could know. I'll bet she's never even heard an elephant fart!"
#joke
A Problemic Polemic
Q: Why did the woman cross the road?
A: Who knows why the heck they do anything?
Two Irishmen friends are drink
Two Irishmen friends are drinking together at one of their homes. One friend takes out a bottle of Irish whiskey and asks the other, "Will you pour this bottle out on my grave if I die first?" His friend replies, "Do you mind if I pass it through my kidneys first?"
The children were lined up in ...
The children were lined up in the cafeteria of a Catholic elementary school for lunch.
At the head of the table was a large pile of apples.
The nun made a note, and posted on the apple tray:
"Take only ONE. God is watching."
Moving further along the lunch line, at the other end of the table was a large pile of chocolate chip cookies.
A child had written a note, "Take all you want. God is watching the apples.
#joke
Clean St. Patrick's Day Jokes
An Irish priest and a Rabbi get into a car accident. They both get out of their cars and stumble over to the side of the road. The Rabbi says, "Oy vey! What a wreck!" The priest asks him, "Are you all right, Rabbi?" The Rabbi responds, "Just a little shaken." The priest pulls a flask of whiskey from his coat and says, "Here, drink some of this it will calm your nerves." The Rabbi takes the flask and drinks it down and says, "Well, what are we going to tell the police?" "Well," the priest says, "I don't know what your aft' to be tellin' them. But I'll be tellin' them I wasn't the one drinkin'."
Casey and Riley agreed to settle their dispute by a fight, and it was understood that whoever wanted to quit should say "Enough." Casey got Riley down and was hammering him unmercifully when Riley called out several times, "Enough!" As Casey paid no attention, but kept on administering punishment, a bystander said, "Why don't you let him up? Don't you hear him say that he's had enough?" "I do," says Casey, "but he's such a liar, you can't believe him.
#joke
True Story
WANTED FOR ATTEMPTED MURDER (actual AP headline) Linda Burnett, 23, a resident of San Diego, was visiting her inlaws, and while there, she went to a nearby supermarket to pick up some groceries.
Several people noticed her sitting in her car with the windows rolled up and with her eyes closed, with both hands behind the back of her head. One customer who had been at the store for a while became concerned and walked over to the car.
He noticed that Linda's eyes were now open, and she looked very strange. He asked her if she was okay, and Linda replied that she'd been shot in the back of the head, and had been holding her brains in for over an hour.
The man called the paramedics, who broke into the car because the doors were locked and Linda refused to remove her hands from her head. When they finally got in, they found that Linda had a wad of bread dough on the back of her head.
A Pillsbury biscuit canister had exploded from the heat, making a loud noise that sounded like a gunshot, and the wad of dough hit her in the back of her head. When she reached back to find out what it was, she felt the dough and thought it was her brains. She initially passed out, but quickly recovered and tried to hold her brains in for over an hour until someone noticed and came to her aid. And, yes, Linda is a blonde.
Who gets the present....
The father of five children had won a toy at a raffle. He called his kids together to ask which one should have the present.
"Who is the most obedient?" he asked. "Who never talks back to Mother? Who does everything she says?"
Five small voices answered in union. "Okay, Dad. You get the toy."
#joke
Answering Machine Message 28

Rod Serling imitation: You're dazed, bewildered, trapped in a world without time, where sound collides with color and shadows explode. You see a signpost up ahead -- this is no ordinary telephone answering device... You have reached, "The Twilight Phone".