"A locksmith is a key
"A locksmith is a key employee."
A man exploring the ancient Py...
A man exploring the ancient Pyramids of Egypt while on vacation stumbled across a secret room. He sneaked away from the tour group and explored the room. He found a dusty lamp and picked it up. While he wiped the dust off the lamp a genie appeared in a puff of smoke.
"For freeing me from my prison, I will grant you a wish, what will it be sire?"
The man thought for a moment, then said, "I want a spectacular job, a job that no man has ever succeeded at or has ever attempted to do."
"Allah Ka Zam!" said the genie. "You're a housewife!"
#joke
Funny video of the day - Best of the Week 2 January 2016
A doctor and his wife...
A doctor and his wife are having an argument in the morning over breakfast and the doctor blurts out, "You know what? You're not that great in bed anyways!"
So he goes off to work and thinks it over and decides to call his wife and make amends.....
So he calls the house and the phone rings many, many times and then his wife finally answers the phone completely out of breath....
So the doctor says, "What were you doing?" and she says, "l was in bed!" and the doctor says, "What were you doing in bed so late in the day?"
The wife says, "getting a second opinion!"
Before ice cream, Ben and Jerr
Before ice cream, Ben and Jerry worked in software, you know, hawkin' DOS.
A woman was found guilty in tr...
A woman was found guilty in traffic court and when asked for her occupation she said she was a schoolteacher. The judge rose from the bench. "Madam, I have waited years for a schoolteacher to appear before this court."
He smiled with delight. "Now sit down at that table and write 'I will not run a red light' five hundred times."
#joke
Photographic memory
Everyone has a photographic memory.
Some don't have film.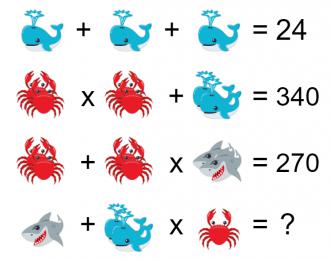 Can you replace the question mark with a number?
MATH PUZZLE: Can you replace the question mark with a number?
Yo mama is so fat China uses h
Yo mama is so fat China uses her to block the internet.
The Yiddish Parrot
Meyer, a lonely widower, was walking home one day. He was wishing something wonderful would happen to his life when he passed a pet store and heard a squawking voice shouting out in Yiddish: "Quawwwwk...vus macht du...!"
Meyer rubbed his eyes and ears. He couldn't believe it! Meyer stood in front of an African Grey that cocked his little head and said: "Vus? Kenst reddin Yiddish?"
In a matter of moments, Meyer purchased the bird and carried the parrot home. All night long he talked with the parrot...in Yiddish. The parrot listened while sharing some walnuts.
The next morning, Meyer began saying his prayers. The parrot wanted to pray, too. Meyer hand made a miniature yamulke for the parrot. The parrot also wanted to read Hebrew, so Meyer spent months teaching him the Torah.
On Rosh Hashanah, Meyer rose, got dressed, and was about to leave when the parrot demanded to go with him. Meyer explained that a synagogue was not a place for a bird, but the parrot pleaded and was carried to the synagogue on Meyer's shoulder.
Meyer was questioned by everyone, including the rabbi. At first, the rabbi refused to allow a bird into the building on the High Holy Days, but Meyer convinced him that the parrot could pray. Wagers were made on whether the parrot could speak Yiddish or not.
All eyes were on the two of them during services. The parrot was still perched on Meyer's shoulder as one prayer and song passed...but the parrot didn't say a word. Annoyed, Meyer said "Pray, parrot! You can pray...do it now while everybody's looking at you!" The parrot said nothing.
After services were over, Meyer realized he owed the synagogue over four thousand dollars. He marched home, saying nothing. Finally, several blocks from the temple, the bird began to sing an old Yiddish song.
Meyer stopped and looked at him. "You miserable bird...you cost me over four thousand dollars today. Why? After I taught you the morning prayers, taught you to read Hebrew and the Torah. And, after you begged me to bring you to a synagogue on Rosh Hashanah...Why did you do this to me?"
"Don't be an idiot," the parrot replied. "Think of the odds we'll get on Yom Kippur!"
#joke
Answering Machine Message 102
With apologies to Robert Burns:
O ma phone is but an ebon box,
Wha' rings when I'm awa'.
And my tape machine waits,
For your call,
This message for ta play.
So leave ye message at the beep,
Then bide ye well a while,
For I will hear your voice,
ONE DAY,
and call ye wi' a smile.
#joke
Snooker Man
y did the snookerman go to the toilet, to pot brown!
After dating a young lady for ...
After dating a young lady for some time a young man decides it is time to marry her.
He proceeds with all the necessary plans and finally the day comes.
On the day of the wedding the young man has yet to pay the pastor for performing the ceremony. However the pastor has a plan.
The service proceeds as planned the vows are exchanged etc. Now it is time for the groom to kiss his bride. The pastor sees this as the perfect opportunity to ask to be paid. He pulls the young man aside and asks him. Can you please pay me?
Not wanting to create a seen the young man asked. How much do I owe you?
The pastor thinks quickly and replies, pay me according to your wife's beauty.
The young man discretely pulled out five dollars and gave it to the pastor.
Although annoyed by this, the pastor continues the ceremony and says; you may now kiss the bride. At this point the veil is lifted from the brides face to allow the groom to kiss her. As the groom is about to kiss his new bride the pastor interrupts and promptly hand the groom four dollars and fifty cents.
#joke
Pete Holmes: Privacy Is Uncool
I think the government made Facebook in an attempt to make privacy uncool. Think about that. I think thats true cause they dont have to tap our phones or survey us when we just yield to them everything, just on our own free will. Home address? Its a little weird, OK. Phone number? Call me. Photos? Photos of everyone I know? Here, let me tag those for you.
#joke
Intelligent Preference
Q: Why do men prefer intelligent women?
A: Opposites attract.
This morning as I was buttonin...
This morning as I was buttoning my shirt, a button fell off.
After that, I picked up my briefcase, and the handle fell off.
Then I went to open the door, and the doorknob fell off.
I went to get into my car, and the door handle came off in my hand.
Now I'm afraid to pee.
#joke