Two Polish guys went away on t
Two Polish guys went away on their annual hunting expedition, and by accident one was shot by the other. His worried companion got him out of the deep woods, into the car, and off to the nearest hospital.
"Well, Doc," he inquired anxiously, "Is he going to make it?"
"It's tough," said the doctor. "He'd have a better chance if you hadn't gutted him first."
When someone says to me great minds think alike
When someone says to me great minds think alike, i just look at them and think "You dirty bastard"
Funny video of the day - Awesome Dads & Kids Edition - Father's Day
"This is what I like
"This is what I like about chiropractors. They always have your back."
Still talking about taxes...
A visitor from Holland was chatting with his American friend and was jokingly explaining about the red, white and blue in the Netherlands flag.
"Our flag symbolizes our taxes," he said. "We get red when we talk about them, white when we get our tax bill, and blue after we pay them."
"That's the same with us," the American said, "only we see stars, too."
#joke
Business One-liners 84
Murphy was an optimist.
My client(sponsor/customer) doesn't know what he wants.
Nature always sides with the hidden flaw.
Nature is a mother.
Nature will tell you a direct lie if she can.
Needs are a function of what other people have.
Never argue with a fool, people might not know the difference.
Never ask the barber if you need a haircut or a salesman if his is a good price.
Never be first to do anything.
Never be last.
#joke
What happens?
What happens when you throw a green rock in the Red Sea?
It gets wet.
Submitted by Calamjo
Edited by Yisman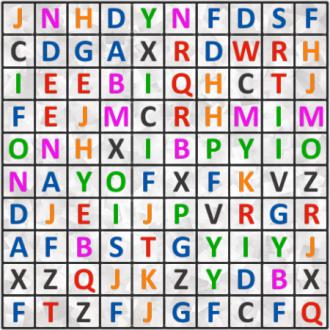 Find a famous person
Find the first and the last name of a famous person. Text may go in all 8 directions. Length of words in solution: 4,5.
David Cameron to his referendu
David Cameron to his referendum foes: "Don't mess with me. I'll EU for Brexit!'
A couple in their nineties are
A couple in their nineties are BOTH having problems remembering things. They decide to go to the doctor for a checkup. The doctor tells them that they're physically in good condition for their age, but if they are having trouble remembering they might want to start writing things down to help them.
Later that night while watching TV, the old man gets up from his chair. "Where are you going?" his wife asks.
"To the kitchen" he replies.
"Will you get me a bowl of ice cream?"
"Sure."
"Don't you think you should write it down so you can remember it?" she asks, recalling the doctor's suggestion.
"No, I can remember it."
"Well, I'd like some strawberries on top, too. You'd better write it down because you know you'll forget it."
He says, "I can remember that! You want a bowl of ice cream with strawberries."
"I'd also like whipped cream. I'm certain you'll forget that, so you'd better write it down!" she retorts.
Irritated, he says, "I don't need to write it down. Just don't start with that! Leave me alone!! Ice cream with strawberries and whipped cream. I got it, for goodness sake!" Then he grumbles on into the kitchen.
After about 20 minutes, the old man returns from the kitchen and hands his wife a plate of bacon and eggs.
She stares at the plate for a moment and says, "Where's my toast?"
Coroners refer to dead people ...
Coroners refer to dead people as "ABC's". Already Been Chucked.
Christopher Titus: Drunk Driving Lecture
Every weekend, I would get the drunk driving lecture. Of course, Dad drank and drove all the time. I guess it wasnt a lecture; it was helpful tips from the master.
Taliban TV Guide
Taliban TV Guide
MONDAYS:
8:00 - "Husseinfeld"
8:30 - "Mad About Everything"
9:00 - "Suddenly Sanctions"
9:30 - "The Brian Benben Bin Laden Show"
10:00 - "Allah McBeal"
TUESDAYS:
8:00 - "Wheel of Terror and Fortune"
8:30 - "The Price is Right If Osama Says Its Right"
9:00 - "Children Are Forbidden From Saying The Darndest Things"
9:30 - "Afganistans Wackiest Public Execution Bloopers"
10:00 - "Buffy The Yankee Imperialist Dog Slayer"
WEDNESDAYS:
8:00 - "U.S. Military Secrets Revealed"
8:30 - "Bowling For Food"
9:00 - "Two Guys, a Girl, and a Pita Bread"
9:30 - "Just Shoot Everyone"
10:00 - "Veilwatch"
THURSDAYS:
8:00 - "Matima Loves Chachi"
8:30 - "M*U*S*T*A*S*H"
9:00 - "Veronicas Closet Full of Long, Black, Shapeless Dresses and Veils"
9:30 - "My Two Baghdads"
10:00 - "Diagnosis: Heresy"
FRIDAYS:
8:00 - "Judge Laden"
8:30 - "Funniest Super 8 Home Movies"
9:00 - "Who Wants To Execute A Multimillionaire"
9:30 - "Achmeds Creek"
10:00 - "No-witness News"
Hang your @
Home is where you hang your @.
Socks...
A young man and a young woman were soon to be married, but they both had a problem they had never told anyone else about. The man approached his father one day before the wedding and told him about his problem. His feet REALLY stunk, even if he washed them constantly, he was worried that this would scare off his new bride, so he needed a solution, fast. His father pondered the situation and finally told his son to wear socks constantly (even to bed) and always wash his feet whenever he got a chance. The son thought about this and went along happy.
The same day the young lady approached her mother and told her about her problem. Her morning breath was horrid. Her mother reassured her and told her everyone had bad morning breath. The young woman told her mother that this was not normal morning breath but easily the worst in the world. The mother thinks about this and comes up with this bright idea. She tells her daughter to get up earlier than everyone else and don't say a thing, go make breakfast and then brush her teeth while the others are eating. The young woman thinks and then runs off to get ready for the wedding, happy.
The couple is married and they are happy, him with his perpetual socks and her with her morning silences. One morning about 5:30 am the young man wakes up to find one sock missing. He starts rustling around in the bed looking for it, which of course wakes up his wife, who without thinking asks what's wrong.
With a look of shock on his face the young man says, "OH MY GOD! You've swallowed my sock!"
#joke