A telephone rang. "Hello! Is y
A telephone rang. "Hello! Is your phone number 444-4444?"
"Yes, it is," came the reply.
"Thank goodness! Could you call 9-1-1 for me? I super-glued my finger to the phone."

"I will tell you a pu
"I will tell you a pun about floating but I'm sorry it wouldn't go down too well."
Funny video of the day - Terrifying blindfolded coconut hammering record
A Fishy Tale...
One day many years ago, a fisherman's wife blessed her husband with twin sons. They loved the children very much, but couldn't think of what to name their children. Finally, after several days, the fisherman said, "Let's not decide on names right now. If we wait a little while, the names will simply occur to us."
After several weeks had passed, the fisherman and his wife noticed a peculiar fact. When left alone, one of the boys would also turn towards the sea, while the other boy would face inland. It didn't matter which way the parents positioned the children, the same child always faced the same direction. "Let's call the boys Towards and Away," suggested the fisherman. His wife agreed, and from that point on, the boys were simply known as TOWARDS and AWAY.
The years passed and the lads grew tall and strong. The day came when the aging fisherman said to his sons, "Boys, it is time that learned how to make a living from the sea." They provisioned their ship, said their goodbyes, and set sail for a three month voyage.
The three months passed quickly for the fisherman's wife, yet the ship had not returned. Another three months passed, and still no ship.
Three whole years passed before the grieving woman saw a lone man walking towards her house. She recognized him as her husband. "My goodness! What has happened to my darling boys?" she cried.
The ragged fisherman began to tell his story:
"We were just barely one whole day out to see when Towards hooked into a great fish. Towards fought long and hard, but the fish was more than his equal. For a whole week they wrestled upon the waves without either of them letting up. Yet eventually the great fish started to win the battle, and Towards was pulled over the side of our ship. He was swallowed whole, and we never saw either of them again."
"Oh dear, that must have been terrible! What a huge fish that must of been! What a horrible fish. What a horrible fish."
"Yes, it was, but you should have seen the one that got Away...."
#joke
When I go to casinos, the most...
When I go to casinos, the most ridiculous sign I see is the one that says: "If you have a gambling problem, call 1-800-GAMBLER."
I thought about it for a moment and dialed the number. When they answered I said, "I have an ace and a six. The dealer has a seven. What do I do?"
#joke
Car Crash
I was recently on vacation in Main when I observed a pretty bad car crash between two police partol cars. The officers were standing around, looking at the damage and they both had a confused look on their faces. I figured that they were trying to figure out what to do because who were they supposed to call, the police?
#joke
Loni Love: All the Holidays
I used to work in an office, and when I worked in an office, I celebrated all the holidays -- Cesar Chavez Day, Labor Day -- just to get a day off of work. It could be KKK Day -- Do I get a day off of work?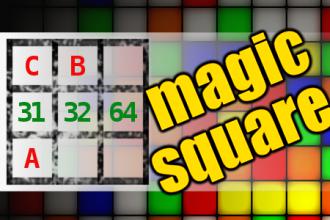 MAGIC SQUARE: Calculate A+B-C
The aim is to place the some numbers from the list (3, 21, 26, 27, 31, 32, 34, 37, 48, 64, 69, 74) into the empty squares and squares marked with A, B an C. Sum of each row and column should be equal. All the numbers of the magic square must be different. Find values for A, B, and C. Solution is A+B-C.
Chuck Norris doesn't cheat dea...
Chuck Norris doesn't cheat death. He wins fair and square.
Speech Impediment
Two life-long friends were enjoying a few pints down at the local bar, when one said to the other: "If I ask you a question, will you promise to answer me honestly?"
"Yeah, sure thing," replied his friend, "fire away."
"Well," said the first guy, "why do you think all the guys around here find my wife so attractive?"
"It's probably because of her speech impediment," replied the second guy.
"What do you mean her speech impediment?"
inquired the first fellow.
"My wife doesn't have a speech impediment!"
"Well," replied his friend, "you must be the only guy who hasn't noticed that she can't say 'NO'!!"
#joke
A 70-year-old man has never be...
A 70-year-old man has never been married. One day, he meets a beautiful 17-year-old girl, and it is love at first sight. They get married and go to Florida for their honeymoon. When they get back, his friend says to him, "So, tell me, how was it?"
"Oh, it was beautiful," says the man. "The sun, the surf, we made love almost every night, we -"
His friend interrupts him. "A man your age! How did you make love almost every night?"
"Oh," says the man, "we almost made love Monday, we almost made love Tuesday..."
News Headlines 03
Two Sisters Reunited after 18 Years in Checkout Counter
Two Soviet Ships Collide, One Dies
Killer Sentenced to Die for Second Time in 10 Years
Never Withhold Herpes Infection from Loved One
Drunken Drivers Paid $1000 in `84
Safety Experts Say School Bus Passengers Should Be Belted
Miners Refuse to Work after Death
If Strike isn't Settled Quickly, It May Last a While
Typhoon Rips Through Cemetery; Hundreds Dead
Cold Wave Linked to Temperatures
Ban On Soliciting Dead in Trotwood
#joke