A man walked into a restaurant...
A man walked into a restaurant and saw a sign that read, "We'll give you $300 if we're unable to serve you any entree you order."
He sat down and told the waitress he wanted elephant liver on rye.
The waitress took the order and left.
All of a sudden, the man heard terrible noises coming from the kitchen - the sound of feet stamping, screaming and the banging of pots and pans.
It went on and on.
The noise finally stopped, and the cook appeared from the kitchen.
He slapped down $300 in front of the customer and said, "I can't believe it. We're out of rye."
#joke
A girl was visiting her blonde...
A girl was visiting her blonde friend, who had acquired two new dogs, and asked her what their names were.
The blonde responded by saying that one was named Rolex and one was named Timex.
Her friend said, 'Whoever heard of someone naming dogs like that?'
'HELLLOOOOOOO......,' answered the blonde. 'They're watch dogs'!
Ma and Pa
Ma & Pa were on the porch & Pa said, " You know, Ma, I'd sure like a big bowl of ice cream."
"OK, Pa", she said, as she shuffled off toward the kitchen.
"Write it down," he said, "...you'll forget"
"Oh, Pa, don't be silly"
"Write it down" he said, "cause I want some chocolate syrup on it.", he insisted.
"Ice cream..with chocolate syrup" she said, as she walked into the kitchen. 10, 15, 20 minutes passed and finally Ma came out & handed Pa a big bowl of oatmeal.
"See, Ma, what'd I tell you....you forgot the toast."
#joke
The NFL Team Names
NFL Team Lame Names
When a football team is having trouble getting into the win column, fans usually assign a more appropriate name to describe that team's performance. Here is a collection of some of these lame names for the NFL.
AFC West:
Denver Broncos - Denver Donkeys
Kansas City Chiefs - Kansas City Griefs
Los Angeles Raiders - Los Angeles Faders
San Diego Chargers - San Diego Rechargers
Seattle Seahawks - Seattle Weehawks
AFC Central:
Cincinnati Bengals - Cincinnati Plaingels
Cleveland Browns - Cleveland Clowns
Houston Oilers - Houston Spoilers
Pittsburgh Steelers - Pittsburgh Reelers
AFC East:
Buffalo Bills - Buffalo Nils
Buffalo Spills
Indianapolis Colts - Indianapolis Dolts
Miami Dolphins - Miami Stallfins
Miami Soft Ones
New England Patriots - New England Patsys
New York Jets - New York Pets
New York Not Yets
NFC West:
Atlanta Falcons - Atlanta Fellcons
New Orleans Saints - New Orleans Aint's
Los Angeles Rams - Los Angeles Lambs
San Francisco 49ers - San Francisco Whiners
NFC Central:
Chicago Bears - Chicago Fairs
Detroit Lions - Detroit Cryin's
Detroit Kittens
Green Bay Packers - Green Bay Fudgepackers
Green Bay Slackers
Green Bay Whackers
Minnesota Vikings - Minnesota Tykes
Minnesota ViQueens
Tampa Bay Buccaneers - Tampa Bay Yuccaneers
NFC East:
Arizona Cardinals - Arizona Tardynals
Dallas Cowboys - Dallas Cowgirls
Dallas Cowpie
New York Giants - New York Midgets
Philadelphia Eagles - Philadelphia Beagles
Washington Redskins - Washington Deadskins
Expansion Teams:
Carolina Panthers - Carolina Can't-thers
Jacksonville Jaguars - Jacksonville Saguars
#joke
Good news...bad news...
"I have good news and bad news," a defense attorney told his client.
"First the bad news: The blood test came back, and your DNA is an exact match with the sample found on the victim's dress."
"Oh, no - I'm ruined!" cried the client. "What's the good news?"
"Your cholesterol is down to 140!"
#joke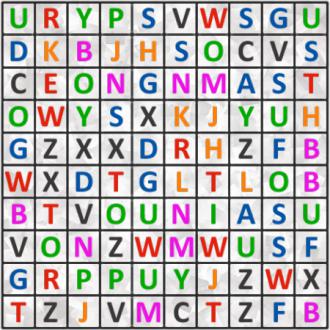 Find a famous person
Find the first and the last name of a famous person. Text may go in all 8 directions. Length of words in solution: 5,4.
Afraid of the Dark
A little boy was afraid of the dark. One night his mother told him to go out to the back porch and bring her the broom.
The little boy turned to his mother and said, "Mama, I don't want to go out there. It's dark."
The mother smiled reassuringly at her son. "You don't have to be afraid of the dark," she explained. "Jesus is out there. He'll look after you and protect you."
The little boy looked at his mother real hard and asked, "Are you sure he's out there?"
"Yes, I'm sure. He is everywhere, and he is always ready to help you when you need him," she said.
The little boy thought about that for a minute and then went to the back door and cracked it a little. Peering out into the darkness, he called, "Jesus? If you're out there, would you please hand me the broom?"
#joke
Jim Gaffigan: The Book vs. the Movie
You ever talk about a movie with someone that read the book? Theyre always so condescending. Ah, the book was much better than the movie. Oh really? What I enjoyed about the movie: no reading.