A Lesson – How to Find the Best Airline Price
I couldn't decide whether to go to Salt Lake City or Denver for vacation, so I called the airlines to get prices. "Airfare to Denver is $300," the cheery salesperson replied.
"And what about Salt Lake City?"
"We have a really great rate to Salt Lake—$99," she said, "but there is a stopover."
"Where?"
"In Denver," she said.
#joke
A police officer responded to...
A police officer responded to a report of a barroom disturbance.
The "disturbance" turned out to be well over six feet tall and weighed almost 300 pounds. What's more, he boasted that he could whip the officer and the "Heavy Weight Boxing Champion of the World."
Said the policeman, "I'll bet that you're also an escape artist too, probably better than Houdini."
The giant nodded.
"If I had some chains," the officer continued, "you could show us how strong you really are. But all I've got is a set of handcuffs. Why don't you see just how quickly you can break out of them?"
Once in the cuffs, the man puffed, pulled and jerked for four minutes.
"I can't get out of these," the giant growled.
"Are you sure?" the officer asked.
The fellow tried again. "Nope," he replied. "I can't do it."
"In that case," said the officer, "you're under arrest."
Mom, mom how was I solve a...
- Mom, mom how was I solve a Rubik's cube in 10 seconds, and the other kids need a lot more time?
- Because you are a colorblind.
"My idea for a hoverc
"My idea for a hovercraft robot vacuum cleaner never really took off."
Santa's favourite metal
Santa's favourite metal band? Sleigher.
A lawyer defending a man accus...
A lawyer defending a man accused of burglary tried this creative defense:
"My client merely inserted his arm into the window and removed a few trifling articles. His arm is not himself, and I fail to see how you can punish the whole individual for an offense committed by his limb."
"Well put," the judge replied. "Using your logic, I sentence the defendant's arm to one year's imprisonment. He can accompany it or not, as he chooses."
The defendant smiled.
With his lawyer's assistance he detached his artificial limb, laid it on the bench, and walked out.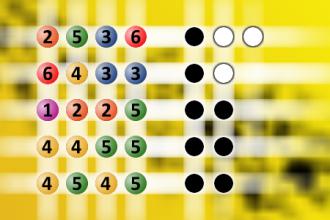 Which is a winning combination of digits?
The computer chose a secret code (sequence of 4 digits from 1 to 6). Your goal is to find that code. Black circles indicate the number of hits on the right spot. White circles indicate the number of hits on the wrong spot.
A Practical Joke Involving Jello
Here's a delightful treat someone once made for an office Christmas party:
A gelatin mold should be made with Knox Unflavored Gelatin and red food coloring. One would think that a flavorless food would not be at all difficult to swallow, but believe me, from the looks of people who inserted cold masses of gelatinous glop into a mouth that was expecting sweets, the experience is unexplainably horrifying! Some claimed to be nauseated by the feel of it; others politely swallowed.
Bee in band class...
The summer band class was just getting under way when a large insect flew into the room. The Sixth Graders, eager to play their shiny new instruments, tried to ignore the buzzing intruder, but eventually one student, Tommy, could stand it no longer. He rolled up his music book and swatted the insect, then he stomped on it to ensure its demise.
"Is it a bee?" another student asked.
"Nope," Tommy replied. "Bee flat."
#joke
A young woman said to her d...
A young woman said to her doctor, 'You have to help me, I hurt all over.' 'What do you mean?' said the doctor. The woman touched her right knee with her index finger and yelled,'Ow, that hurts.' Then she touched her left cheek and again yelled, 'Ouch! That hurts, too.' Then she touched her right earlobe. 'Ow, even THAT hurts.' The doctor asked the woman, 'Are you a natural blonde?' 'Why yes,' she said. 'I thought so,' said the doctor. 'You have a sprained finger.'
Everyday, Chuck Norris goes fo...
Everyday, Chuck Norris goes for a short walk, just to keep the planet spinning.
Arj Barker: No Razors in Halloween Candy
Theres no razor in candy. If for no other reason, it doesnt make financial sense. Its not fiscally prudent. How much does a piece of candy cost -- like, a penny and a half? An apples like 15 cents? Anybody here bought a Mach 3 replacement cartridge recently? Theyre so expensive, they dont even keep them on the shelf. You know, you have to ask the people behind the counter. I feel like Im trying to buy enriched plutonium or something.
Gilbert Gottfried: Spoke to the Animals
A traveling salesman goes to a farm house. The farmer goes, I could put you up for one night, but youll have to stay in the barn. So he spends the night there and the next morning the farmer comes in, he goes, Were you comfortable? He goes, I had a great time; I talked to all the animals. He goes, You talked to the animals? He goes, Yeah I spoke to the chickens, they say you collect the eggs every morning exactly at five minutes after six. He goes, Thats exactly right. He says, The horse tells me his name is Otis, youve owned him for 10 years. He goes, Thats incredible. And he goes, I spoke to the cow, the cow says that her name is Elsie and you milk her every morning at exactly 8:30. And then I spoke to the sheep. And the farmer goes, Those sheep are lying.
#joke
Pickle Slicer
Bill worked in a pickle factory. He had been employed there for a number of years when he came home one day to confess to his wife that he had a terrible compulsion. He had an urge to stick his penis into the pickle slicer. His wife suggested that he should see a sex therapist to talk about it, but Bill indicated that he'd be too embarrassed. He vowed to overcome the compulsion on his own.
One day a few weeks later, Bill came home absolutely ashen. His wife could see at once that something was seriously wrong.
"What's wrong, Bill?" she asked.
"Do you remember that I told you how I had this tremendous urge to put my penis into the pickle slicer?" he asked.
"Oh, Bill, you didn't," she said.
"Yes, I did," he told her.
"My God, Bill, what happened?"
"I got fired."
"No, Bill. I mean, what happened with the pickle slicer?" she asked.
"Oh... she got fired too."
#joke