A small boy is wandering in a
A small boy is wandering in a hotel, and hearing some noises decides to open a door. He says "Wow, it's dark here!"
You can imagine that there's a man with a woman in bed in that room... The man asks, "What do you want? Here's a pound, leave us alone."
A bit latter, the boy goes back again, opens the door, and says: "Wow, it's dark here!"
"Not you again! Here, take this and go buy yourself something." And the boy goes out with 2 pounds.
The following morning, the boy feels some remorse, and tells what happened to his mother. She says: "That's wrong. You should go to the church, and confess yourself."
So there he goes. Entering the booth, he says: "Wow, it's dark here!".
To which the priest says: "Not you again, are you following me around?"
#joke
Valid Identification
DURING a readiness exercise, my friend Jim and I, Air Force security policemen, were guarding entry to a bunker-like structure where aircrafts were kept.
When a pilot about to do a preflight check approached without his identification in plain view, Jim asked him for it.
"I don't see why I have to show you my ID," the pilot snapped. "After all, it is my plane."
"Sir, with all due respect, it may be your plane," replied Jim, "but it's sitting in my garage!"
#joke
Paging John Edward
Twenty happy years later, the man dies, and the woman, Mary, sticks to her vow and visits a seance four weeks later. It went something like this:Mary: "Is there anybody there? I'm seeking my deceased husband John. Is he there?"Strange, booming voice: "Mary? Is that you, Mary?"Mary: "Yes John, is that you?"John: "Yes, it's me."Mary: "How are things where you are, John? What's it like?"John: "Great, Mary. Everyday after breakfast we make love until lunchtime, which lasts about half-hour, then we make love until dinner. After dinner, we make love until we fall asleep. It's great. I can't wait until you get here."Mary (shocked): "Is that what Heaven's like?"John: "I'm not in Heaven." Mary (fearing the worst): "Then where are you?"John: "I'm a rabbit in Florida!"
#joke
"The animal shelter r
"The animal shelter reports having received far fewer dogs this year. 'In fact,' says the shelter's director, 'this represents a mastiff reduction.'"
GREAT TRUTHS THAT LITTLE CHILD
GREAT TRUTHS THAT LITTLE CHILDREN HAVE LEARNED:
1) No matter how hard you try, you can't baptize cats.
2) When your Mom is mad at your Dad, don't let her brush your hair.
3) If your sister hits you, don't hit her back. They always catch the second person.
4) Never ask your 3-year old brother to hold a tomato.
5) You can't trust dogs to watch your food.
6) Don't sneeze when someone is cutting your hair.
7) Never hold a Dust-Buster and a cat at the same time.
8) You can't hide a piece of broccoli in a glass of milk.
9) Don't wear polka-dot underwear under white shorts.
10) The best place to be when you're sad is Grandpa's lap.
GREAT TRUTHS THAT ADULTS HAVE LEARNED:
1) Raising teenagers is like nailing Jell-O to a tree.
2) Wrinkles don't hurt.
3) Families are like fudge...mostly sweet, with a few nuts.
4) Today's mighty oak is just yesterday's nut that held its ground.
5) Laughing is good exercise. It's like jogging on the inside.
6) Middle age is when you choose your cereal for the fiber, not the toy.
GREAT TRUTHS ABOUT GROWING OLD
1) Growing up is mandatory; growing old is optional.
2) Forget the health food. I need all the preservatives I can get.
3) When you fall down, you wonder what else you can do while you're down there.
4) You're getting old when you get the same sensation from a rocking chair that you once got from a roller coaster.
5) It's frustrating when you know all the answers but nobody bothers to ask you the questions.
6) Time may be a great healer, but it's a lousy beautician.
7) Wisdom comes with age, but sometimes age comes alone.
#joke
A new apartment...
Having been married ten years and still living in an apartment, the wife would often complain about anything, as she was tired of saving every penny to buy a "dream home".
Trying to placate her, the husband found a new apartment, within their budget. However, after the first week, she began complaining again.
"Johnatahan," she said, "I don't like this place at all. There are no curtains in the bathroom. The neighbors can see me every time I take a bath."
"Don't worry." replied her husband. "If the neighbors do see you, they'll buy curtains...."
#joke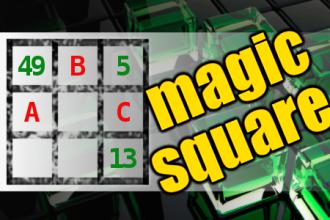 MAGIC SQUARE: Calculate A*B+C
The aim is to place the some numbers from the list (1, 3, 5, 9, 13, 15, 17, 49, 51, 53) into the empty squares and squares marked with A, B an C. Sum of each row and column should be equal. All the numbers of the magic square must be different. Find values for A, B, and C. Solution is A*B+C.
Two Irishmen, Patrick & Michae...
Two Irishmen, Patrick & Michael, were adrift in a lifeboat following a dramatic escape from a burning freighter. While rummaging through the boat's provisions, Patrick stumbled across an old lamp. Secretly hoping that a genie would appear, he rubbed the lamp vigorously. To the amazement of Patrick, a genie came forth.r>r> This particular genie, however, stated that he could only deliver one wish, not the standard three. Without giving much thought to the matter, Patrick blurted out, "Make the entire ocean into Guinness!" The genie clapped his hands with a deafening crash, and immediately the entire sea turned into the finest brew ever sampled by mortals. Simultaneously, the genie vanished. r>r> Only the gentle lapping of Guinness on the hull broke the stillness as the two men considered their circumstances. Michael looked disgustedly at Patrick whose wish had been granted. After a long, tension-filled moment, he spoke: r>r> "Nice going Patrick! Now we're going to have to pee in the boat."
#joke
The End Is Near!
A local priest and a pastor were fishing on the side of the road. They thoughtfully made a sign saying, "The End is Near! Turn yourself around now before it's too late!" and showed it to each passing car. One driver who drove by didn't appreciate the sign and shouted at them, "Leave us alone, you religious nuts!"
All of a sudden they heard a big splash, looked at each other, and the priest said to the pastor, "You think maybe we should have just said 'Bridge Out' instead?"
#joke
Donald Glover: Crazy Men Stories
Why dont women have crazy men stories? I dont really hear them. And then I realized, its because if you got a crazy boyfriend, youre going to die. Just something about men, the second they realize theyre crazy, its like, Time to kill everything I love.
Donald Glover: Gold Star Power
When you get called the n-word, as a black person you can do anything. Its like getting a gold star in Super Mario Brothers and junk. I hear the music when I hear the n-word. I get right into it; I get really into it. You can do anything. You could be in a fancy restaurant -- just start throwing poop at the walls. People be like, What are you doing? Someone called him the n-word.
#joke
First Thing to do after Jail
Bad Bernie was in prison for seven years. The day he got out, his wife and son were there to pick him up. He came through the gates and got into the car.
The only thing he said was, "F.F."
His wife turned to him and answered, "E.F."
Out on the highway, he said, "F.F."
She responded simply, "E.F."
He repeated, "F.F."
She again replied, "E.F."
"Mom! Dad!" their son yelled. "What's going on?"
Bad Bernie answered, "Your mother wants to eat first!"
#joke