"My friend whose visi
"My friend whose vision is deteriorating has a blind faith in his ophthalmologist."
The Engineering Pilot
Why did the Engineering grad became a pilot?
In order to "land" himself a job!
One night a lady with a black
One night a lady with a black eye stumbled into a police station. She told the desk sergeant that she heard a noise in her back yard and went to investigate. The next thing she knew, she was hit in the face and knocked out cold.
An officer was sent to her house to investigate, and he returned a few minutes later, also with a black eye.
"Did you get hit by the same attacker?" his captain asked.
"No, sir," he replied. "I stepped on the same rake."
#joke
Scary Fortune Cookies
The Top 10 Least Desirable Fortunes in a Fortune Cookie


We know where you live.

You will need good reading material in approximately 15 minutes.

Everyone's meal today is on you!

The "special sauce" came from the floor!

Guess what our special "drop" was in our Egg Drop Soup and win a free meal!!

Your colon will self destruct in five seconds.

A recent prison escapee that is sitting near by wants to love you long time.

Your dog Sparky...he's no longer missing.

See the waiter about our new food poison life insurance policies.

MSG? NO!! Ebola Virus....maybe

#joke
I can't believe I made it any
I can't believe I made it anywhere creatively, though, because I was raised by two loving and supportive parents. Nothing squashes creativity more than unconditional love and support from a functional household. If you have kids, sh*t on their dreams a little bit.
Pun With Monks
Lost on a rainy night, a nun stumbles across a monastery and requests shelter there. Fortunately, she's just in time for dinner and was treated to the best fish and chips she's ever had. After dinner, she goes into the kitchen to thank the chefs. She is met by two brothers, "Hello, I'm Brother Michael, and this is Brother Charles." "I'm very pleased to meet you. I just wanted to thank you for a wonderful dinner. The fish and chips were the best I've ever tasted. Out of curiosity, who cooked what?" Brother Charles replied, "Well, I'm the fish friar." She turns the other brother and says, "Then you must be...?" "Yes, I'm the chip monk."
#joke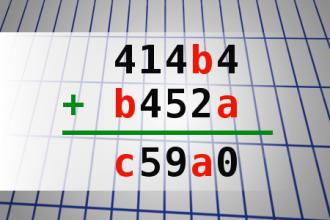 Find number abc
If 414b4 + b452a = c59a0 find number abc. Multiple solutions may exist.
Still talking about taxes...
A visitor from Holland was chatting with his American friend and was jokingly explaining about the red, white and blue in the Netherlands flag.
"Our flag symbolizes our taxes," he said. "We get red when we talk about them, white when we get our tax bill, and blue after we pay them."
"That's the same with us," the American said, "only we see stars, too."
#joke
A devoted wife had spent her l...
A devoted wife had spent her lifetime taking care of her husband. Now he had been slipping in and out of a coma for several months, yet she stayed by his bedside every single day.
When he came to senses, he motioned for her to come near him.
As she sat by him, he said, "You know what? You have been with me all through the bad times. When I got fired, you were there to support me. When my business failed, you were there. When I got shot, you were by my side. When we lost the house, you gave me support. When my health started failing, you were still by my side. You know what?"
"What dear?" she asks gently.
"I think you bring me bad luck."
#joke
All the organs of the body wer...
All the organs of the body were having a meeting, trying to decide who was the one in charge.
"I should be in charge," said the brain, "Because I run all the body's systems, so without me nothing would happen."
"I should be in charge," said the blood, "Because I circulate oxygen all over so without me you'd all waste away."
"I should be in charge," said the stomach," Because I process food and give all of you energy."
"I should be in charge," said the legs, "because I carry the body wherever it needs to go."
"I should be in charge," said the eyes, "Because I allow the body to see where it goes."
"I should be in charge," said the rectum, "Because I'm responsible for waste removal."
All the other body parts laughed at the rectum and insulted him, so in a huff, he shut down tight.
Within a few days, the brain had a terrible headache, the stomach was bloated, the legs got wobbly, the eyes got watery, and the blood was toxic. They all decided that the rectum should be the boss.
The moral of the story? Even though the others do all the work... the @$$hole is usually in charge.
#joke
Help from Grandma
Having been playing outside with his friends, a small boy came into the house and asked: "Grandma, what is it called when two people sleep in the same room and one is on top of the other?"
His grandma was surprised to hear such a forthright question from a six-year-old but decided to answer as honestly as she could. "Well," she said hesitantly, "it's called sexual intercourse."
"Oh, okay," said the boy and he ran outside to carry on playing with his friends.
A few minutes later, he came back in and said angrily: "Grandma, it isn't called sexual intercourse. It's called bunk beds. And Jimmy's mom would like a word with you!"
#joke
A man joins a big corporate em...
A man joins a big corporate empire as a trainee. On his very first day of work, he dials the pantry and shouts into the phone, "Get me a coffee, quickly!"
The voice from the other side responded, "You fool you've dialed the wrong extension! Do you know who you're talking to, dumbo?"
"No," replied the trainee.
"It's the CEO of the company, you fool!"
The trainee shouts back, "And do you know who YOU are talking to, you fool?!"
"No," replied the CEO indignantly.
"Good!" replied the trainee, and puts down the phone.
#joke
Question time
Mr. Smythe had been giving his second-grade students a short lesson on science. He had explained about magnets and showed them how they would pick up nails and other bits of iron. And now it was question time....
"Class," he said, "my name begins with the letter 'M,' and I pick up things....What am I?"
A little boy on the front row said, "You're a mother."
#joke
Kathleen Madigan: Smoking in Public
I was out last Sunday -- I didnt see any signs, nobody to ask, so I lit a cigarette. This woman lost all control of her bodily functions. Put it out, please, put it out. I turned around -- she was three pews away!