Drone stuck in a tree
Getting my toy drone stuck in a tree hasn't been the worst thing that happened to me today.
But it's definitely up there.
By Reddit User https://www.reddit.com/user/porichoygupto/
"We're having a Japa
"We're having a Japanese-themed dinner party. Wanna kimono?"
Calories That Don't Count<
Calories That Don't Count
We have it on experience (our own and thousands of others) that the following food and situations have no calories to speak of (although the knowledgeable might describe them as unspeakable calories.)
OTHER PEOPLE'S FOOD: A chocolate mousse that you did not order has no calories. Therefore, have your companion order dessert and you taste half of it.
INGREDIENTS IN COOKING: Chocolate chips are fattening, about 50 calories a tablespoon. So are chocolate chip cookies! However, chocolate chip eaten while making chocolate chip cookies have no calories whatsoever. Therefore make chocolate chip cookies often but don't eat them.
FOOD ON FOOT: All food eaten while standing has no calories. Exactly why is not clear, but the current theory relates to gravity. The calories apparently bypass the stomach flowing directly down the legs and through the soles of the feet into the floor, like electricity. Walking seems to accelerate this process, so that a frozen custard or hot dog eaten at a carnival actually has a calorie deficit.
CHILDREN'S FOOD: Anything produced, purchased or intended for minors is calorie-free when eaten by adults. This category covers a wide range, beginning with a spoonful of baby tapioca -- consumed for demonstration purposes -- up to and including cookies baked and sent to college.
UNEVEN EDGES: Pies and cakes should be cut neatly, in even wedges or slices. If not, the responsibility falls on the person putting them away to "straighten up the edges" by slicing away the offending irregularities, which have no calories when eaten. If pie or cake is neatly cut, but the remainder is not easily divisible into equal servings, it's also permissible to even things up ... without calorie consequence.
TV FOOD: Anything eaten in front of the TV has no calories. This may have something to do with radiation leakage, which negates not only the calories in the food but also all recollection of having eaten it. Entire no-calorie dinners are now manufactured and frozen for this purpose.
FOOD THAT DOESN'T TASTE GOOD doesn't count. This is an enormous category covering a diverse range including airline food, cafeteria meals, and dinner at your sister-in-law's. Also dinners manufactured to be eaten in front of the TV.
ANYTHING SMALLER THAN ONE INCH: contains no calories to speak of. For example: chocolate kisses, maraschino cherries, cubes of cheese.
LEFT-HANDED FOOD: If you have a drink in your right hand, anything eaten with the other hand has no calories. Several principles are at work here. First of all, you're probably standing up at a cocktail party (see "Food on Foot"). Then there's the electronic field: a wet glass in one hand forms a negative charge to reverse the polarity of the calories attracted to the other hand. I'm not exactly sure how it works, but it's reversible if you're left-handed.
CHARITABLE FOODS: Girl Scout cookies, bake sale cookies, ice cream socials and church strawberry festivals all have a religious dispensation from calories. It's in the Bible.
CAKES WITH WRITING ON THEM: Primarily fat, starch and sugar, all cakes are horrendously fattening. However, the calories can be eliminated simply by inscribing "Happy Birthday, Charlie" or "Good Luck, Alice" in colored icing. Not only is it unnecessary to decline, it's impolite.
FOOD ON TOOTHPICKS: Sausages, cocktail franks, cheese and the like are all fattening unless impaled on frilled toothpicks. The insertion of a sharp object allows the calories to leak out the bottom.
LEFTOVERS: An extra pork chop, the crust of bread, half a Twinkie, anything intended for the garbage has no calories regardless of what happens to it in the kitchen.
FOOD EATEN QUICKLY: If you are rushed through a meal, the entire meal doesn't count. Conversely, if you have ordered something fattening and now regret it, you can minimize its calories by gulping it down.
CUSTOM MADE FOOD: Anything somebody made "just for you" must be eaten regardless of the calories because to do otherwise would be uncaring and insensitive. Your kind intentions will not go unrewarded. (See "Charitable Foods.")
#joke
Vision and Sight
What's the difference between a vision and a sight?
When my wife gets dressed up for a party she looks like a vision and when she wakes up in the morning she's a sight!

Business One-liners 71
If you do not know what you're doing, do it neatly.
If you do not like the answer, you shouldn't have asked the question.
If you do not make dust, you eat dust.
If you do not say it, they can't repeat it.
If you do not understand it, it must be intuitively obvious.
If you explain so clearly that no one can possibly misunderstand, someone will.
If you file it, you'll know where it is but never need it. If you don't file it, you'll need it but never know where it is.
If you have always done it that way, it is probably wrong.
If you have got them by the testicles, their hearts and minds will follow.
If you have nothing to do, don't do it here.
#joke
Perfect...
A friend asked a gentleman how it is that he never married ?
Replied the gentleman, "Well, I guess I just never met the right woman ... I guess I've been looking for the perfect girl."
"Oh, come on now," said the friend, "Surely you have met at least on girl that you wanted to marry."
"Yes, there was one girl .. once. I guess she was the one perfect girl .. the only perfect girl I really ever met. She was just the right everything .. I really mean that she was the perfect girl for me."
"Well, why didn't you marry her," asked the friend.
"She was looking for the perfect man," he said.
#joke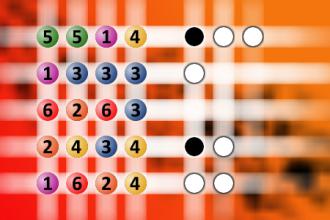 Find the right combination
The computer chose a secret code (sequence of 4 digits from 1 to 6). Your goal is to find that code. Black circles indicate the number of hits on the right spot. White circles indicate the number of hits on the wrong spot.
I checked into a hotel on a bu
I checked into a hotel on a business trip and was a bit lonely so I thought I'd get me one of those girls you see advertised in phone booths when you're calling for a cab. I grabbed a card on my way in. It was an ad for a girl calling herself Erogonique, a lovely girl, bending over in the photo. She had all the right curves in all the right places, beautiful long wavy hair, long graceful legs all the way up. You know the kind. So I'm in my room and figure, what the heck, I'll give her a call.
"Hello?" the woman says.
Wow! she sounded sexy. "Hi, I hear you give a great massage and I'd like you to come to my room and give me one. No, wait, I should be straight with you. I'm in town all alone and what I really want is $ex. I want it hard, I want it hot, and I want it now. I'm talking kinky the whole night long. You name it, we'll do it. Bring implements, toys, everything you've got in your bag of tricks. We'll go hot and heavy all night; Tie me up, wear a strap on, cover me in chocolate syrup and whipped cream, anything you want baby. Now, how does that sound?"
She says, "That sounds fantastic,...... but for an outside line Sir, you need to press 9."
#joke
John Oliver: Taxation Without Representation
Frankly, I could not f**king believe I was not allowed to vote. Three and a half years Ive lived here! I work hard -- relatively speaking for someone who does this for a living. I pay my taxes. I try to fit in. Ive learnt your rudimentary language. I dont know what more you could reasonably expect me to do. And thats when it hit me. I know why Im so angry. I know what this is -- taxation without representation. Now I get it. Now I see why you got so pissy about it all those years ago. It is annoying. You were right. It is annoying and consider that as close to an apology as you are ever going to get.
#joke
For beer drinkers
"Sometimes when I reflect back on all the beer I drink I feel ashamed. Then I look into the glass and think about the workers in the brewery and all of their hopes and dreams. If I didn't drink this beer, they might be out of work and their dreams would be shattered. Then I say to myself, "It is better that I drink this beer and let their dreams come true than be selfish and worry about my liver." ~ Jack Handy
~~~~~~~~~~~~~
"I feel sorry for people who don't drink. When they wake up in the morning, that's as good as they're going to feel all day. " ~ Frank Sinatra
~~~~~~~~~~~~~
"When I read about the evils of drinking, I gave up reading." ~ Henny Youngman
~~~~~~~~~~~~~
"24 hours in a day, 24 beers in a case. Coincidence? I think not." ~ Stephen Wright
~~~~~~~~~~~~~
"When we drink, we get drunk. When we get drunk, we fall asleep. When we fall asleep, we commit no sin. When we commit no sin, we go to heaven. Sooooo, let's all get drunk and go to heaven!" ~ Brian O'Rourke
~~~~~~~~~~~~~
"Beer is proof that God loves us and wants us to be happy." ~ Benjamin Franklin
~~~~~~~~~~~~~
"Without question, the greatest invention in the history of mankind is beer. Oh, I grant you that the wheel was also a fine invention, but the wheel does not go nearly as well with pizza." ~ Dave Barry
~~~~~~~~~~~~~
~~~~~~~~~~~~~
Remember "I" before "E", except in Budweiser.
Submitted by Curtis
Edited by calamjo, yisman and Tantilazing
Welles and Link were lost in t...
Welles and Link were lost in the desert and hadn't eaten in weeks. Suddenly they stumbled on a dead coyote covered with maggots.
Welles, at the point of starvation, couldn't control himself. He threw himself on the rotting animal and began eating it. Ten minutes later, he threw up all over the place.
At that moment, Link began eating what his friend had just vomited. He stopped for a moment and said, "I knew if I waited long enough I'd have a hot meal!"
#joke
Nerd Season
A truck driver, hauling a tractor-trailer load of computers, stops for a beer. As he approaches the bar, he sees a big sign on the door that says, "COMPUTER NERDS NOT ALLOWED - ENTER AT YOUR OWN RISK!" He enters and sits down.
The bartender comes over to him, sniffs, and says that he smells kind of nerdy. He then asks him what he does for a living. The truck driver explains to him that he drives a truck, and the smell is just from the computers he is hauling. The bartender serves him a beer and says, "OK, truck drivers aren't nerds."
As he is sipping his beer, a skinny guy walks in wearing a pair of glasses with tape around the middle, a pocket protector with twelve kinds of pens and pencils, and a belt that is at least a foot too long. The bartender, without saying a word, pulls out a shotgun and blows the guy away. The truck driver asks him why he did that.
The bartender replied, "Don't worry. The computer nerds are in season because they are overpopulating Silicon Valley. You don't even need a license."
So the truck driver finishes his beer, gets back in his truck, and heads for the freeway. Suddenly, he veers to avoid an accident, and the load shifts. The back door breaks open and computers spill out all over the road. He jumps out and sees a crowd already forming, snatching up all of the computers. The scavengers are comprised of engineers, accountants and programmers - computer geeks. Each of them wearing the nerdiest clothes he has ever seen.
He can't let them steal his whole load. So remembering what happened in the bar, he pulls out his gun and starts blasting away, killing several of them instantly. A highway patrol officer comes zooming up and jumps out of the car screaming at him to stop.
The truck driver said, "What's wrong? I thought computer nerds were in season."
"Well, sure," says the patrolman, "But you can't bait 'em!"