Happy New Year 2021!!
Social climbers are trying to
Social climbers are trying to reach higher into the statusphere.
Your Dreams
"Don't give up on your dreams."
"Really? You mean it?"
"Yeah, just keep sleeping."

A guy came into a bar one day
A guy came into a bar one day and said to the barman, "Give me six double vodka."
The barman says, "Wow! you must have had one really bad day."
"Yes, I've just found out my older brother is gay."
The next day the same guy came into the bar and asked for the same drinks. When the bartender asked what the problem was today the answer came back, "I've just found out that my younger brother is gay too!"
On the third day the guy came into the bar and ordered another six double vodkas. The bartender said, "Wow! Doesn't anybody in your family like women?"
"Yeah, my wife..."
#joke
Signs of the times...
A man was sitting in a bar and noticed a group of people using sign language. He also noticed that the bartender was using sign language to speak to them.
When the bartender returned to him, the man asked how he had learned to use sign language. The bartender explained that these were regular customers and had taught him to speak in sign. The man thought that was great.
A few minutes later the man noticed that the people in the group were waving their hands around very wildly. The bartender looked over and signed "Now cut that out! I warned you!" and threw the group out of the bar.
The man asked why he had done that and the bartender said, "If I told them once I told them 100 times - NO SINGING IN THE BAR!"
#joke
After a night on the town, a y
After a night on the town, a young woman brought a new friend home for a late-night drink. "You can't make any noise," she warned him. "My parents are upstairs and if they find out they'll kill us."
Things started getting heated on the sofa, but after a while alcohol got the better of the man. "I have to go," he said.
"Well you can't go upstairs. The bathroom is right next to my parents' bedroom," she replied. "Use the kitchen sink."
So he dutifully retired to the kitchen. A few minutes later, he popped his head around the door and asked, "Do you have any toilet paper, or should I just use a paper towel?"
#joke
Workplace Insanity
HOW TO MAINTAIN A HEALTHY LEVEL OF INSANITY IN THE WORKPLACE
Page yourself over the intercom. Don't disguise your voice.
Find out where your boss shops and buy exactly the same outfits. Wear them one day after your boss does. This is especially effective if your boss is of a different gender than you.
Make up nicknames for all your coworkers and refer to them only by these names. "That's a good point, Sparky." "No, I'm sorry, but I'm going to have to disagree with you there, Cha-cha."
Send e-mail to the rest of the company telling them exactly what you're doing. For example: "If anyone needs me, I'll be in the bathroom."
Hi-Lite your shoes. Tell people you haven't lost them as much since you did this.
While sitting at your desk, soak your fingers in Palmolive liquid. Call everyone Madge.
Hang mosquito netting around your cubicle. When you emerge to get coffee or a printout or whatever, slap yourself randomly the whole way.
Put a chair facing a printer. Sit there all day and tell people you're waiting for your document.
Every time someone asks you to do something, anything, ask him or her if they want fries with that.
Send e-mail back and forth to yourself engaging yourself in an intellectual debate. Forward the mail to a co-worker and ask her to settle the disagreement.
Encourage your colleagues to join you in a little synchronized chair-dancing.
Put your trash can on your desk. Label it "IN."
Feign an unnatural and hysterical fear of staplers.
Send e-mail messages saying there's free pizza or donuts or cake in the lunchroom. When people drift back to work complaining that they found none, lean back, pat your stomach and say, "Oh you've got to be faster than that."
Put decaf in the coffee maker for three weeks. Once everyone has withdrawn from caffeine addiction, switch to espresso.
#joke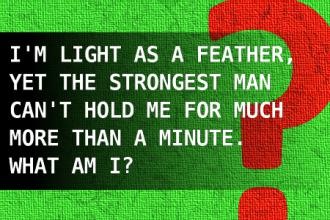 I'm light as a feather, yet th...
I'm light as a feather, yet the strongest man can't hold me for much more than a minute. What am I?
Myq Kaplan: New Game Show
I have a new idea for a game show for people who are high, and its called Can You Remember What You Just Saw? Thats actually the bonus round. Round one is Can You Describe Whats in Front of You Right Now? OK, you got it? Were going to take it away. What was it? We will not accept awesome.
They once tried to carve Chuck...
They once tried to carve Chuck Norris' face into Mount Rushmore, but the granite wasn't hard enough for his beard.
Dov Davidoff: Dressing Up Like a Referee
I like to dress up as a referee and walk into a Foot Locker. You gotta try this. It freaks them out. They get all insecure. The guys like, Wait a second, can I help you? I was like, Can I help you, man? I, too, am a referee. Maybe we could work it out together. And then someone will ask me for a size 10, and Ill be like, Do I look like I work here, chief?
#joke
Blonde - Tracks
Three Blonds are walking down the street when they see some
tracks. The first one said "I think they are dog tracks", The
second one said "I think they are cow tracks". The third one
said "I think they are Dodo bird tracks". What happened next?
They all got hit by a train!
Eugene Mirman: Kids Say the Darnedest Things
A lot of people think kids say the darnedest things, but so would you if you had no education.