Old Doc Geezer
Don't You Think....
Contributed by Harvey Beemer
Father: Don't you think our son gets his brains from me?

Mother: Probably, dear. I still have all of mine.
 
A man walks into a store and i
A man walks into a store and is looking at the handbags. He picks one up and asks the assistant how much it would cost.
The assistant replies "£200 for that one".
Shocked the customer says "£200! Why does it cost so much? It's only small and doesn't look anything special."
The assistant says, "It's the material it's made of."
Confused the customer asks, "What is it made of then?"
The assistant grins and says, "Foreskin. It's unique -- you give it a bit of a rub and a lick and it grows into a suitcase!"
#joke
Funny video of the day - Best Fails of the Week 2 April 2015
A Recently Spotted Bumper Sticker:
"Hail to the Sun God, For he is a Fun God, Ra Ra Ra."
The suggestion of a manned mis
The suggestion of a manned mission to Mars is rather crewed.
A wife went to the police stat
A wife went to the police station with her next-door neighbor to report that her husband was missing. The policeman asked for a description. She said, "He's 35 years old, 6 foot 4, has dark eyes, dark wavy hair, an athletic build, weighs 185 pounds, is soft-spoken, and is good to the children." The next-door neighbor protested, "Your husband is 5 foot 4, chubby, bald, has a big mouth, and is mean to your children." The wife replied, "Yes, but who wants HIM back?"
A man is sitting at the bar in
A man is sitting at the bar in his local tavern, furiously imbibing shotsof whiskey. One of his friends happens to come into the bar and sees him.
"Lou," says the shocked friend, "what are you doing? I've known you forover fifteen years, and I've never seen you take a drink before. What'sgoing on?"
Without even taking his eyes off his newly filled shot glass, the manreplies, "My wife just ran off with my best friend."
He then throws back another shot of whisky in one gulp.
"But," says the other man, "I'm your best friend!"
The man turns to his friend, looks at him through bloodshot eyes, smiles,and then slurs, "Not anymore! He is!"
#joke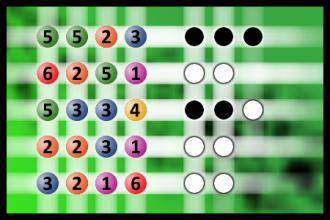 Find the right combination
The computer chose a secret code (sequence of 4 digits from 1 to 6). Your goal is to find that code. Black circles indicate the number of hits on the right spot. White circles indicate the number of hits on the wrong spot.
Olive oil....
Trying to control her frizzy and dry hair, Kay treated her scalp with olive oil before washing it. Worried that the oil might leave an odor than that her hair obviously needed it, she washed her hair several times with strong soap.
That night when Kay went to bed, she leaned over to her husband and asked, "Do I smell like olive oil?"
"Why ?" he asked, pulling back. "Do I smell like Popeye?"
#joke
Better Prison Foods
Subject: You Deserve a Break Today
San Francisco (UPI)--In what legal observers are already calling a landmark decision in the case of Jackson v. California, the California Supreme Court has recognized for the first time a constitutional right to chicken done right.
The high court held that under the the due process clause and the constitutional prohibition of cruel and unusual punishment, Joseph Jackson, a prisoner at the California Men's Correctional Institue at Camarillo, is entitled to food "of fair average quality," or "comparable to the fare at a modest restaurant or fast-food chain."
Mr. Jackson had complained of the poor quality of the prison kitchen's Coq au Vin ....
#joke
Limo driver
After getting all of the Pope's luggage loaded into the limo ( he doesn't travel light), the driver notices that the Pope is still standing on the curb.
"Excuse me, your Eminence, "says the driver, "Would you please take your seat so we can leave?"
"Well, to tell you the truth," says the Pope, "they never let me drive at the Vatican, and I'd really like to drive today."
"I'm sorry, but I cannot let you do that. I'd lose my job! And what if something should happen?" protests the driver, wishing he'd never gone to work that morning.
"There might be something extra in it for you," says the Pope.
Reluctantly, the driver gets in the back as the Pope climbs in behind the wheel.
The driver quickly regrets his decision when, after exiting the airport, the Supreme Pontiff floors it, accelerating the limo to 105 mph.
"Please slow down, your Holiness!" pleads the worried driver, but the Pope keeps the pedal to the metal until they hear sirens.
"Oh, dear God, I'm gonna lose my license," moans the driver.
The Pope pulls over and rolls down the window as the cop approaches, but the cop takes one look at him, goes back to his motorcycle, and gets on the radio.
"I need to talk to the Chief," he says to the dispatcher.
The Chief gets on the radio and the cop tells him that he's stopped a limo going a hundred and five.
"So bust him," said the Chief.
"I don't think we want to do that, he's really important," said the cop.
Chief exclaimed, "All the more reason!"
"No, I mean really important," said the cop.
The Chief then asked, "Who ya got there, the Mayor?"
Cop: "Bigger."
Chief: "Governor?"
Cop: "Bigger."
"Well," said the Chief, "Who is it?"
Cop: "I think it's God!"
Chief: "What makes you think it's God?"
Cop: "He's got the Pope for a limo driver!
Submitted by NCrespi
Edited by Curtis
#joke
Maria, a devout Catholic, got
Maria, a devout Catholic, got married and had 15 children. After her first husband died, she remarried and had 15 more children. A few weeks after her second husband died, Maria also passed away. At Maria's funeral, the priest looked skyward and said, "At last, they're finally together." Her sister sitting in the front row said, "Excuse me, Father, but do you mean she and her first husband, or she and her second husband?" The priest replied, "I mean her legs."
#joke
"I met a quantum phys
"I met a quantum physicist the other day, he had a few quarks."
Biker's Dog
A highly timid little man, ventured into a biker bar in the Bronx and clearing his throat asked, "Um, err, which of you gentlemen owns the Doberman tied outside to the parking meter?"
A giant of a man, wearing biker leathers, his body hair growing out through the seams, turned slowly on his stool, looked down at the quivering little man and said, "It's my dog. Why?"
"Well," squeaked the little man, obviously very nervous, "I believe my dog just killed it, sir."
"What?" roared the big man in disbelief. "What in the hell kind of dog do you have?"
"Sir," answered the little man, "it's a little four week old female puppy."
"Bull!" roared the biker, "how could your puppy kill my Doberman?"
"It appears that your dog choked on her, sir."      
#joke
Complete and Finished
There is a subtle but important difference between the words "complete" and "finished."
When you marry the right one, you are complete.
When you marry the wrong one, you are finished.
And if the right one catches you with the wrong one, you are completely finished.
A young lady came home from a ...
A young lady came home from a date, rather sad. She told her mother, "Jeff proposed to me an hour ago."
"Then why are you so sad?" her mother asked.
"Because he also told me he was an atheist. Mom, he doesn't even believe there's a hell."
Her mother replied, "Marry him anyway. Between the two of us, we'll show him how wrong he is."
#joke
Actual Answer from a Medical Student
While making his rounds, a doctor points out an x-ray to a group of medical students.
"As you can see," he says, "the patient limps because his left fibula and tibia are radically arched."
The doctor turns to one of the students and asks, "What would you do in a case like this?"
"Well," ponders the student, "I suppose I'd limp, too."
"Simon, if I had eight apples ...
"Simon, if I had eight apples in my right hand and ten apples in my left hand, what would I have?"

"Huge hands, sir."