Be rady for Thanksgiving
, check out our latest
Thanksgiving jokes of 2021
on:
Thanksgiving jokes collection
Weight Problem
A young woman was having a physical examination and was embarrassed because of a weight problem. As she removed her last bit of clothing, she blushed. "I'm so ashamed, Doctor," she said, "I guess I let myself go."
The physician was checking hers eyes and ears. "Don't feel ashamed, Miss. You don't look that bad."
"Do you really think so, Doctor?" she asked.

The doctor held a tongue depressor in front of her face and said, "Of course. Now just open your mouth and say moo."
My First Irish Drink With My Son
I got him a Guinness. He didn't like it, so I drank it.
Then I got him a Kilkenny, he didn't like that either, so I drank it.
It was the same with the Murphy's and the Harps's.
I thought maybe he'd like whiskey better than beer so we tried a Bushmills, nope!
By the time I realized he just didn't like to drink I was so shit-faced I could hardly push the stroller back home!
Funny video of the day - Cat and Fish in a Bathtub
Two buddies were sharing drink
Two buddies were sharing drinks while discussing their wives.
"Do you and your wife ever do it doggie style?"
"Well... not exactly." his friend replied. "She's more into the trick dog aspect of it."
"Oh, I see, kinky, huh?"
"Well... not exactly... I sit up and beg and she rolls over and plays dead."
#joke
Pork at a July 4th Picnic
A priest and a rabbi met at the annual July 4th picnic. They were old friends and loved to tease one another.
"This baked ham is really good," said the priest. "You really ought to break down and try some."
"I will, I will," replies the rabbi, smiling, "at your wedding."
This joke was reprinted from "
The Book of Catholic Jokes
" by Deacon Tom Sheridan, with permission of
ACTA Publications
. Copyright 2008. All rights reserved.
#joke
If I shoved potatoes down my p
If I shoved potatoes down my pants, would it make me a dictator?

THE CAT:
One da
THE CAT:
One day, a cat dies of natural causes and goes to heaven, where he meets the Lord Himself.
The Lord says to the cat, "You lived a good life, and if there is any way I can make your stay in heaven more comfortable, please let me know."
The cat thinks for a moment and says, "Lord, all my life I have lived with a poor family and had to sleep on a hard wooden floor."
The Lord stops the cat and says, "Say no more," and a wonderful, fluffy pillow appears.
A few days later, six mice are killed in a tragic farming accident, and all of them go to heaven.
Again, the Lord is there to greet them with the same offer.
The mice answer, "All our lives we have been chased.
We have had to run from cats, dogs, and even women with brooms.
Running, running, running; we're tired of running.
Do you think we could have roller skates so that we don't have to run anymore?"
The Lord says, "Say no more" and fits each mouse with beautiful new roller skates.
Week later, the Lord stops by to see the cat and finds him snoozing on the pillow.
The Lord gently wakes the cat and asks him, "How are things since you got here?"
The cat stretches and yawns, then replies, "It is wonderful here.
Better than I could have ever expected. And those 'Meals On Wheels' you've been sending by are the best!"
#joke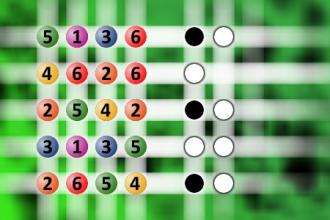 Which is a winning combination of digits?
The computer chose a secret code (sequence of 4 digits from 1 to 6). Your goal is to find that code. Black circles indicate the number of hits on the right spot. White circles indicate the number of hits on the wrong spot.
Little Johnny learns to count...
The teacher asks little Johnny if he knows his numbers.
"Yes," he says, "I do. My father taught me."
"Good. What comes after three."
"Four," answers little Johnny.
"What comes after six?"
"Seven."
"Very good," says the teacher. "Your dad did a good job. What comes after ten?"
Little Johnny smiles and says, "Jack."
#joke
Mary Poppins Moved

It seems that Mary Poppins has moved to California. She has started a business telling people's fortunes. But, she doesn't read palms or tea leaves, she smells one's breath. That, right, the sign outside reads: Super California Mystic Expert Halitosis.


Business one-liners 67
If opportunity came disguised as temptation, one knock would be enough.
If people listened to themselves more often, they would talk less.
If reproducibility might be a problem, conduct the test only once.
If some people didn't tell you, you'd never know they'd been away on vacation.
If something is confidential, it will be left in the photocopy machine.
If something is done wrong often enough, it becomes right.
If 'success' consisted simply of not taking chances, then 'glory' would be at the disposal of the most mediocre talent.
If the assumptions are wrong, the conclusions are not likely to be very good.
If the code and the comments disagree, then both are probably wrong.
If the probability of success is not almost one, it is very near zero.
#joke
Cat Hospital
Q: Why did the cat go to the hospital?
A: To have a CAT scan done.
A police officer attempts to s
A police officer attempts to stop a car for speeding and the guy gradually increases his speed until he's topping 100 mph. The man eventually realizes he can't escape and finally pulls over. The cop approaches the car and says, "It's been a long day and my shift is almost over, so if you can give me a good excuse for your behavior, I'll let you go." The guy thinks for a few seconds and then says, "My wife ran away with a cop about a week ago. I thought you might be that officer trying to give her back!"
#joke
"I met a quantum phys
"I met a quantum physicist the other day, he had a few quarks."
A southern farmer got in his p...
A southern farmer got in his pickup and drove several miles to a neighboring farmand knocked on the farmhouse door. A young boy, about 12, opened the door. "Is yerpa home?" he asked.
"No sir, he sure ain't," the boy replied. "He went to town."
"Well," said the farmer. "Is yer ma home?"
"No, she ain't here either. She went to town with pa." "Well, then, how about yer brother, Joe, is he here?" "No sir, hewent with pa and ma."
The farmer stood there for a few minutes, shifting from onefoot to the other, and mumbling to himself.
"Is there anything I kin do fer ya'?" inquired the young boy politely. "I know whereall the tools are, if you want to borry one; Or maybe I could take a message ferpa."
Well," said the farmer uncomfortably, "I really wanted to talk to yer pa. It's aboutyour brother Joe getting my daughter, Pearly Mae, pregnant."
The boy considered for a moment. "You would have to talk to pa about that," he finallyconceded. "I know that pa charges $500 for the bull and $250 for the boar hog, butI really don't know how much he gets for Joe."
#joke
A Bunny Story
Once upon a time there was a man who was peacefully driving down a windy road. Suddenly, a bunny skipped across the road and the man couldn't stop. He hit the bunny head on. The man quickly jumped out of his car to check the scene. There, lying lifeless in the middle of the road, was the Easter Bunny.
The man cried out, "Oh no! I have committed a terrible crime! I have run over the Easter Bunny!"
The man started sobbing quite hard and then he heard another car approaching. It was a woman in a red convertible. The woman stopped and asked what the problem was.The man explained, "I have done something horribly sad. I have run over the Easter Bunny. Now there will be no one to deliver eggs on Easter, and it's all my fault."
The woman ran back to her car. A moment later, she came back carrying a spray bottle. She ran over to the motionless bunny and sprayed it. The bunny immediately sprang up, ran into the woods, stopped, and waved back at the man and woman. Then it ran another 10 feet, stopped, and waved. It then ran another 10 feet, stopped, and waved again. It did this over and over and over again until the man and the woman could no longer see the bunny.
Once out of sight, the man exclaimed, "What is that stuff in that bottle?"
The woman replied, "It's harespray. It revitalizes hare and adds permanent wave."
#joke
Facts of life...
Morris asks his son, now aged 13, if he knows about the birds and the bees. "I don't want to know!" the child said, bursting into tears. Confused, the father asked his son what was wrong.
"Oh dad," he sobbed, "at age six I got the 'there's no Santa' speech. At age seven I got the 'there's no Easter bunny' speech. Then at age 8 you hit me with the 'there's no tooth fairy' speech! If you're going to tell me now that grown-ups don't really have sex, I've got nothing left to live for!"
#joke
Borrowing A Mule
There was a guy in the middle of the desert and his car broke down.
He started walking and he came to a monastery, where he asked them if he could borrow a mule.
The monks lent him one, and they explained that you had to say "Thank the Lord!" to make it go and "Amen!" to make it stop.
So the man said, "Thank the Lord, thank the Lord and thank the Lord!" and the mule took off! He was coming to the edge of a cliff and he forgot how to make it stop.
Finally, at the very edge he remembered, "Amen!" The guy was so relieved he shouted, "Thank the Lord!"
#joke
"People are choosing ...
"People are choosing cremation over traditional burial. It shows that they are thinking out of the box."
Demetri Martin: Power Nap
A power nap is when you sleep on someone whos weaker than you.