Be rady for Thanksgiving
, check out our latest
Thanksgiving jokes of 2021
on:
Thanksgiving jokes collection
Successful luau
"In order to have a successful luau, you have to go whole hog!"
Two Irishmen robbed a bank
Two Irishmen robbed a bank and messed it up, managing to escape with two sacks that they found on the floor. And they take one sack each.
After awhile they meet again and one asks the other, "What did you find in your sack?"
"Ten million pounds!"
"Wow... that's a lot! What did you do with the cash?"
"I bought a house. How about your sack?"
"Bah... it was full of bills."
"And what did you do with them?"
"Eh, well... little by little, I'm paying them off..."
#joke
Funny video of the day - Japanese TV Commercials [ THE VERY BEST OF 2015 ]
The Gift
Upon getting to work one morning, seventy-five year old Marvin is reminded by his secretary that it's his wife's birthday today. At lunch, Marvin goes to the local mall and tries to find a gift for her.
Unfortunately, he realizes that life has been good and she has everything she needs. Upon passing a lingerie store, Marvin realizes that his wife has never bought any lingerie in her life. He gets the idea to buy his wife something sexy to make her feel good and young.
Marvin goes into the store and tells the clerk to wrap up the most expensive, sheerest negligee she has. Marvin takes the gift and excitedly runs home to his wife.
Upon finding her in the kitchen he tells her to take the gift upstairs and unwrap it. He'll wait in the kitchen. His wife thanks him and goes up to the bedroom.
Once the package is opened she realizes that this is something she has never had before. She also sees that it is so sheer it leaves nothing to the imagination. She thinks for a moment and then decides that she'll really surprise Marvin and go downstairs without any clothes on at all. So she leaves the negligee on the bed and starts down the stairs stark naked. She calls out, 'Marvin, come out to the hallway and look.'
Marvin walks out to the staircase, looks up at his wife, and exclaims, 'All that money and they didn't even iron it.'
#joke
 New Yorkers Arrived
One day at the entrance to heaven, St. Peter saw a New York street gang.
walk up to the Pearly Gates. This being a first, St. Peter ran to God and said, "God,
there are some evil, thieving New Yorkers at the Pearly Gates. What do I do?".
God replied, "Just do what you normally do with that type. Re-direct them down to hell."
St. Peter went back to carry out the order and all of a sudden he comes running back yelling "God, God, they're gone, they're gone!"
"Who, the New Yorkers?".
"No, the Pearly Gates."
#joke
More of the best Christmas cracker jokes
How does Good King Wenceslas like his pizzas?

One that's deep pan, crisp and even!
Who hides in the bakery at Christmas?
A mince spy!
What do you call a cat in the desert?

Sandy Claws!
What does Santa do with fat elves?

He sends them to an Elf Farm!
What carol is heard in the desert?

O camel ye faithful!
What do angry mice send to each other at Christmas?

Cross Mouse Cards!
What do you get if you eat Christmas decorations?

Tinsilitis!
What's the most popular Christmas wine?

'I don't like Brussels sprouts!'
What did the beaver say to the Christmas Tree?

Nice gnawing you!
Two campers where hiking in th
Two campers where hiking in the forest when all of a sudden a bear jumps out of a bush and starts chasing them.
Both campers start running for their lives when one of them stops and starts to put on his running shoes.
His partner says, "What are you doing? You can't outrun a bear!"
His friend replies, "I don't have to outrun the bear, I only have to outrun you!"
#joke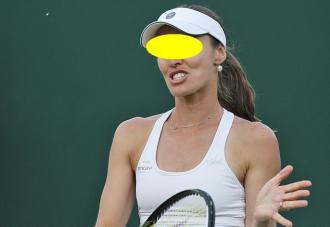 Can you name the athletes by the picture?
Can you name the athletes by the picture?
Bob in Accounting
The company president called the chief security guard into his office.
"Chuck, we've received a complaint from one of the employees that you are making obscene sexual comments and putting your hands where they don't belong. These unwanted advances will have to stop."
Chuck looked down at his feet and mumbled, "I'm sorry, Sir. I won't' do it again."
The company president said, "I'm sure Ms. Jones will be happy to hear that." Chuck's face lit up.
"Ms Jones?!!!! I was afraid that Bob in Accounting was complaining!!!!"
#joke
Christmas for mailman
I'm a mailman.
At Christmas this year, Mrs. Jankowitz met me at the door and invited me in for a great breakfast spread.
After I ate, I thanked her and she said, "There's more."
She took me to her bedroom and showed me moves I had never imagined.
I told her I had no idea she felt this way.
She said, "I don't."
I ask, "What was all this about?"
She says, "I asked the husband what to give the mailman."
He said, "Screw the mailman, breakfast was my idea."
Better Than Botox?
Q. What's the name of a face lotion developed for Jewish women?
A. Oil of Oy Vey
A blonde and a redhead met in ...
A blonde and a redhead met in a bar after work for a drink, and were watching the 6 O'clock news. A man was shown threatening to jump from the Brooklyn Bridge.
The blonde bet the redhead $50 that he wouldn't jump, and the redhead replied, 'I'll take that bet!'
Anyway, sure enough, he jumped, so the blonde gave the redhead the $50 she owed. The redhead said 'I can't take this, you're my friend.'
The blonde said 'No. A bet's a bet'.
So the redhead said 'Listen, I have to admit, I saw this on the 5 O'clock news, so I can't take your money'.
The blonde replied, 'Well, so did I, but I never thought he'd jump again!'
The will to live
A man went to his lawyer and said "I would like to make a will but I don't know exactly how to go about it."
The lawyer says "No problem, leave it all to me".
The man looks somewhat upset ... "Well I knew you were going to take the biggest slice, but I'd like to leave a little to my children too!
Dwayne Kennedy: Christmas Shopping
I tried to go Christmas shopping last year, but I didnt have no money. I just went window-shopping with a brick.
Christmas Eve Accident
Three men die in a car accident Christmas Eve. They all find themselves at the pearly gates waiting to enter Heaven. On entering they must present something related to or associated with Christmas.
The first man searches his pockets and finds mistletoe, so he is allowed in.
The second man presents a candy cane, so he is also allowed in.The third man pulls out a pair of stockings.
Confused at this last gesture, St. Peter asks, "How do these represent Christmas?"
"They're Carol's."

Two elderly gentlemen from a r
Two elderly gentlemen from a retirement center were sitting on a bench under a tree when one turns to the other and says: "John, I'm 83 years old now and I'm just full of aches and pains. I know you're about my age. How do you feel?"
John says, "I feel just like a newborn baby."
"Really!? Like a newborn baby!?"
"Yep. No hair, no teeth, and I think I just pooped my pants."
#joke