"The race car driver
"The race car driver had a checkered past."
Funny video of the day - PEOPLE ARE AWESOME | BEST OF THE MONTH (February 2016)
Jane calls the doctor in a pan
Jane calls the doctor in a panic. "Doctor, doctor! My little Jimmy swallowed a dozen aspirin. What should I do?"
The doctor asked Jane, "Are you sure it was a dozen?"
The frantic mother says, "Absolutely! Doctor, I'm scared to death!"
The doctor tells the mother, "Calm down. Is little Jimmy crying?"
Jane says "No."
"Is he sleeping?" asks the doctor.
"No." says Jimmy's mom.
The doctor goes on with routine questions, "Is his colour funny?"
Again Jane says "No."
"Did Jimmy throw up?" asks the methodical doctor.
"No." says the worried mom. "But I'm so scared. All that aspirin...shouldn't I do something?"
To which the doctor says, "Try giving him a headache."
What's your name?
A certain little girl, when asked her name, would reply, "I'm Mr. Sugarbrown's daughter."
Her mother told her this was wrong, she must say, "I'm Jane Sugarbrown."
The Vicar spoke to her in Sunday School, and said, "Aren't you Mr. Sugarbrown's daughter?"
She replied, "I thought I was, but mother says I'm not."
#joke
You Might Be A Redneck If 35
You might be a redneck if...
You smoke during your deer hunt after scent-proofing yourself all month.
A tornado goes through your trailer's yard and makes it look neater.
You've got to shuck your toilet paper before you use it.
You have an autographed picture of Bob Barker in your wallet.
You think "Meals on Wheels" is another name for roadkill.
You shot your own 12 point coat rack.
You've been to the emergency room more than 3 times for mashing the wrong end of a thumb tack.
The number of times you've seen either Elvis or a UFO exceeds your I.Q.
Any of your neighbors has ever spent Halloween night at the bottom of a hole because you moved their outhouse back about four feet.
You've ever lost a dog to a bush hog.
Dead or Alive?
If I could have dinner with anyone dead or alive, I would choose...alive.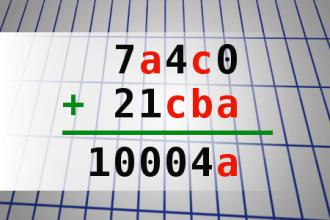 Find number abc
If 7a4c0 + 21cba = 10004a find number abc. Multiple solutions may exist.
If you take the Noah's A
If you take the Noah's Ark story literally, you may be deluging yourself.
Played a round of golf with th
Played a round of golf with the local course pro for some helpful tips.
After playing the first hole I turned to him for some advice and all he said was "loft".
So after the next 4 holes I asked him again and all he said was "loft"
Now we're done with the round and I asked him why after each hole all he would ever tell me was "loft " ?
To which the pro relies "loft" - "Lack Of F*cking Talent "
#joke
Lucky dogs
Why do dogs put their noses in women's crotches?
Because they can.
Submitted by Curtis
Edited by Yisman
Surrealists & Light Bulbs
Q: How many surrealists does it take to screw in a light bulb?
A: Banana.
What do u call a seagull flyin
What do u call a seagull flying over the bay?A bagel.
Back Pew
A pastor's wife was expecting a baby, so he stood before the congregation and asked for a raise.
After much discussion, they passed a rule that whenever the preacher's family expanded, so would his paycheck.
After 6 children, this started to get expensive and the congregation decided to hold another meeting to discuss the preacher's expanding salary.
A great deal of yelling and inner bickering ensued, as to how much the clergyman's additional children were costing the church, and how much more it could potentially cost.
After listening to them for about an hour, the pastor rose from his chair and spoke, 'Children are a gift from God, and we will take as many gifts as He gives us.
Silence fell on the congregation.
In the back pew, a little old lady struggled to stand, and finally said in her frail voice, 'Rain is also a gift from God, but when we get too much of it, we wear rubbers.'
The entire congregation said, 'Amen.'
#joke
A traveling salesman was held ...
A traveling salesman was held up in the west by a rainstorm and flood. He e-mails his office in NY: "Delayed by storm. Send instructions."

His boss e-mails back: "Start vacation immediately."

Catholic Definitions
Choir: A group of people whose singing allows the rest of the congregation to lip-sync.
Holy Water: A liquid whose chemical formula is H2OLY.
Hymn: A song of praise, usually sung in a key three octaves higher than that of the congregation's range.
Incense: Holy Smoke!
Jesuits: An order of priests known for their ability to found colleges with good basketball teams.
Jonah: The original "Jaws" story.
Justice: When your children have kids of their own.
Kyrie Eleison: The only Greek words that most Catholics an recognize besides gyros and baklava.
Magi: The most famous trio to attend a baby shower.
Manger:
1- Where Mary gave birth to Jesus because Joseph wasn't covered by an HMO.
2- The Bible's way of showing us that holiday travel has always been rough.
Pew: A medieval torture device still found in Catholic Churches.
Procession: The ceremonial formation at the beginning of Mass, consisting of altar servers, the celebrant, and late parishioners looking for seats.
Recessional: The ceremonial procession at the conclusion of Mass—lead by parishioners trying to beat the crowd to the parking lot.
Relics: People who have been going to Mass for so long that they actually know when to sit, kneel, and stand.
Ten Commandments: The most important Top Ten list not produced by David Letterman.
Ushers: The only people in the parish who don't know the seating capacity of a pew.
This joke was reprinted from "The Book of Catholic Jokes" by Deacon Tom Sheridan, with permission of ACTA Publications. Copyright 2008. All rights reserved.
#joke
Copies of Copies
A new monk arrived at the monastery. He was assigned to help
the other monks in copying the old texts by hand. He noticed,
however, that they were copying copies, not the original
books. The new monk went to the head monk to ask him about
this. He pointed out that if there were an error in the first
copy, that error would be continued in all of the other
copies.
The head monk said, "We have been copying from the copies
for centuries, but you make a good point, my son." The head
monk went down into the cellar with one of the copies to
check it against the original.
Hours later, nobody had seen him, so one of the monks went
downstairs to look for him. He heard a sobbing coming from
the back of the cellar and found the old monk leaning over
one of the original books, crying. He asked what was wrong.
"The word is 'celebrate'," said the head monk.
#joke