A Trip on an Airplane
There was an exhibitionist who was taking a trip on an airplane. At the top of the stairs there was a stewardess collecting tickets. When the man got to the top of the stairs, he opened his coat and exposed himself. The stewardess said, "I'm sorry sir. You have to show your ticket here, not your stub."
#joke
A fellow bought a new Mercedes...
A fellow bought a new Mercedes and was out on the Yellowhead for a nice evening drive. The top was down, the breeze was blowing through his hair and he decided to open her up. As the needle jumped up to 80 mph he suddenly saw a flashing red and blue light behind him.
"There ain't no way they can catch a Mercedes," he thought to himself and opened her up further. The needle hit 90, 100 110 and finally 120 with the lights still behind him. "What in heck am I doing?" he thought and pulled over.
The Mountie came up to him, took his license without a word and examined it and the car. "I've had a tough shift and this is my last pull over. I don't feel like more paperwork so if you can give mean excuse for your driving that I haven't heard before you can go."
"Last week my wife ran off with a cop," the man said, "and I was afraid you were trying to give her back!"
"Have a nice night", said the officer.
#joke
I met a cannibal in Mongolia. ...
I met a cannibal in Mongolia. He told me to Gobi dessert.
A woman meant to call a record...
A woman meant to call a record store but dialed the wrong number and got a private home instead.
"Do you have 'Eyes of Blue' and 'A Love Supreme'?" she asked.
"Well, no," answered the puzzled homeowner, "But I have a wife and eleven children."
"Is that a record?" she inquired.
"I don't think so," replied the man, "but it's as close as I want to get."
#joke
A businessman finds that his n...
A businessman finds that his neighbor in the first class cabin of his flight is a parrot. They take off and the stewardess asks what they would like to drink.
"Glenlivet on the rocks with a twist," says the parrot.
The businessman orders a coke.
After waiting two or three minutes, the bird starts yelling, "Where's my drink?! Stop fooling around and give me my drink!"
The stewardess runs to him with his glass, leaving the businessman still thirsty.
Half an hour later the stewardess makes a second round.
The bird orders another Glenlivet and a Wall Street Journal. The businessman asks for another coke.
Again, after a couple of minutes, the bird screams, squawking, "You lazy idiot! Where is my drink?!" The poor woman nearly trips over herself getting the parrot his drink and the newspaper.
The businessman still has nothing, and after ten more minutes decides to take his cue from the bird. "Hey! Where's my coke! The service here stinks!"
Out of nowhere the purser, the captain and two passengers grab the businessman and the bird, open the hatch and throw them out of the plane.
At 30,000 feet in the air the two fall side by side and the parrot says to the terrified man, "Wow, that took a lot of guts for a guy with no wings."
#joke
Job Interview
An office manager was given the task of hiring an individual to fill a job opening. After sorting through a stack of resumes he found four people who were equally qualified. He decided to call the four in and ask them one question and their answer would determine who would get the job.
The day came and as the four sat around the conference room table the interviewer asked "What is the fastest thing you know of?" pointing to the man on his right.
The first man replied "A thought. It pops into your head. There's no forewarning that it's on the way, it's just there. A thought is the fastest thing I know of."
"That's very good!" replied the interviewer. And now you sir?
He asked the second man. "Hmm.... let me see, A blink! It comes and goes and you don't know ever happened. A blink is the fastest thing I know of."
"Excellent!" said the interviewer "The blink of an eye. That's a very popular cliché for speed." as he turned to the third man who was contemplating his reply.
"Well, out at my dad's ranch, you step out of the house and on the wall there's a light switch, when you flip that switch, way out across the pasture the light at the barn comes on in an instant." Turning on a light is the fastest thing I can think of."
The interviewer was very impressed with the third answer and thought he had found his man. "It's hard to beat the speed of light." he said. Turning to the fourth man, he posed the question.
"After hearing the three previous answers, it's obvious to me that the fastest thing known is diarrhea."
"WHAT!?" said the interviewer, stunned by the response.
"Oh I can explain." said the fourth man. "You see the other day wasn't feeling so good and I ran for the bathroom. But, before I could think, blink, or turn on the light, I'd crapped in my pants!"
He got the job.
#joke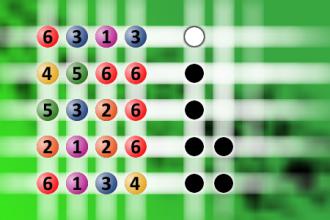 Find the right combination
The computer chose a secret code (sequence of 4 digits from 1 to 6). Your goal is to find that code. Black circles indicate the number of hits on the right spot. White circles indicate the number of hits on the wrong spot.
Sam and Harry are playing one ...
Sam and Harry are playing one day. On the first hole, Sam hits a wicked slice into the adjoining fairway. The ball hits another player right between the eyes and he drops to the ground.
Sam and Harry rush over to the prostrate man and find him unconscious with the ball laying on the ground between his legs.
Sam screams, "Oh my God, what should I do?"
Harry replies; "Don't move him. If you leave him there he becomes an immovable obstruction and, according to the rules, you are allowed a drop two club-lengths away."
#joke
The interested doctor
A concerned woman phones a doctor and says, "Doctor, I'm worried about my husband. He thinks he's a dog!"
"I'm coming over right away," the doctor says.
When the doctor arrives, the woman opens the door, and her husband, on all four, starts wagging his bottom and licking the doctor's hand.
"Interesting", the doctor says, startled. "I'll examine him. Make him lie down on the sofa."
"Doctor", the woman says, "I can't! He's not allowed the sofa!"
I Get No Respect 05
"I knew a girl that was so ugly that... She was known as a two bagger. That's when a girl is so ugly that you put a bag over your head in case the bag over her head breaks"
"I knew a girl that was so ugly that... I bent down to pet her cat only to find that it was the hair on her legs."
"I knew a girl that was so ugly that... I took her to a dog show and she won first prize."
"I knew a girl that was so ugly that... I took her to the top of the Empire State building and planes started to attack her."
"I knew a girl that was so ugly that... She looks like she came in second in a hatchet fight!"
"I knew a girl that was so ugly that... The last time I saw a mouth like hers it had a hook on the end of it."
I knew a girl that was so ugly that... She has a face like a saint--A saint bernard!"
"One day...as I came home early from work...I saw a guy jogging naked. I said to the guy...Hey buddy...why are you doing that for? He said..Because you came home early."
#joke
the perfect day
The Perfect Day - Her
8:45 Wake up to hugs and kisses
9:00 5 lbs lighter on the scale
9:30 Light Breakfast
11:00 Sunbathe
12:30 Lunch with best friend at outdoor cafe
1:45 Shopping
2:30 Run into boyfriend's/husband's ex and notice she's gained 30 lbs
3:00 Facial, massage, nap
7:30 Candlelight dinner for two and dancing
10:00 Make love
11:30 Pillow talk in his big strong arms
The Perfect Day - Him
6:45 Alarm.
7:00 Shower and massage.
7:30 Blowjob.
7:45 Massive dump while reading USA Today sports section.
8:15 Limo arrives, Stoli Bloody Marys.
8:30 Butler Aviation, O'Hare Field, Lear Jet to Augusta, Georgia.
9:30 Front nine holes, Augusta National Golf Club.
11:30 Lunch - 2 dozen oysters, 3 Heinekens.
12:30 Blowjob.
12:45 Back nine holes, Augusta National Golf Club.
2:30 Limo to Augusta Airport, Bombay Sapphire Martini.
3:30 Nassau, Bahamas, Afternoon fishing with all female crew (topless). Sex for each fish caught. Catch 1249 lb. Blue Marlin. Grilled tuna and steamed lobster appetizers, six Heinekens, nap.
6:15 Blowjob.
6:30 Lear Jet return flight, total body massage in transit.
7:30 Shit, shower, shave.
8:00 Watch CNN Live coverage of Bill Clinton's resignation. Hillary and Al Gore are indicted in the same scandal (which involves graphic pictures and large farm animals).
9:00 Dinner at Ritz Carlton, Oysters Casino, 20 oz. Filet mignons (rare), Gorgonzola salad, Fettucini Alfredo, Chateau Lafite Rothschild 1963 (magnum) creme brute, Louis XII Cognac, Cohiba Lancero
10:30 Sex with 3 women, all from different countries
11:30 Whirlpool, steam and massage. Women quietly get dressed, hail cab and leave. Midnight Blowjob. Sleep
#joke
Blessing a Body…?
A newly ordained deacon was asked to hold a graveside service for someone with no family or friends. It was his first official assignment, so he eagerly agreed.
Taking his duties very seriously, the deacon let early the next morning for the cemetery. However, he made several wrong turns and quickly got himself lost. When he finally arrived more than an hour late, the hearse was nowhere to be seen and the two workmen were eating lunch.
The deacon got out of his car, quickly threw on his vestments, and hurried to the open grave. Looking into the pit, he saw that the vault lid was already in place. With a sign, he took out his prayer book and read the burial service.
After he had left, one of the workmen said to the other, "Maybe we should have told him he just blessed a septic tank."
This joke was reprinted from "The Book of Catholic Jokes" by Deacon Tom Sheridan, with permission of ACTA Publications. Copyright 2008. All rights reserved.
#joke
Two Aussie cattle drovers stan...
Two Aussie cattle drovers standing in an Outback bar.
One asked, "What are you up to, Mate?"
Ahh, I'm takin' a mob of 6000 from Goondiwindi to Gympie."
"Oh yeah ... and what route are you takin'?"
"Ah, probably the Missus; after all, she stuck by me durin' the drought."
#joke
Babe-raham Lincoln
An older man wearing a stovepipe hat, a waistcoat and a phony beard sat down at a bar and ordered a drink. As the bartender set it down, he asked, "Going to a party?"
"Yeah, a costume party," the man answered, "I'm supposed to come dressed as my love life."
"But you look like Abe Lincoln." protested the barkeep.
"That's right. My last four scores were seven years ago."
#joke
Corporate Lesson 4

Corporate Lesson 4

A crow was sitting on a tree, doing nothing all day. A small rabbit saw the crow and asked him, "Can I also sit like you and do nothing all day long?"

The crow answered: "Sure, why not."

So, the rabbit sat on the ground below the crow, and rested. All of a sudden a fox appeared, jumped on the rabbit and ate it.

Moral of the story: To be sitting and doing nothing, you must be sitting very, very high up.
#joke
A special celebration...
While enjoying an early morning breakfast in a northern Arizona cafe, four elderly ranchers were discussing everything from cattle, horses, and weather to how things used to be in the "good old days."
Eventually the conversation moved on to their spouses. One gentleman turned to the fellow on his right and asked, "Roy, aren't you and your bride celebrating your 50th wedding anniversary soon?"
"Yup, we sure are," Roy replied.
"Well, are you gonna do anything special to celebrate?" another man asked.
The old gentleman pondered this for a moment, then replied, "For our 25th anniversary, I took the misses to Tucson. For our 50th, I'm thinking about going down there again to pick her up."
#joke
FOR ALL YOU LEXOPHILES (...
FOR ALL YOU LEXOPHILES (LOVERS OF WORDS)
1. A bicycle can't stand alone because it is two-tired.
2. What's the definition of a will? (It's a dead giveaway).
3. Time flies like an arrow. Fruit flies like a banana.
4. A backward poet writes inverse.
5. In democracy it's your vote that counts; In feudalism, it's your count that votes.
7. A chicken crossing the road is poultry in motion.
8. If you don't pay your exorcist you get repossessed.
9 With her marriage she got a new name and a ! dress.
10. Show me a piano falling down a mine shaft and I'll show you A-flat minor.
11. When a clock is hungry it goes back four seconds.
12. The man who fell into an upholstery machine is fully recovered.
13. A grenade thrown into a kitchen in France would result in Linoleum Blownapart.
14. You feel stuck with your debt if you can't budge it.
15. Local Area Network in Australia: the LAN down under.
16. He often broke into song because he couldn't find the key.
17. Every calendar's days are numbered.
18. A lot of money is tainted. 'Taint yours and 'taint mine.
19. A boiled egg in the morning is hard to beat.
20. He had a photographic memory which was never developed.
21. A plateau is a high form of flattery.
22. The short fortuneteller who escaped from prison was a small medium at large.
23. Those who get too big for their britches will be exposed in the end.
24. When you've seen one shopping center you've seen a mall.
25. Those who jump off a Paris bridge are in Seine.
26. When an actress saw he! r first strands of gray hair she thought she'd dye.
27. Bakers trade bread recipes on a knead to know basis.
28. Santa's helpers are subordinate clauses.
29. Acupuncture is a jab well done.
30. Marathon runners with bad footwear suffer the agony of defeat.
#joke
Farmers Courting
Young Dave was courting Mabel, who lived on an adjoining farm out west in cattle country. One evening, as they were sitting on Dave's porch watching the sun go down over the hills, Dave spied his prize bull doing the business on one of his cows. He sighed in contentment at this idyllic rural scene and figured the omens were right for him to put the hard word on Mabel.
He leaned in close and whispered in her ear, "Mabel, I'd sure like to be doing what that bull is doing."
"Well then, why don't you? "Mabel whispered back. "It is YOUR cow."
#joke