Jokes of the day for Thursday, 15 March 2012
Funny jokes, funny photo and funny video collected from the internet on Thursday, 15 March 2012
Funny tourist jokes-Sign the Magna Carta
A bus load of tourists arrives at Runnymede. They gather around the guide who says, "This is the spot where the barons forced King John to sign the Magna Carta."
A fellow at the front of the crowd asks, "When did that happen?"
"1215," answers the guide.
The man looks at his watch and says, "Damn! Just missed it by a half hour!"

#joke
Early one morning, a mother we...
Early one morning, a mother went in to wake up her son.
"Wake up, son. It's time to go to school!"
"But why, Mom? I don't want to go."
"Give me two reasons why you don't want to go."
"Well, the kids hate me for one, and the teachers hate me, too!"
"Oh, that's no reason not to go to school. Come on now and get ready."
"Give me two reasons why I should go to school."
"Well, for one, you're 52 years old. And for another, you're the Principal!"
#joke
Funny video of the day - THE VAULT CATCH
Leading hand sanitizers claim ...
Leading hand sanitizers claim they can kill 99.9 percent of germs. Chuck Norris can kill 100 percent of whatever he wants.
When Lincoln freed the slaves,...
When Lincoln freed the slaves, he was striving for social equal Abraham.
Recently on a routine police p...
Recently on a routine police patrol parked outside a local neighborhood bar the officer noticed a man leaving the bar so intoxicated that he could barely walk. The man stumbled around the parking lot for a few minutes with the officer quietly observing.
After what seemed an eternity and trying his keys on five different
vehicles, the man managed to find his own car which he fell into. He was
there for a few minutes as a number of other patrons left the bar and drove
off.
Finally he started the car, switched the wipers on and off (it was a dry
night), flicked the hazard flasher on and off, tooted the horn, and then
switched on the lights. He moved the vehicle forward a few inches, reversed
a little, and then remained stationary for a few more minutes as more patrons left in their vehicles. At last he pulled out of the parking lot and started to drive slowly down the street.
The police officer, having patiently waited all this time, now started up
his patrol car, put on the flashing lights, promptly pulled the man over
and carried out a breathalyzer test. To his amazement, the breathalyzer
indicated no evidence of the man having consumed alcohol at all!
Dumbfounded, the officer said, "I'll have to ask you to accompany me to the
Police Station. This breathalyzer equipment must be broken."
"I doubt it," said the man, "Tonight, I'm the designated decoy."
#joke
Juston McKinney: Stay Off My Wall
My wife is actually a little upset with me right now because I wont approve her as a friend on my Facebook. Im like, You got every wall in the house. Can I have one wall without you popping up on and ruining it? Stay off my wall.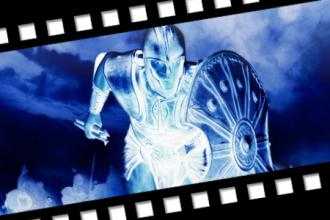 CINEMANIA: Guess the movie title
See negative of movie scene and guess the title. Length of words in solution: 4
Letter to Company
After trying a new shampoo for the first time, a guy fired off an enthusiastic letter of approval to the manufacturer.
Several weeks later he came home from work to a large carton in the middle of the floor. Inside were free samples of the many products the company produced: soaps, detergents, tooth paste, and paper items.
"Well, what do you think?" his wife asked smiling.
"Next time," he replied. "I'm writing to General Motors!"
#joke
Bill Gates died in a car accid...
Bill Gates died in a car accident. He found himself in Purgatory being sized up by God...
"Well, Bill, I'm really confused on this call. I'm not sure whether to send you to Heaven or Hell. After all, you enormously helped society by putting a computer in almost every home in the world, and yet you created that ghastly Windows. I'm going to do something I've never done before. In your case, I'm going to let you decide where you want to go!"
Bill replied, "Well, thanks, God. What's the difference between the two?"
God said, "I'm willing to let you visit both places briefly if it will help you make a decision."
"Fine, but where should I go first?"
God said, "I'm going to leave that up to you."
Bill said, "OK, then, let's try Hell first." So Bill went to Hell.
It was a beautiful, clean, sandy beach with clear waters. There were thousands of beautiful women running around, playing in the water, laughing and frolicking about. The sun was shining, the temperature was perfect.
Bill was very pleased. "This is great!" he told God.
"If this is Hell, I REALLY want to see Heaven!"
"Fine," said God and off they went. Heaven was a high place in the clouds, with angels drifting about playing harps and singing. It was nice but not as enticing as Hell.
Bill thought for a quick minute and rendered his decision. "Hmm, I think I prefer Hell," he told God."
"Fine," retorted God, "as you desire." So Bill Gates went to Hell.
Two weeks later, God decided to check up on the late billionaire to see how he was doing in Hell.
When God arrived in Hell, he found Bill shackled to a wall, screaming amongst the hot flames in a dark cave. He was being burned and tortured by demons.
"How's everything going, Bill?" God asked.
Bill responded - his voice full of anguish and disappointment, "This is awful, this is not what I expected. I can't believe this happened. What happened to that other place with the beaches and the beautiful women playing in the water?"
God says, "That was just the screen saver."
#joke
God Takes a Holiday
Chuckling, God remarked, "Are you kidding? Two thousand years ago I went there, had an affair with some nice Jewish girl, and they're STILL talking about it!"
Rosary and Two Martinis
A priest was sent to a very small church in the backwoods of Alaska. After a couple of years the Bishop decided to pay the priest a visit to see how he was doing. The priest said that it was a really lonely job and that he didn't think that he could have made it without his Rosary and two martinis each day. With that the priest said to the Bishop, "Would you like to have a martini with me?" The Bishop said, "Yes, that would be nice." The priest turned around and hollered toward the kitchen, "Rosary, would you fix us two martinis please?"
#joke
A blonde and a lawyer are seat...
A blonde and a lawyer are seated next to each other on a flight from LA to NY. The lawyer asks if she would like to play a fun game?
The blonde, tired, just wants to take a nap, politely declines and rolls over to the window to catch a few winks. The lawyer persists and explains that the game is easy and a lot of fun. He explains, I ask you a question, and if you don't know the answer, you pay me $5.00, and vise versa.
Again, she declines and tries to get some sleep. The lawyer, now agitated, says, "Okay, if you don't know the answer you pay me $5.00, and, if I don't know the answer, I will pay you $500.00."
This catches the blonde's attention and, figuring there will be no end to this torment unless she plays, agrees to the game.
The lawyer asks the first question. "What's the distance from the earth to the moon?" The blonde doesn't say a word, reaches into her purse, pulls out a $5.00 bill and hands it to the lawyer.
Okay says the lawyer, your turn. She asks the lawyer, "What goes up a hill with three legs and comes down with four legs?" The lawyer, puzzled, takes out his laptop computer and searches all his references, no answer. He taps into the air phone with his modem and searches the net and the library of congress, no answer. Frustrated, he sends e-mails to all his friends and coworkers, to no avail.
After an hour, he wakes the blonde, and hands her $500.00. The blonde says, "Thank you," and turns back to get some more sleep.
The lawyer, who is more than a little miffed, wakes the blonde and asks, "Well, what's the answer? "Without a word, the blonde reaches into her purse, hands the lawyer $5.00, and goes back to sleep.
I'm lost
A small boy was lost, so he went up to a policeman and said, "I've lost my dad!"
The policeman said, "What's he like?"
The little boy replied, "Chips and beer."
Circle of flies....
A farmer got pulled over by a state trooper for speeding, and the trooper started to lecture the farmer about his speed, and in general began to throw his weight around to try to make the farmer uncomfortable. Finally, the trooper got around to writing out the ticket, and as he was doing that he kept swatting at some flies that were buzzing around his head.
The farmer said, 'Having some problems with circle flies there, are ya?' The trooper stopped writing the ticket and said, 'Well yeah, if that's what they are, but I never heard of circle flies.'
So the farmer says, 'Well, circle flies are common on farms. See, they're called circle flies because they're almost always found circling around the back end of a horse.'
The trooper says, 'Oh,' and goes back to writing the ticket. Then after a minute he stops and says, 'Hey...wait a minute, are you trying to call me a horse's ass?'
The farmer says, 'Oh no, officer. I have too much respect for law enforcement and police officers to even think about calling you a horse's ass.'
The trooper says, 'Well, that's a good thing,' and goes back to writing the ticket.
After a long pause, the farmer says, 'Hard to fool them flies though...'
#joke
A juggler, driving to his next...
A juggler, driving to his next performance, is stopped by the police.
"What are those knives doing in your car? Asked the officer.
"I use them in my juggling act," says the juggler.
"Oh yeah?" "Let's see you do it." Says the policeman.
So the man starts tossing and juggling the knives.
A guy driving by sees this and says, "Wow, am I glad I stopped
Drinking. Look at the test they're making you do now!"
A sad-faced Doug walked into a...
A sad-faced Doug walked into a flower shop early one morning.
The clerk was ready to take his order for a funeral piece, based on the look on Doug's face, but soon realized his assumption was wrong as Doug asked for a basket of flowers sent to his wife for their anniversary.
"And what day will that be?" the clerk asked.
Glumly he replied, "Yesterday".
#joke
Big People Words
A group of kindergartners were trying very hard to become accustomed to the first grade. The biggest hurdle they faced was that the teacher insisted on NO baby talk. "You need to use 'Big People' words," she was always reminding them.
She asked Chris what he had done over the weekend?
"I went to visit my Nana."
"No, you went to visit your GRANDMOTHER. Use 'Big People' words!"
She then asked Mitchell what he had done.
"I took a ride on a choo-choo."
She said "No, you took a ride on a TRAIN. You must remember to use Big People' words."
She then asked little Alex what he had done.
"I read a book," he replied.
"That's WONDERFUL!" the teacher said. "What book did you read?"
Alex thought real hard about it, then puffed out his chest with great pride, and said, "Winnie the SH*T."
#joke
Bolnde, Brunette and Readhead
A blonde, brunette, and a redhead are sitting in the waiting area of their obgyn. The three ladies start to chat it up and whether they will have a boy or a girl...
The brunette: "I know I'm having a boy because I was on top!"
The two others smile and...
The redhead says: "I know I'm going to have a girl because I was on the bottom!"
The brunette slightly giggles for a moment and suddenly she and the redhead look at the blonde and ask...
"Why are you crying?"
"I think I'm going to have a puppy!"