Animal jokes-Penguin in Bar
A Galapagos penguin walks into a bar, goes to the counter, and asks the barkeep, "Have you seen my brother?"
The barkeep asks, "I don't know, what does he look like?"
Grounds for divorce...
A judge was interviewing a woman regarding her pending divorce, and asked, "What are the grounds for your divorce?"
She replied, "About four acres and a nice little home in the middle of the property with a stream running by."
"No," he said, "I mean what is the foundation of this case?"
"It is made of concrete, brick and mortar," she responded.
"I mean," he continued, "What are your relations like?"
"I have an aunt and uncle living here in town, and so do my husband's parents."
He said, "Do you have a real grudge?"
"No," she replied, "We have a two-car carport and have never really needed one."
"Please," he tried again, "is there any infidelity in your marriage?"
"Yes, both my son and daughter have stereo sets. We don't necessarily like the music, but the answer to your questions is 'yes'."
"Ma'am, does your husband ever beat you up?"
"Yes," she responded, "about twice a week he gets up earlier than I do."
Finally, in frustration, the judge asked, "Lady, why do you want a divorce?"
"Oh, I don't want a divorce," she replied. "I've never wanted a divorce. My husband does. He said he can't communicate with me."
#joke
Funny video of the day - So papa how do you like the iPad we got you?
Sequel
Seems like they're working on a sequel to the movie 'The Abyss'.
Rumor has it that they're going to call it, 'Son of Abyss'.
Submitted by Curtis
Edited by calamjo
This guy needs a job and decid...
This guy needs a job and decides to apply at the zoo. As it happened, their star attraction, a gorilla, had passed away the night before and they had carefully preserved his hide. They tell this guy that they'll pay him well if he would dress up in the gorillas skin and pretend to be the gorilla so people will keep coming to the zoo. Well, the guy has his doubts, but Hey! He needs the money, so he puts on the skin and goes out into the cage.
The people all cheer to see him. He plays up to the audience and they just eat it up. This isn't so bad, he thinks, and he starts really putting on a show, jumping around, beating his chest and roaring, swinging around. During one acrobatic attempt, though, he loses his balance and crashes through some safety netting, landing square in the middle of the lion cage! As he lies there stunned, the lion roars. He's terrified and starts screaming, "Help, Help, Help!"
The lion races over to him, places his paws on his chest and hisses, "Shut up or we'll BOTH lose our jobs!"
#joke
Veterinary Clinic
Glenn took his dog to the veterinary clinic, and laid its limp body on the table. The doctor pulled out his stethoscope, listened to the dog's chest for a moment, then shook his head sadly. "I'm sorry, but your dog has passed away."
"What?" Glenn screamed. "You haven't even done any tests! I want another opinion."
The vet left the room and returned in a few moments with a Labrador Retriever. The Retriever sniffed the dog on the table carefully from head to toe. Finally, the Retriever shook it's head and barked once (meaning "dead and gone").
The vet took the Labrador away and returned a few minutes later with a cat, which also sniffed carefully over the dog on the table before shaking its head and saying, "Meow" (meaning "he's gone").
After the cat jumped off the table, the vet handed Glenn a bill for $600. The man shook the bill at the vet. "$600!!!! Just to tell me my dog is dead?!!! That's outrageous!"
The vet explained. "If you had taken my word for it, the charge would have been $50, but with the Lab work and the cat scan…."
Natasha Leggero: Dad and the Internet
My dad discovered the Internet. Uh, just because someone raised you, does not mean that you have to add them on Facebook.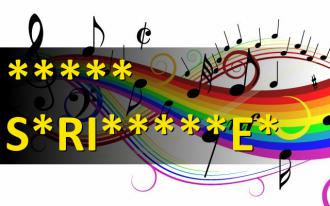 Replace asterisk symbols with ...
Replace asterisk symbols with a letters (***** S*RI*****E*) and guess the name of musician. Length of words in solution: 5,11.
An old man goes to the Wizard ...
An old man goes to the Wizard to ask him if he can remove a "Curse" he has been living with for the last 40 years.
The Wizard says "maybe, but you will have to tell me the exact words that were used to put the curse on you."
The old man says without hesitation "'I now pronounce you man and wife'".
#joke
The Devil
George Bush, Queen Elizabeth, and Vladimir Putin all die and go to hell.
While there, they spy a red phone and ask what the phone is for. The devil tells them it is for calling back to Earth.
Putin asks to call Russia and talks for 5 minutes. When he is finished the devil informs him that the cost is a million dollars, so Putin writes him a check.
Next Queen Elizabeth calls England and talks for 30 minutes. When she is finished the devil informs her that the cost is 6 million dollars, so she writes him a check.
Finally George Bush gets his turn and talks for 4 hours. When he is finished the devil informs him that the cost is $5.00.
When Putin hears this he goes ballistic and asks the devil why Bush got to call the USA so cheaply. The devil smiles and replies: "Since Obama took over, the country has gone to hell, so it's a local call."
#joke
Chuck Norris once leaned again...
Chuck Norris once leaned against a tower in Pisa, Italy.
Stock market report...
Helium was up, feathers were down.
Paper was stationary.
Fluorescent tubing was dimmed in light trading.
Knives were up sharply.
Cows steered into a bull market.
Pencils lost a few points.
Hiking equipment was trailing.
Elevators rose, while escalators continued their slow decline.
Weights were up in heavy trading.
Light switches were off.
Mining equipment hit rock bottom.
Diapers remained unchanged.
Shipping lines stayed at an even keel.
The market for raisins dried up.
Coca Cola fizzled.
Caterpillar stock inched up a bit.
Sun peaked at midday.
Balloon prices were inflated.
Scott Tissue touched a new bottom.
And batteries exploded in an attempt to recharge the market
#joke
The Lawyer at the Pearly Gates
Recently a teacher, a garbage collector, and a lawyer wound up together at the Pearly Gates. St. Peter informed them that in order to get into heaven, they would each have to answer one question.
St. Peter addressed the teacher and asked, "What was the name of the ship that crashed into the iceberg? They just made a movie about it." The teacher answered quickly, "That would be the Titanic." St. Peter let her through the gate.
St. Peter turned to the garbage man and figuring heaven didn't REALLY need all the odors this guy would bring with him, decided to make the question a little harder: "How many people died on the ship?" But the trash man had just seen the movie, too, and he answered, "about 1,500."
"That's right! You may enter," said Peter.
Then St. Peter turned to the lawyer and said, "Name them."
This joke was reprinted from "The Book of Catholic Jokes" by Deacon Tom Sheridan, with permission of ACTA Publications. Copyright 2008. All rights reserved.