The husband and wife were play
The husband and wife were playing on the ninth green when she collapsed from a heart attack. "Please dear, I need help." she said.
The husband ran off saying "I'll go get some help." A little while later he returned, picked up his club and began to line up his shot on the green.
His wife, on the ground, raised up her head and said, "I'm may be dying and you're putting?"
"Don't worry dear. I found a doctor on the second hole who said he come and help."
"The second hole? When in the hell is he coming?"
"Hey! I told ya not to worry," he said, practice stroking his putt. "Everyone's already agreed to let him play through."
"Wounds heal better i
"Wounds heal better if they are covered. This is an example of gauze and effect."
A gynecologist who had lost in...
A gynecologist who had lost interest in his medical practice decided to change careers and enrolled in auto mechanic school.
He performed well in the course but was still shocked when he got an off-the-chart 200 on his final exam. He asked the instructor to explain the grade.
"I gave you 50 points for taking the engine apart correctly," the teacher said, "50 points for putting it back together correctly -- and an extra 100 points for doing it all through the muffler."
#joke
50-50 partners
A very successful businessman had a meeting with his new son-in-law. "I love my daughter, and now I welcome you into the family," said the man. "To show you how much we care for you, I'm making you a 50-50 partner in my business. All you have to do is go to the factory every day and learn the operations."
The son-in-law interrupted. "I hate factories. I can't stand the noise."
"I see," replied the father-in-law. "Well then you'll work in the office and take charge of some of the operations."
"I hate office work," said the son-on-law. "I can't stand being stuck behind a desk all day."
"Wait a minute," said the father-in-law. "I just make you half- owner of a moneymaking organization, but you don't like factories and won't work in a office. What am I going to do with you?"
"Easy," said the young man. "Buy me out."
#joke
Expert On Parenting
The following is a true story written by an educational psychologist and her experience on a plane.
On a flight to Florida, I was preparing my notes for one of the parent-education seminars I conduct as an educational psychologist.
The elderly woman sitting next to me explained that she was returning to Miami after having spent two weeks visiting her six children, 18 grandchildren and ten great-grandchildren in Boston.
Then she inquired what I did for a living.
I told her, fully expecting her to question me for free professional advice.
Instead she sat back, picked up a magazine and said, "If there's anything you want to know, just ask me."
#joke
Bike
A Priest was about to finish his tour of duty in the jungle where he has spent years teaching the natives to be civilized and kind to each other when he realizes that the one thing he never taught them was how to speak English. 
So he takes the chief for a walk in the forest. He points to a tree and says to the chief, "This is a tree."
The chief looks at the tree and grunts, "Tree."
The Priest is pleased with the response. They walk a little further and he points to a rock and says, "This is a rock."
Hearing this, the chief looks and grunts, "Rock."
The Priest was really getting enthusiastic about the results when he hears a rustling in the bushes. As they peek over the top, he sees a couple of natives in the midst of heavy sexual activity.
The Priest is really flustered and quickly responds, "Man riding a bike."
The chief looks at the couple briefly, pulls out his blowgun and kills them both..
The Priest goes ballistic and yells at the chief that he has spent years teaching the tribe how to be civilized and be kind to each other, so how could he kill these people in cold blood that way?
The chief replied, "My bike."      
#joke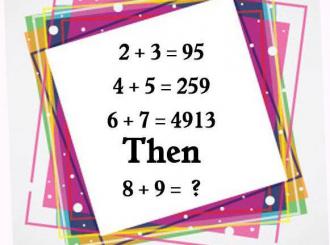 Can you solve this Math Puzzle?
Can you solve this Math Puzzle?
Got Nuts?
A girl walks into a grocery store and asks the stock boy if he has any nuts.
The guy says, "No, ma'am."
She says, "Well, do you have any dates?"
And he says, "Ma'am, if I don't have nuts, do you really expect me to have dates?"
Blonde Bet
Bob, a handsome dude, walked into a sports bar around 9:58 PM
He sat down next to a blonde at the bar and stared up at the TV.
The 10:00 PM news was coming on. The news crew was covering a story of a man on a ledge of a large building preparing to jump.
The blonde looked at Bob and said, 'Do you think he'll jump?' Bob says, 'You know, I bet he'll jump.'
The blonde replied, 'Well, I bet he won't.' Bob placed a $20 bill on the bar and said, 'You're on!'
Just as the blonde placed her money on the bar, the guy on the ledge did a swan dive off the building, falling to his death.
The blonde was very upset, but willingly handed her $20 to Bob, saying, 'Fair's fair. Here's your money.'
Bob replied, 'I can't take your money, I saw this earlier on the 6 PM news and so I knew he would jump.'
The blonde replied, 'I saw it too; but I didn't think he'd do it again.'
Bob took the money......
A visit with Grandpa
A man goes to visit his 85-year-old grandpa in the hospital.
"How are you grandpa?" he asks.
"Feeling fine," says the old man.
"What's the food like?"
"Terrific, wonderful menus."
"And the nursing?"
"Just couldn't be better. These young nurses really take care of you."
"What about sleeping? Do you sleep okay?"
"No problem at all --- nine hours solid every night. At 10 o'clock they bring me a cup of hot chocolate and a Viagra tablet, and that's it. I go out like a light."
The grandson is puzzled and a little alarmed by this, so he rushes off to question the Nurse in charge. "What are you people doing?" he asks. "I'm told you're giving an 85-year-old Viagra on a daily basis. Surely that can't be true?"
"Oh, yes," replies the nurse. "Every night at 10 o'clock we give him a cup of chocolate and a Viagra tablet. It works wonderfully well. The chocolate makes him sleep, and the Viagra stops him from rolling out of bed."
#joke
Manners
A Christian farmer spent the day in the city.
In a restaurant for his noon meal, he sat near a group of young men.
After he bowed his head to give thanks for his food, one of the young men thought he would embarrass the old gentleman. "Hey, farmer, does everyone do that out where you live?"
The old man calmly replied, "No, son, the pigs don't!"
Submitted by Curtis
Edited by Calamjo
#joke
Mike Lawrence: Child of Divorce
I really hate the way I found out about my parents divorce. What happened was, my mom took me out for ice cream, and she sat me down, she said, Michael, Im leaving your father, Im going off to marry another man, and Im pregnant. And that was really messed up, cause that should have been three different trips to get ice cream.
#joke