2 Blonde Guys & The Wrong Nails
Ron and John, 2 Blonde Guy were building a house.
John was on a ladder, nailing.
He'd reach into his nail pouch, pull out a nail, look at it, and either toss it over his shoulder or proceed to nail it into the wood.
Ron couldn't stand it any longer and yelled, 'Why are you throwing some of the nails away?'
John explained, 'When I pull it out of my nail pouch, if it's pointed toward me, I throw it away.
If it's pointed toward the house, then I can use it.'
Ron replied, 'What's wrong with you?
Don't throw away the nails that are pointed toward you! They're for the other side of the house.'
"Watching a fishbowl
"Watching a fishbowl is right up my alley."
Free Commandments
God first went to the Egyptians and asked them if they would like a commandment. "What's a commandment?" they asked. "Well, it's like, THOU SHALL NOT COMMIT ADULTERY," replied God. The Egyptians thought about it and then said, "No way, that would ruin our weekends."So then God went to the Assyrians and asked them if they would like a commandment. They also asked, "What's a commandment?" "Well," said God, "It's like, THOU SHALL NOT STEAL." The Assyrians immediately replied, "No way. That would ruin our economy."So finally God went to the Israelites and asked them if they wanted a commandment. They asked, "How much?" God said, "They're free."The Israelites said, "Great! We'll take ten!"
#joke
Mr. Schwartz was the oldest of
Mr. Schwartz was the oldest of 7 children, so he had to quit school and work to help support his younger brothers and sisters. He never learned to read, so when he married and started a checking account, he signed his checks simply "XX".
Eventually he started his own business, which immediately prospered. He soon was a very rich man.
One day, he got a call from his bank. "Mr. Schwartz," said the banker, "I need to ask you about this check. We weren't sure you had really signed it. All these years you've been signing your checks 'XX', but we just got one that was signed with three XXX's..."
Mr. Schwartz answered, "No problem, my friend. It's just that since I've become so wealthy, my wife thought I ought to have a middle name."
#joke
A little help please...
A little boy was afraid of the dark. One night his mother told him to go out to the back porch and bring her the broom.
The little boy turned to his mother and said, "Mama, I don't want to go out there. It's dark."
The mother smiled reassuringly at her son. "You don't have to be afraid of the dark," she explained. "Jesus is out there. He'll look after you and protect you."
The little boy looked at his mother real hard and asked, "Are you sure he's out there?"
"Yes, I'm sure. He is everywhere, and he is always ready to help you when you need him," she said.
The little boy thought about that for a minute and then went to the back door and cracked it a little. Peering out into the darkness, he called, "Jesus? If you're out there, would you please hand me the broom?"
#joke
Business One-liners 06
A stagnant science is at a standstill.
A theory is better than its explanation.
A transistor protected by a fast-acting fuse will protect the fuse by blowing first.
A well-adjusted person is one who makes the same mistake twice without getting nervous.
Ability is a good thing but stability is even better.
Ability is like a check, it has no value unless it is cashed.
Absolutum obsoletum. (If it works, it is out of date.) - Stafford Beer
According to my calculations, the problem doesn't exist.
According to the official figures, 43% of all statistics are totally worthless.
Adding manpower to a late software product makes it later.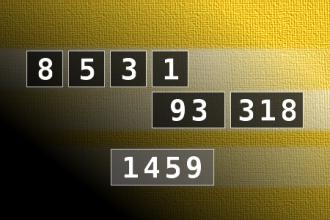 Calculate the number 1459
NUMBERMANIA: Calculate the number 1459 using numbers [8, 5, 3, 1, 93, 318] and basic arithmetic operations (+, -, *, /). Each of the numbers can be used only once.
Free booze for life? Y
Free booze for life? You've just won the blottory!
When she got flowers from her
When she got flowers from her husband on Valentine's Day, my daughter quickly opened the card. All it said was, "No."
What did that mean? She called her husband and asked him.
"I didn't attach any message. The florist asked if I had a message and I said, 'No'."
The wise old Mother Superior f
The wise old Mother Superior from county Tipperary was dying. The nuns gathered around her bed trying to make her comfortable. They gave her some warm milk to drink, but she refused it. Then one nun took the glass back to the kitchen. Remembering a bottle of Irish whiskey received as a gift the previous Christmas, she opened and poured a generous amount into the warm milk.
Back at Mother Superior's bed, she held the glass to her lips. Mother Superior drank a little, then a little more. Before they knew it, she had drunk the whole glass down to the last drop.
"Mother", the nuns pleaded, "Please give us some wisdom before you die". She raised herself up in bed with a pious look on her face and said, "Don't sell that cow".
Cotton Candy
So this old man is walking down the street in Brooklyn.
He sees a young boy sitting on the street in front of a candy shop, shoving sweets in his mouth as fast as possible.
The man walks up to the boy and says "You know son, it's really not healthy to eat all that candy."
The kid looks up at him and says, "You know my grandfather lived to be 97 years old."
The man replies "Oh and did he eat a lot of candy?" The kid looks at him and says "No, but he minded his own fucking business."
#joke
Duct Tape
Jeff walks into a bar and sees his friend Paul slumped over the bar. He walks over and asks Paul what's wrong.
"Well," replies Paul, "you know that beautiful girl at work that I wanted to ask out, but I got an erection every time I saw her?"
"Yes," replies Jeff with a laugh.
"Well," says Paul, straightening up, "I finally plucked up the courage to ask her out, and she agreed."
"That's great!" says Jeff, "When are you going out?"
"I went to meet her this evening," continues Paul, "but I was worried I'd get an erection again. So I got some duct tape and taped my penis to my leg, so if I did, it wouldn't show."
"Sensible" says Jeff.
"So I get to her door," says Paul, "and I rang her doorbell. She answered it in the sheerest, tiniest dress you ever saw."
"And what happened then?"
(Paul slumps back over the bar again.)
"I kicked her in the face."
#joke #walksintoabar
Jody and Sara live in the swam...
Jody and Sara live in the swamps of Louisiana.
One day Sara came up missing.
It took three days for all of the locals and the sheriff to find Sara. The sheriff says to Jody, "I have bad news and I have good news about Sara."
"What is the bad news", asks Jody?
"We found Sara face down in the swamp, she's dead."
"Well what kind of good news can there be", ask Jody?
The Sheriff responded, "We got 24 blue crab off her, we decided to leave for another 3 days and run her again."
#joke
Ploughing The Land
A husband and wife were driving down a country lane on their way to visit some friends. They came to a muddy patch in the road and the car became bogged. After a few minutes of trying to get the car out by themselves, they saw a young farmer coming down the lane, driving some oxen before him.
The farmer stopped when he saw the couple in trouble and offered to pull the car out of the mud for $50. The husband accepted and minutes later the car was free. The farmer turned to the husband and said, "You know, you're the tenth car I've helped out of the mud today."
The husband looks around at the fields incredulously and asks the farmer, "When do you have time to plough your land? At night?"
"No," the young farmer replied seriously, "Night is when I put the water in the hole."
#joke
Another wife?
At the pre-birth class for couples who'd already had at least one child the instructor raised the question of how to break the news to an older child.
"Some parents tell the older child, 'We love you so much that we decided to bring another child into our family.'
"But think about that for a second. Ladies, what if your husband came home one day and said, 'Honey, I love you so much I decided to bring home another wife.'?"
One of the women spoke up right away, "Does she cook?"
#joke