The fishing season hasn't ope
The fishing season hasn't opened and a fisherman who doesn't have a license, is casting for trout as a stranger approaches and asks, "Any luck?"
"Any luck? This is a wonderful spot. I took 10 out of this stream yesterday," he boasts.
"Is that so? By the way, do you know who I am?" asks the stranger.
"Nope."
"Well, meet the new game warden."
"Oh," gulped the fisherman. "Well, do you know who I am?"
"Nope."
"Meet the biggest liar in the state."
#joke
"For me, the ringing
"For me, the ringing of bells has appeal."
A Bible study group was discus...
A Bible study group was discussing the unforeseen possibility of their sudden death. The leader of the discussion said, " We will all die some day, and none of us really know when, but if we did we would all do a better job of preparing ourselves for that inevitable event."
"Everybody nodded their heads in agreement with this comment."
Then the leader said to the group, "What would you do if you knew you only had 4 weeks of life remaining before your death, and then the Great Judgment Day?"
A gentleman said, " I would go out into my community and minister the Gospel to those that have not yet accepted the Lord into their lives."
"Very good!" ,said the group leader, and all the group members agreed, that would be a very good thing to do.
One lady spoke up and said enthusiastically, "I would dedicate all of my remaining time to serving God, my family, my church, and my fellow man with a greater conviction."
"That's wonderful!" the group leader commented, and all the group members agreed, that would be a very good thing to do.
But one gentleman in the back finally spoke up loudly and said, "I would go to my mother-in-laws house for the 4 weeks."
Everyone was puzzled by this answer, and the group leader ask, "Why your mother-in-laws home?"
Then the gentleman smiled sarcastically and said, "Because, that would be the longest 4 weeks of my life!"
#joke
The Unacceptable Tax Return
This example shows the importance of accuracy when submitting your tax return. The IRS returned the Tax Return submitted by a New York City man implying that he answered one of the questions incorrectly.
In response to the question, 'List your dependents", you wrote: '12.1 million illegal immigrants, 1.1 million crack-heads, 4.4 million unemployed deadbeats, 80,000 criminals in over 85 prisons, at least 450 idiots in Congress and those who call themselves Politicians.' The IRS responded that "this is unacceptable!"
The man's response to the IRS was: 'Who did I leave out?'
#joke
Goldfish burial
Little eight-year-old Nancy was in the garden filling in a hole when her neighbor peered over the fence. Interested in what the youngster was doing, he asked: "What are you doing there, Nancy?"
"My goldfish died," Nancy sobbed. "And I've just buried him."
The obnoxious neighbor laughed and said condescendingly: "That's a really big hole for a little goldfish, don't you think?"
Nancy patted down the last heap of earth with her shovel and replied: "That's because he's inside your cat."
#joke
Church Bulletin Bloopers: Weddings and Babies
Irving Benson and Jessie Carter were married on October 24 in the church. So ends a friendship that began in their school days.The Honeymooners are now having bile studies each Tuesday evening at 7:30 p.m.The rosebud on the altar this morning is to announce the birth of David Alan Belzer, the sin of Rev. and Mrs. Julius Belzer.Please join us as we show our support for Amy and Alan who are preparing for the girth of their first child.Thursday at 5:00 pm, there will be a meeting of the Little Mothers Club. All ladies wishing to be "Little Mothers" will meet with the Pastor in his private study.(For the group of ladies called Moms Who Care and pray for the children in school). When their meeting was cancelled one week: "There will be no Moms who care this week." -
Joke shared on Beliefnet's Religious Humor page
#joke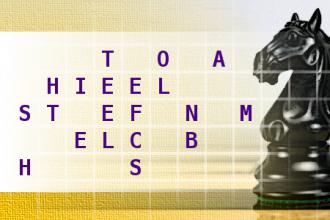 Chess Knight Move
Find the title of movie, using the move of a chess knight. First letter is T. Length of words in solution: 3,7,2,3,5.
You Might Be A Redneck If 54
You might be a reneck if...
Your best coat is a black and red checkered.
You put your Christmas lights up 2 weeks after taking them down.
You consider duct tape and tarp straps necessities for auto body repair.
You raise the confederate flag in the bed of your truck whenever you go for a drive.
You can't wait for the Saturday night square dance.
You refer to your truck as if it had a legal first name.
You've ever been given a gun as a present.
Flannel is your favorite color.
You or one of your relatives is named Cletus.
Your grandfather can sense a storm coming by a mysterious twitching in his knee.
Living will
A man and his wife were sitting in the living room discussing a "Living Will"
"Just so you know, I never want to live in a vegetative state, dependent on some machine and fluids from a bottle. If that ever happens, just pull the plug."
His wife got up, unplugged the TV and threw out all the beer.
A man entered the bus with bot...
A man entered the bus with both of his front pants pockets full ofgolf balls, and sat down next to a beautiful (you guessed it) blonde.
The puzzled blonde kept looking at him and his bulging pockets.
Finally, after many such glances from her, he said, "It's golf balls".
Nevertheless, the blonde continued to look at him thoughtfully andfinally, not being able to contain her curiosity any longer, asked."Does it hurt as much as tennis elbow?"
Complete and Finished
There is a subtle but important difference between the words "complete" and "finished."
When you marry the right one, you are complete.
When you marry the wrong one, you are finished.
And if the right one catches you with the wrong one, you are completely finished.
A young lady came home from a ...
A young lady came home from a date, rather sad. She told her mother, "Jeff proposed to me an hour ago."
"Then why are you so sad?" her mother asked.
"Because he also told me he was an atheist. Mom, he doesn't even believe there's a hell."
Her mother replied, "Marry him anyway. Between the two of us, we'll show him how wrong he is."
#joke
Actual Answer from a Medical Student
While making his rounds, a doctor points out an x-ray to a group of medical students.
"As you can see," he says, "the patient limps because his left fibula and tibia are radically arched."
The doctor turns to one of the students and asks, "What would you do in a case like this?"
"Well," ponders the student, "I suppose I'd limp, too."
"Simon, if I had eight apples ...
"Simon, if I had eight apples in my right hand and ten apples in my left hand, what would I have?"

"Huge hands, sir."