A beautiful young girl is abou
A beautiful young girl is about to undergo a minor operation. She's laid on a trolley bed by a lady in a white dress and brought to the corridor.
Before they enter the room she leaves her behind the theatre door to go in and check whether everything is ready.
A young man wearing a white coat approaches, takes the sheet away and starts examining her naked body. He walks away and talks to another man in a white coat. The second man comes over and does the same examinations.
When a third man starts examining her body so closely, she grows impatient and says: "All these examinations are fine and appreciated, but when are you going to start the operation?"
The man in the white coat shrugged his shoulders: "I have no idea. We're just painting the corridor."
#joke
Poverty Line
Politician wanted to (bring/uplift) poor people
living below poverty line. He thought that
simplest way will be to tie that poverty line
2 feet below from the existing level so that
those poor people can be brought up quickly
and they will be richer.
Nuns at the Hospital
A man suffered a serious heart attack and had bypass surgery. He awakened to find himself in the care of nuns at a Catholic hospital. As he was recovering, a nun asked how he was going to pay the bill. He replied, in a raspy voice, "No health insurance." The nun asked if he had money in the bank. He replied, "No money in the bank." The nun asked, "Do you have a relative who could help you?"He said, "Just a spinster sister, who is a nun." The nun, slightly perturbed, said, "Nuns are not spinsters! Nuns are married to God." The patient replied, "Then send the bill to my brother-in-law."
#joke
On Fridays
After 35 years of marriage, a husband and wife came for counseling. When asked what the problem was, the wife went into a tirade listing every problem they had ever had in the years they had been married.
On and on and on: neglect, lack of intimacy, emptiness, loneliness, feeling unloved and unlovable, an entire laundry list of unmet needs she had endured.
Finally, after allowing this for a sufficient length of time, the therapist got up, walked around the desk and after asking the wife to stand, he embraced and kissed her long and passionately as her husband watched - with a raised eyebrow. The woman shut up and quietly sat down as though in a daze.
The therapist turned to the husband and said, 'This is what your wife needs at least 3 times a week. Can you do this?'
'Well, I can drop her off here on Mondays and Wednesdays, but on Fridays, I golf.'
"Old English teachers
"Old English teachers never die - they just parse away."
Pa won't like it....
A farm boy accidentally overturned his wagonload of corn. The farmer who lived nearby heard the noise and yelled over to the boy, "Hey Willis, forget your troubles. Come in and visit with us. I'll help you get the wagon up later." "That's mighty nice of you," Willis answered, "but I don't think Pa would like me to."
"Aw come on boy," the farmer insisted.
"Well okay," the boy finally agreed, and added, "but Pa won't like it."
After a hearty dinner, Willis thanked his host. "I feel a lot better now, but I know Pa is going to be real upset."
"Don't be foolish!" the neighbor said with a smile. "By the way, where is he?"
"Under the wagon."
#joke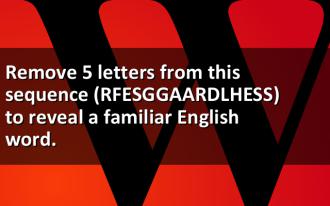 Remove 5 letters from this seq...
Remove 5 letters from this sequence (RFESGGAARDLHESS) to reveal a familiar English word.
An investment counselor decide...
An investment counselor decided to go out on her own. She was shrewd and diligent, so business kept coming in, and pretty soon she realized that she needed an in-house counsel. She began to interview young lawyers.
"As I'm sure you can understand," she started off with one of the first applicants, "in a business like this, our personal integrity must be beyond question." She leaned forward. "Mr. Peterson, are you an honest lawyer?"
"Honest?" replied the job prospect. "Let me tell you something about honest. Why, I'm so honest that my father lent me $15,000 for my education, and I paid back every penny the minute I tried my very first case."
"Impressive. And what sort of case was that?"
The lawyer squirmed in his seat and admitted, "He sued me for the money."
A man was walking along a Cali...
A man was walking along a California beach and stumbled across an old lamp. He picked it up and rubbed it and out popped a genie.
The genie said "OK, OK. You released me from the lamp... blah, blah, blah... This is the fourth time this month and I'm getting a little sick of these wishes so you can forget about three. You only get one wish!"
The man sat and thought about it for a while and said, "I've always wanted to go to Hawaii but I'm scared to fly and I get very seasick. Could you build me a bridge to Hawaii so I can drive over there to visit?"
The genie laughed and said, "That's impossible! Think of the logistics of that. How would the supports ever reach the bottom of the Pacific?
Think of how much concrete... how much steel!! No. Think of another wish."
The man said OK and tried to think of a really good wish. Finally, he said, "I've been married and divorced four times. My wives always said that I don't care and that I'm insensitive. So, I wish that I could understand women...know how they feel inside and what they're thinking when they give me the silent treatment... to know why they're crying, to know what they really want when they say 'nothing' ... to know how to make them truly happy."
The genie said, "You want that bridge two lanes or four?"
#joke
Never Trust a Street Gang in Heaven
One day St. Peter saw a street gang walking up to the Pearly Gates.
St. Peter ran to God and said, "God, there are some low-life street gang members at the Gates. What do I do?"
God relied, "Just do what you normally do with that type. Redirect them."
St. Peter went back to carry out the order, but he suddenly came running back and yelling, "God, God, they're gone! They're gone!"
"The street gang?"
"No, the Pearly Gates!"

#joke
Chuck Norris counted to infini...
Chuck Norris counted to infinity. Twice.
Are Blind Pilots Flying?
One day at a busy airport, the passengers on a commercial airliner are seated waiting for the pilot to show up so they can get under way.
The pilot and copilot finally appear in the rear of the plane and begin walking up to the cockpit through the center aisle. Both appear to be blind; the pilot is using a white cane, bumping into passengers right and left as he stumbles down the aisle. The copilot is using a guide dog. Both have their eyes covered with sunglasses.
At first, the passengers do not react thinking that it must be some sort of practical joke. After a few minutes though, the engines start revving, and the airplane begins moving down the runway.
The passengers look at each other with some uneasiness. They start whispering among themselves and look desperately to the stewardesses for reassurance.
Yet, the plane starts accelerating rapidly, and people begin panicking. Some passengers are praying, and as the plane gets closer and closer to the end of the runway, the voices are becoming more and more hysterical.
When the plane has less than twenty feet of runway left, there is a sudden change in the pitch of the shouts as everyone screams at once. At the very last moment, the plane lifts off and is airborne.
Up in the cockpit, the copilot breathes a sigh of relief and tells the pilot: "You know, one of these days the passengers aren't going to scream, and we aren't going to know when to take off!"
#joke