We have two test tubes here...
"We have two test tubes here," said the professor of IVF studies from Monash University. "They contain two carefully synthesized ingredients that we can now use to create human life. Solution A is a genetically engineered copy of all the ingredients in the female ovum, while Solution B replicates the active ingredients in male spermatozoa.
If I mix them in this aseptic glass container a new human life will be conceived. Now any questions?"
"Could you possibly give us a demonstration?" asked an awed member of the audience.
"I'm sorry, not tonight," said the professor, "Solution A has a headache."
#joke
School Collection 15
What did Noah do while spending time on the ark?
Fished, but he didn't catch much. He only had two worms!
Mother: What was the first thing you learned in class?
Daughter: How to talk without moving my lips!
What did Caesar say to Cleopatra?
Toga-ether we can rule the world!
Teacher: What's big and yellow and comes in the morning to brighten a mothers day?
Pupil: The school bus!
What happened when the slave put his head into a lions mouth to count how many teeth he had?
The lion closed its mouth to see how many heads the slave had!
#joke
One does not select...
"One does not select a gun by rifling through the hunting section."
An old man was relaxing at his
An old man was relaxing at his hundredth birthday party when a reporter went up to him. "Sir, what is the secret of your long life?"
The man considered this for a moment, then replied, "Every evening at 9 p.m. I have a glass of port. Good for the heart I've heard."
The reporter then asked, "That's ALL?"
The man smiled, "Well, canceling my voyage on Titanic sure didn't hurt."
#joke
Grandma!
A little boy went to the store with his grandmother and on the way home, he was looking at the things she had purchased. He found a package of panty hose and began to sound out the words "QUEEN SIZE".
He then turned to his grandmother and exclaimed, "Look Granny, YOU wear the same size as our bed!"
#joke
Rising to the Occasion
A bunch of girls had become upset at an anthropology
professor who had a knack of offending women. They decided
the next time he did something offensive, they would all
stand up and walk out of his class. Sure enough, at the very
next class meeting while discussing a tribe of African
natives. The professor leered and said, "You'll be
interested to know the average tribal warrior there has a
cock twelve inches long."
The girls all rose in a large mass and headed for the door.
The prof sneered and said, "What's your hurry, girls? The
next flight to there isn't until Saturday!"
#joke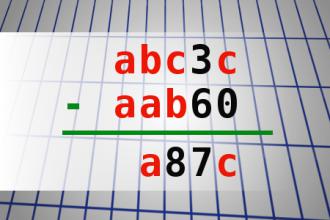 Find number abc
If abc3c - aab60 = a87c find number abc. Multiple solutions may exist.
The three wise men are out for...
The three wise men are out for a stroll when they come across a stable. The three of them decide to duck inside.
On the way in one of the wise men hits his head on the low entranceway.
"Jesus Christ!" he says.
Joseph says, "Quick, Mary, write that down! It's a hell of a lot better than Clyde!"
#joke
Name the animals...
The first-grade teacher was showing pictures of animals to her students to see how many they could name. She held up a picture of a lamb, and a little girl said, "That's a sheep!"
"That's right!" said the teacher. "How about THIS one?" she said, holding up a picture of the king of beasts.
"That's a lion!" answered a little boy.
"Right!" said the teacher. Then she held up a picture of a deer. No one volunteered an answer. She tried to help. "What does your mother call your father?"
Johnny said, "I know! That's a lazy old goat!"
#joke
A police officer arrives at an
A police officer arrives at an accident scene where apparently three blondes have leaped to their death from a very tall building...
He suddenly notices that one is still breathing so he approaches her and asks, "Why did you three beautiful girls leap out of that building?"
The blond answers in a very weak voice, "We wanted to try out our new maxi-pads with wings."
In light of the rising frequen...
In light of the rising frequency of human - grizzly bear conflicts, the Alaska Department of Fish and Game is advising hikers, hunters, and fishermen to take extra precautions and keep alert of bears while in the field. They advise that outdoorsmen wear noisy little bells on their clothing so as not to startle bears that aren't expecting them. They also advise outdoorsmen to carry pepper spray with them in case of an encounter with a bear. It is also a good idea to watch out for fresh signs of bear activity. Outdoorsmen should recognize the difference between black bear and grizzly bear dung. Black bear dung is smaller and contains lots of berries and squirrel fur. Grizzly bear dung has little bells in it and smells like pepper.
#joke