"When a new cat arriv
"When a new cat arrives, the news spreads quickly via word of mouse."
Greatest Comedian in the Bible
Q. Who was the greatest comedian in the Bible?A. Samson. He brought the house down.
She Knows Her Geography
"I have traveled just about all over the world."
"Wow, you must know geography well?"
"Oh yes, I spent 2 months there!"

Technology Problems
One of my friends works in the customer service call center of a national pager company. He deals with the usual complaints regarding poor pager operation, as well as the occasional crank caller demanding to be paged less often, more often, or by more interesting people.
The best call came from a man who repeatedly complained that he keeps being paged by "Lucille." He was instructed that he would have to call her and tell her to stop paging him.
"She don't never leave no number, so I can't call her back," he said.
After three such calls, someone thought to ask how he knew it was Lucille if she didn't leave a number.
"She leaves her name," was the reply.
After establishing that the customer had a numericonly pager, the light bulb came on.
"How does she spell her name?" the service rep asked.
"L-O-W C-E-L-L"
Another problem solved.
#joke
Sally was driving home from on...
Sally was driving home from one of her business trips in Northern Arizona when she saw an elderly Navajo woman walking on the side of the road. As the trip was a long and quiet one, she stopped the car and asked the Navajo woman if she would like a ride. With a silent nod of thanks, the woman got into the car.
Resuming the journey, Sally tried in vain to make a bit of small talk with the Navajo woman. The old woman just sat silently, looking intently at everything she saw, studying every little detail, until she noticed a brown bag on the seat next to Sally.
"What in bag?" asked the old woman.
Sally looked down at the brown bag and said, "It's a bottle of wine. I got it for my husband."
The Navajo woman was silent for another moment or two. Then speaking with the quiet wisdom of an elder, she said, "Good trade."
#joke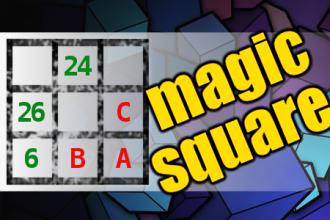 MAGIC SQUARE: Calculate A*B-C
The aim is to place the some numbers from the list (6, 7, 8, 24, 25, 26, 64, 65, 66) into the empty squares and squares marked with A, B an C. Sum of each row and column should be equal. All the numbers of the magic square must be different. Find values for A, B, and C. Solution is A*B-C.
Escargot
A married couple were having a dinner party for some important guests. The wife was very excited about this and wanted everything to be perfect. At the very last minute, she realized that she didn't have any escargot for the dinner party, so she asked her husband to run down to the beach with the bucket to gather some snails.
Very grudgingly he agreed. He took the bucket, walked out the door, down the steps, and out to the beach. As he was collecting the snails, he noticed a beautiful woman strolling alongside the water just a little further down the beach.
He kept thinking to himself, "Wouldn't it be great if she would even just come down and talk to me?" He went back to gathering the snails.
All of a sudden he looked up, and the beautiful woman was standing right over him. They started talking and she invited him back to her place. They ended up spending the night together. At seven o'clock the next morning he woke up and exclaimed, "Oh no!!! My wife's dinner party!!!"
He gathered all his clothes, put them on real fast, grabbed his bucket, and ran out the door. He ran down the beach all the way to his apartment. He ran up the stairs of his apartment, but he was in such a hurry that when he got to the top of the stairs, he dropped the bucket of snails spilling them all down the stairs.
The door suddenly opens with a very angry wife standing in the doorway wondering where he's been all this time.
He looked at the snails all down the steps, then he looked at her, then back at the snails and said, "Come on guys, we're almost there!!"
#joke
1. If you are choking on an ic
1. If you are choking on an ice cube, don't panic. Simply pour a cup of boiling water down your throat and presto! The blockage will be almost instantly removed.
2. Clumsy? Avoid cutting yourself while slicing vegetables by getting someone else to hold them while you chop away.
3. Avoid arguments with the Mrs. about lifting the toilet seat by simply using the sink.
4. High blood pressure sufferers: simply cut yourself and bleed for a while, thus reducing the pressure in your veins.
5. A mouse trap, placed on top of your alarm clock, will prevent you from rolling over and going back to sleep when you hit the snooze button.
6. If you have a bad cough, take a large dose of laxatives, then you will be afraid to cough.
7. Have a bad toothache? Hit your thumb with a hammer, then you will forget about the toothache.
8. Everyone seems normal until you get to know them.
9. AND..... Sometimes we just need to remember what The Rules of Life really are: You need only two tools: WD-40 and duct tape. If it doesn't move and it should, use WD-40. If it moves and shouldn't, use the duct tape.
10. If you woke up breathing, congratulations! You have another chance!
11. And finally... Be really good to your family and friends. You never know when you are going to need them to empty your bedpan.
#joke
A Bunny Story
Once upon a time there was a man who was peacefully driving down a windy road. Suddenly, a bunny skipped across the road and the man couldn't stop. He hit the bunny head on. The man quickly jumped out of his car to check the scene. There, lying lifeless in the middle of the road, was the Easter Bunny.
The man cried out, "Oh no! I have committed a terrible crime! I have run over the Easter Bunny!"
The man started sobbing quite hard and then he heard another car approaching. It was a woman in a red convertible. The woman stopped and asked what the problem was.The man explained, "I have done something horribly sad. I have run over the Easter Bunny. Now there will be no one to deliver eggs on Easter, and it's all my fault."
The woman ran back to her car. A moment later, she came back carrying a spray bottle. She ran over to the motionless bunny and sprayed it. The bunny immediately sprang up, ran into the woods, stopped, and waved back at the man and woman. Then it ran another 10 feet, stopped, and waved. It then ran another 10 feet, stopped, and waved again. It did this over and over and over again until the man and the woman could no longer see the bunny.
Once out of sight, the man exclaimed, "What is that stuff in that bottle?"
The woman replied, "It's harespray. It revitalizes hare and adds permanent wave."
#joke
Don't Step on the Ducks
Three guys die together in an accident and go to heaven. When they get there, St. Peter says, "We only have one rule here in heaven: Don't step on the ducks!"So they enter heaven, and sure enough, there are ducks all over the place. It is almost impossible not to step on a duck, and although they try their best to avoid them, the first guy accidentally steps on one.Along comes St. Peter with the ugliest woman he has ever seen. St. Peter chains them together and says, "Your punishment for stepping on a duck is to spend eternity chained to the ugly woman!"The next day, the second guy steps accidentally on a duck, and along comes St. Peter, who doesn't miss a thing, and with him is another extemely ugly woman. He chains them together with the same admonishment as for the first guy.The third guy has observed all this and not wanting to be chained for all eternity to an ugly woman, is very, VERY careful where he steps. He manages to go months without stepping on any ducks, but one day St. Peter comes up to him with the most gorgeous woman he has ever laid eyes on: a very tall, tan, curvaceous, sexy blonde. St. Peter chains them together without saying a word.The guy remarks, "I wonder what I did to deserve being chained to you for all of eternity?" She says, "I don't know about you, but I stepped on a duck!"
Facts of life...
Morris asks his son, now aged 13, if he knows about the birds and the bees. "I don't want to know!" the child said, bursting into tears. Confused, the father asked his son what was wrong.
"Oh dad," he sobbed, "at age six I got the 'there's no Santa' speech. At age seven I got the 'there's no Easter bunny' speech. Then at age 8 you hit me with the 'there's no tooth fairy' speech! If you're going to tell me now that grown-ups don't really have sex, I've got nothing left to live for!"
#joke
Borrowing A Mule
There was a guy in the middle of the desert and his car broke down.
He started walking and he came to a monastery, where he asked them if he could borrow a mule.
The monks lent him one, and they explained that you had to say "Thank the Lord!" to make it go and "Amen!" to make it stop.
So the man said, "Thank the Lord, thank the Lord and thank the Lord!" and the mule took off! He was coming to the edge of a cliff and he forgot how to make it stop.
Finally, at the very edge he remembered, "Amen!" The guy was so relieved he shouted, "Thank the Lord!"
#joke
"People are choosing ...
"People are choosing cremation over traditional burial. It shows that they are thinking out of the box."