What is it called, when backwa
What is it called, when backwards you sing? A: Yoda-ling
Different Kind of Easter
Just before Easter, I remarked to my husband that with the children grown and away from home, this was the first year that we hadn't dyed eggs and had an Easter-egg hunt.
"That's all right, honey," he said. "We can just hide each other's vitamin pills."
Joining a new company, a guy h
Joining a new company, a guy had to take a physical with the company doctor.
All the tests came out fine but, after a brief hesitation, the doctor noted that he had the smallest penis he'd ever seen. "Tell me," he said, "Do you have any difficulties with it being so small?"
"No," he said. "I've got a great wife, three kids, and a normal sex life. I guess the only problem I ever have is finding it when I need to urinate."
"And yet you still have a normal sex life?"
"That's not a problem," he said, "because there's TWO of us looking for it then."
When I was six months pregnant
When I was six months pregnant with my third child, my three year old came into the room when I was just getting ready to get into the shower.
She said, "Mummy, you are getting fat!"
I replied, "Yes, honey, remember Mummy has a baby growing in her tummy."
"I know," she replied, "but what's growing in your bum?"
#joke
The Biology Song 01
Biology Christmas
THE NIGHT BEFORE DEFENCE
(or A Visit From Citrate)
Twas the night before defence, when all through te lab
Not a gel box was shaking, with stain or with MAb;
The columns were hung in the cold room with care,
In hopes that my protein, I soon could prepare;
The post-docs were nestled all smug in their beds,
While extracts of barley muddled their heads;
With the tech in the suburbs and PI the same,
I had just settled down to another video game.
When out of the fridge there arose such a clatter
I sprang from the terminal to see what was the matter.
Away to the cold box, I flew like a flash
But the stench was o'erpowering and I threw up beef hash.
The mould on the dampest of walls were cold
Had the softness of kittens only seven weeks old;
When what to my view, a thing I despise
But a half eaten sandwich and four tiny mice;
With a little old scientist, so lively and galling,
I knew at a glance was Linus Pauling.
More vapid than undergrads, his charges they came,
And he whistled, and shouted, and called them rude names.
"Now, Watson! Now Francis! You strange little modellers!
On Luria! On Bertani! You stupid old broth'lers!
To the top of the bench, to the top of the wall!
Purify! Purify! Purify all!"
As dry heaves before the commitee meeting, bend
A young student's body and his colon distend,
So up their earlobes, acytes they grew,
With a sack full of antibodies, their skin turning blue.
And then, for a second, I heard from the 'fuge,
An unbalanced rotor spinning something too huge.
Where I put down my hand, to better hear the sound,
Came the snapping of sparks from a wire sans ground.
Pauling's hair was al wavy, and I thought I must be sick
`Cause the curls in his hair looked just like a helix.
On an arm load of oranges, he started to snack
An I recalled his fetish with citrate, the quack.
His eyes were all wrinkled, but the cheeks were yet red;
Not too shabby for a man who was several years dead;
The leer of his smile was just a tad scary
And the snow on his rooftop made his head yet quite hairy;
The end of a pipette, he held in his teeth
And a pile of kimwipes lay around his big feet.
He held a small vial of something quite gel-ly,
A mercaptan no doubt, for it make him quite smelly.
He changed `round the columns, adding to the confusion
And I laughed to spite my own paranoid delusion.
A wink of his eye and a rotation of his head,
Told me whatever I drank would soon leave me dead.
He spoke not a word, just buggered up my work,
And dried all my resins, that silly old jerk.
And separating his middle finger from first, fourth and third,
That crazy, old bugger, just flipped me the bird.
He grabbed up his cohorts and ran down the hall,
And away they all flew, letting me take the fall.
That is why, dear Commitee, I am sorry to say,
I need a five year extension, starting today.
A weaver bird
"A weaver bird uses its beak to construct its nest. The definitive book on weaver birds is entitled 'To Call a Smocking Bird.'"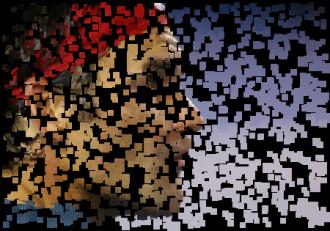 Who is the mysterious person i...
Who is the mysterious person in the picture?
A Bible story
A father was reading Bible stories to his young son.
He read, "The man named Lot was warned to take his wife and flee out of the city. But his wife looked back and was turned to salt."
His son asked, "What happened to the flea?"
A Bunny Story
Once upon a time there was a man who was peacefully driving down a windy road. Suddenly, a bunny skipped across the road and the man couldn't stop. He hit the bunny head on. The man quickly jumped out of his car to check the scene. There, lying lifeless in the middle of the road, was the Easter Bunny.
The man cried out, "Oh no! I have committed a terrible crime! I have run over the Easter Bunny!"
The man started sobbing quite hard and then he heard another car approaching. It was a woman in a red convertible. The woman stopped and asked what the problem was.The man explained, "I have done something horribly sad. I have run over the Easter Bunny. Now there will be no one to deliver eggs on Easter, and it's all my fault."
The woman ran back to her car. A moment later, she came back carrying a spray bottle. She ran over to the motionless bunny and sprayed it. The bunny immediately sprang up, ran into the woods, stopped, and waved back at the man and woman. Then it ran another 10 feet, stopped, and waved. It then ran another 10 feet, stopped, and waved again. It did this over and over and over again until the man and the woman could no longer see the bunny.
Once out of sight, the man exclaimed, "What is that stuff in that bottle?"
The woman replied, "It's harespray. It revitalizes hare and adds permanent wave."
#joke
Don't Step on the Ducks
Three guys die together in an accident and go to heaven. When they get there, St. Peter says, "We only have one rule here in heaven: Don't step on the ducks!"So they enter heaven, and sure enough, there are ducks all over the place. It is almost impossible not to step on a duck, and although they try their best to avoid them, the first guy accidentally steps on one.Along comes St. Peter with the ugliest woman he has ever seen. St. Peter chains them together and says, "Your punishment for stepping on a duck is to spend eternity chained to the ugly woman!"The next day, the second guy steps accidentally on a duck, and along comes St. Peter, who doesn't miss a thing, and with him is another extemely ugly woman. He chains them together with the same admonishment as for the first guy.The third guy has observed all this and not wanting to be chained for all eternity to an ugly woman, is very, VERY careful where he steps. He manages to go months without stepping on any ducks, but one day St. Peter comes up to him with the most gorgeous woman he has ever laid eyes on: a very tall, tan, curvaceous, sexy blonde. St. Peter chains them together without saying a word.The guy remarks, "I wonder what I did to deserve being chained to you for all of eternity?" She says, "I don't know about you, but I stepped on a duck!"
Facts of life...
Morris asks his son, now aged 13, if he knows about the birds and the bees. "I don't want to know!" the child said, bursting into tears. Confused, the father asked his son what was wrong.
"Oh dad," he sobbed, "at age six I got the 'there's no Santa' speech. At age seven I got the 'there's no Easter bunny' speech. Then at age 8 you hit me with the 'there's no tooth fairy' speech! If you're going to tell me now that grown-ups don't really have sex, I've got nothing left to live for!"
#joke
Borrowing A Mule
There was a guy in the middle of the desert and his car broke down.
He started walking and he came to a monastery, where he asked them if he could borrow a mule.
The monks lent him one, and they explained that you had to say "Thank the Lord!" to make it go and "Amen!" to make it stop.
So the man said, "Thank the Lord, thank the Lord and thank the Lord!" and the mule took off! He was coming to the edge of a cliff and he forgot how to make it stop.
Finally, at the very edge he remembered, "Amen!" The guy was so relieved he shouted, "Thank the Lord!"
#joke
"People are choosing ...
"People are choosing cremation over traditional burial. It shows that they are thinking out of the box."