My Stradivarius brand bike did...
My Stradivarius brand bike did not come with stopping devices. I had to install some to brake the cycle of violins.
Things to do II
Things to ...
Things to do II
Things to do @ Wal-Mart while the significant other is taking his/her sweet time:
11. Look right into the security camera, and use it as a mirror while you pick your nose.
12. Take up an entire aisle in Toys by setting up a full scale battlefield with G. I. Joe's vs. the X-Men.
13. Ask other customers if they have any Grey Poupon.
15. Switch the men's and women's signs on the doors of the restroom.
16. Dart around suspiciously while humming the theme from "Mission Impossible."
17. Set up a "Valet Parking" sign in front of the store.
19. Hide in the clothing racks and when people browse through, say things like "pick me! pick me!!"
21. If the store has a food court, buy a soft drink; explain that you don't get out much, and ask if they can put a little umbrella in it.
#joke
Funny video of the day - Funny video of the day Sunday, 18 April 2010
There were four men, one from ...
There were four men, one from China, Greenland, America and one
from Australia.
One night they were bragging on how good their country are. The
Chinese said, "my country is the best cause we have the great
wall."
The Greenlander said, "no, mine is the best as we have the
greenest greenest grass."
The American said, "no, mine is the best as we have our flag 50
stars and 50 stripes."
The Australian said, "no, mine is the greatest country as we
have the kangaroo which will jump over the great wall, shit on
the greenest greenest grass and wipe its ass on the American
flag."
Posted by
#joke
Pecans in the Cemetery
On the outskirts of a small town, there was a big, old pecan tree just inside the cemetery fence. One day, two boys filled up a bucketful of nuts and sat down by the tree, out of sight, and began dividing the nuts.
'One for you, one for me One for you, one for me,' said one boy. Several dropped and rolled down toward the fence.
Another boy came riding along the road on his bicycle. As he passed, he thought he heard voices from inside the cemetery. He slowed down to investigate. Sure enough, he heard, 'One for you, one for me. One for you, one for me.'
He just knew what it was. He jumped back on his bike and rode off. Just around the bend he met an old man with a cane, hobbling along.
'Come here quick,' said the boy, 'you won't believe what I heard! Satan and the Lord are down at the cemetery dividing up the souls.'
The man said, 'Beat it kid, can't you see it's hard for me to walk.' When the boy insisted though, the man hobbled slowly to the cemetery.
Standing by the fence they heard , 'One for you, one for me. One for you, one for me.'
The old man whispered, 'Boy, you've been tellin' me the truth. Let's see if we can see the Lord.'
Shaking with fear, they peered through the fence, yet were still unable to see anything. The old man and the boy gripped the wrought iron bars of the fence tighter and tighter as they tried to get a glimpse of the Lord.
At last they heard, 'One for you, one for me. That's all. Now let's go get those nuts by the fence and we'll be done.'
They say the old man made it back to town a full 5 minutes ahead of the kid on the bike.
#joke
In a check out line, a couple ...
In a check out line, a couple was arguing about whose turn it was to pay.
The clerk was kind of listening until she heard the lady said to the guy, "Stop being a scrote."
With a furrowed brow the clerk asked, "What is a scrote?"
Without missing a beat the lady responded, "Short for scrotum. He is somewhere between a prick and an asshole."
#joke
Harland Williams: Talking in Church
I love going to church; every Sunday, Im there. The only thing I dont like about it is those priests sure do like to talk, dont they? Oh, they love to talk and talk, but they dont like it when you talk in church, do they? Oh no, they dont like that action. Like last Sunday, Im in church, priest is blabbing away. Theres just a little tiny quiet spot in the middle of his sermon, just a little, little tiny quiet spot. I stood up in the middle of the church, and all I said was, Hey! I smell ass!
#joke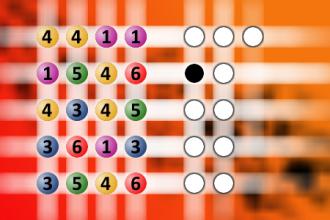 What a winning combination?
The computer chose a secret code (sequence of 4 digits from 1 to 6). Your goal is to find that code. Black circles indicate the number of hits on the right spot. White circles indicate the number of hits on the wrong spot.
Things To Do At Wal-Mart While You Wait For Your Family To Shop
1. Get boxes of condoms & randomly put them in peoples' carts when they aren't looking.
2. Set all the alarm clocks to go off at 10-minute intervals.
3. Make a trail of orange juice on the floor to the rest rooms.
4. Walk up to an employee and tell him/her in an official tone, 'I think we have a code 3 in housewares,' and see what happens.
5. Put some M&M's on lay away.
6. Move CAUTION WET FLOOR signs to carpet areas.
7. Set up a tent in the camping department, tell others you'll only invite them in if they bring pillows from the bedding department.
8. When someone asks if they can help you, begin to cry and ask, 'Why won't you people leave me alone.'
9. Look right into the security camera and use it as a mirror while you pick your nose.
10. Dart around suspiciously while humming the theme from 'Mission Impossible.'
11. While handling guns in the hunting department ask the clerk if he knows where the anti-depressants are.
12. In the auto department practice your Madonna look using different size funnels.
13. Hide in the clothing rack and when people browse through whisper 'PICK ME! PICK ME!!!!!'
14. When an announcement comes over the loud speaker assume the fetal position and scream 'NO! NO! It's those voices again!'
15. Go to the fitting room and yell real loud.....'Hey we're out of toilet paper in here!'
#joke
A husband and wife at a hotel ...
A husband and wife at a hotel asked for a 6am alarm call. On the stroke of 6, the phone rang and a voice said: "This is your wake-up call." The guest said thanks and put the phone down. A minute later the phone rang again and the voice said: "This is your wake-up call." Annoyed, the husband said: "You phoned only a minute ago." "I know," replied the receptionist, "but there are two of you."
#joke
A Mouse In US Army
Once there was a mouse who was very sober, gentle and kind hearted and used to help everyone.
One day everyone saw that he was very angry he told the lion what he thinks of himself he will just kick his face and all the teeth in his mouth will come out, then he walked up to the elephant and told him to stand still otherwise he will through him in the river...
He was just terrifying every one, the lion asked the fox what had happened to the dear mouse she told him that the mouse has joined the **cking US Army
(* kicking)
#joke
A dentist was getting ready to...
A dentist was getting ready to clean an elderly lady's teeth. He noticed that she was a little nervous, so he began to tell her a story as he was putting on his surgical gloves...
"Do you know how they make these rubber gloves?" She said, "No?"
"Well", he spoofed, "down in Mexico they have this big building set up with a large tank of latex, and the workers are all picked according to hand size. Each individual walks up to the tank, dips their hands in, and then walk around for a bit while the latex sets up and dries right onto their hands! Then they peel off the gloves and throw them into the big 'Finished Goods Crate' and start the process all over again."
And she didn't laugh a bit!!! Five minutes later, during the procedure, he had to stop cleaning her teeth because she burst out laughing.
The old woman blushed and exclaimed, "I just suddenly thought about how they must make condoms!"
#joke
Two Kinds of People
There are two kinds of people. Those who wake up in the morning and say, "Good morning, Lord," and those who wake up in the morning and say, "Good Lord, it's morning."

Would you watch my car?
A tourist climbed out of his car in downtown Washington, D.C. He said to a man standing near the curb, "Listen, I'm going to be only a couple of minutes. Would you watch my car while I run into this store?"
"What?" the man huffed. "Do you realize that I am a member of the United States Senate?"
"Well no," the tourist said, "I didn't realize that. But it's all right. I'll trust you anyway."
#joke
Ideas About Science
The beguiling ideas about science quoted here were gleaned from essays, exams, and classroom discussions. Most were from 5th and 6th graders. They illustrate Mark Twain's contention that the 'most interesting information comes from children, for they tell all they know and then stop.
Q: What is one horsepower?
A: One horsepower is the amount of energy it takes to drag a horse 500 feet in one second.
You can listen to thunder after lightning and tell how close you came to getting hit. If you don't hear it, you got hit, so never mind.
Talc is found on rocks and on babies.
The law of gravity says no fair jumping up without coming back down.
When they broke open molecules, they found they were only stuffed with atoms. But when they broke open atoms, they found them stuffed with explosions.
When people run around and around in circles we say they are crazy. When planets do it we say they are orbiting.
Rainbows are just to look at, not to really understand.
While the earth seems to be knowingly keeping its distance from the sun, it is really only centrificating. [this guy is going to do well in college! *haha* ...Lj]
Someday we may discover how to make magnets that can point in any direction.
South America has cold summers and hot winters, but somehow they still manage.
Most books now say our sun is a star. But it still knows how to change back into a sun in the daytime.
Water freezes at 32 degrees and boils at 212 degrees. There are 180 degrees between freezing and boiling because there are 180 degrees between north and south.
A vibration is a motion that cannot make up its mind which way it wants to go.
There are 26 vitamins in all, but some of the letters are yet to be discovered. Finding them all means living forever.
There is a tremendous weight pushing down on the center of the Earth because of so much population stomping around up there these days.
Lime is a green-tasting rock.
Many dead animals in the past changed to fossils while others preferred to be oil.
Genetics explain why you look like your father and if you don't why you should.
Vacuums are nothings. We only mention them to let them know we know they're there.
Some oxygen molecules help fires burn while others help make water, so sometimes it's brother against brother.
Some people can tell what time it is by looking at the sun. But I have never been able to make out the numbers.
We say the cause of perfume disappearing is evaporation. Evaporation gets blamed for a lot of things people forget to put the top on.
To most people solutions mean finding the answers. But to chemists solutions are things that are still all mixed up.
In looking at a drop of water under a microscope, we find there are twice as many H's as O's.
Clouds are high flying fogs.
I am not sure how clouds get formed. But the clouds know how to do it, and that is the important thing.
Clouds just keep circling the earth around and around. And around. There is not much else to do.
Water vapor gets together in a cloud. When it is big enough to be called a drop, it does.
Humidity is the experience of looking for air and finding water.
We keep track of the humidity in the air so we won't drown when we breathe.
Rain is often known as soft water, oppositely known as hail.
Rain is saved up in cloud banks.
In some rocks you can find the fossil footprints of fishes.
Cyanide is so poisonous that one drop of it on a dogs tongue will kill the strongest man.
A blizzard is when it snows sideways.
A hurricane is a breeze of a bigly size.
A monsoon is a French gentleman.
Thunder is a rich source of loudness.
Isotherms and isobars are even more important than their names sound.
It is so hot in some places that the people there have to live in other places.
The wind is like the air, only pushier.
#joke
ATTORNEY: Were you present wh...
ATTORNEY: Were you present when your picture was taken?
WITNESS: Are you shittin' me?

How the Grinch Stole Marriage<...
How the Grinch Stole Marriage
(with apologies to Dr. Seuss.)
Every Gay down in Gayville liked Gay Marriage a lot......
But the Grinch, who lived just east of Gayville, did NOT!!
The Grinch hated happy Gays! The whole Marriage season!
Now, please don't ask why. No one quite knows the reason.
It could be his head wasn't screwed on just right.
It could be, perhaps, his Florsheims were too tight.
But I think the most likely reason of all was
His heart and brain were two sizes too small.
"And they're buying their tuxes!" he snarled with a sneer,
"Tomorrow's the first Gay Wedding! It's practically here!"
Then he growled, with his Grinch fingers nervously drumming,
"I MUST find some way to stop Gay Marriage from coming!"
For, tomorrow, he knew...
All the Gay girls and boys
would wake bright and early. They'd rush for their vows!
And then! Oh, the Joys! Oh, the Joys!
And THEN they'd do something he liked least of all!
Every Gay down in Gayville the tall and the small,
would stand close together, all happy and blissing.
They'd stand hand-in-hand. And the Gays would start kissing!
"I know what to do!" The Grinch laughed in his throat.
And he went to his closet, grabbed his sheet and his hood.
And he chuckled, and clucked, with a great Grinchy word!
"With this beard and this cross, I look just like our Lord!"
"All I need is a Scripture..." The Grinch looked around.
But, true Scripture is scarce, there was none to be found.
Did that stop the old Grinch...? No! The Grinch simply said,
"With no Scripture on Marriage, I'll fake one instead!"
"It's one man and one woman," the Grinch falsely said.
Then he broke in the courthouse. A rather tight pinch.
But, if Georgie could do it, then so could the Grinch.
The little Gay benefits hung in a row.
"These bennies," he grinned, "are the first things to go!"
Then he slithered and slunk, with a smile most uncanny,
around the whole room, and he took every benny!
Health care for partners! Doctors for kiddies!
Tax rights! Adoptions! Pensions and Wills!
And he stuffed them in bags. Then the Grinch, with a chill,
Stuffed all the bags, one by one, in his bill.
Then he slunk to the kitchen, and stole Wedding Cake.
He cleaned out that icebox and made it look straight.
He took the Gay-bar keys! He took the Gay Flag.
Why, that Grinch even took their last Gay birdseed bag!
"And NOW!" grinned the Grinch, "I will pocket their Rings."
And the Grinch grabbed the Rings, and he started to shove
when he heard a small sound like the coo of a dove.
He turned around fast, and off flew his hood.
Little Lisa-Bi Gay behind him sadly stood.
The Grinch had been caught by small Lisa-Bi.
She stared at the Grinch and said, "My, oh, my, why?"
"Why are you taking our Wedding Rings? WHY?"
But, you know, that old Grinch was so smart and so slick
He thought up a lie, and he thought it up quick!
"Why, my sweet little tot," the fake Shepherd sneered,
"The judges are evil, the other states weird."
"I'll fix the rings there and I'll bring them back here."
It was quarter past dawn... All the Gays, still a-bed,
all the Gays still a-snooze when he packed up and fled.
"Pooh-Pooh to the Gays!" he was grinch-ish-ly humming.
"They're finding out now no Gay Marriage is coming!"
"Their mouths will hang open a minute or two
then the Gays down in Gayville will all cry Boo-Hoo!"
He stared down at Gayville! The Grinch popped his eyes!
Then he shook! What he saw was a shocking surprise!
Every Gay down in Gayville, the tall and the small,
was kissing! Without any bennies at all!
He HADN'T stopped Marriage from coming! IT CAME!
Somehow or other, it came just the same!
And the Grinch, with his grinch-feet ice-cold in the snow,
stood puzzling and puzzling: "How could it be so?"
"It came without lawyers, no papers to sort!"
"It came without licenses, came without courts!"
And he puzzled three hours, till his puzzler was sore.
Then the Grinch thought of something he hadn't before!
"Maybe Marriage," he thought, "doesn't come from the court.
Maybe Marriage...perhaps... comes right from the heart.
Maybe Marriage comes from all the words the Gays say.
Words like Husband, like Wedding, and Spouse who is Gay."
And what happened then...? Well...in Gayville they say
that the Grinch's small brain grew three sizes that day!
And the Gays had their Weddings. They promised for life.
They swore to be faithful, to Wife and her Wife.
The Husbands were happy, to each other they vowed
To be Out and be Honest, be Gay and be Proud.
They told all their neighbors and friends of their Spouse,
They told of their Marriage and sharing their house.
They said "We got Married." They shouted it loud.
Their marital status was "Married and Proud."
And the minute his heart didn't feel quite so tight,
He whizzed with his load through the bright morning light.
And he brought back the rings, cake and Gay birdseed bags!
And he... ...HE HIMSELF... hung the Gay Rainbow Flag!
The Lord looked down, at the proud and the tall,
and said "These are my children, and I love them all."
The Moral of the Story...
The moral of this story is that we don't need a piece of paper and the approval of the state to get married. We can just get married. Instead of having a committment ceremony, we can have a wedding. Instead of partners, we can have husbands and wives. Instead of calling our relationship a Domestic Partnership or a Civil Union, we can call it a Marriage.
Whether any government recognizes it is separate from what we call it. It's a free country and we can call ourselves what we like. In 5 or 10 or 20 years, with plenty of visible same-sex married couples, the world won't see us as strange or scary, we're just the married couple down the street that happens to be gay. Eventually, the legal recognization of our marriages will follow.
If we allow ourselves to voluntarily sit in the back of the bus, we'll never make any progress. Rosa Parks had to sit in the front of the bus to make a difference. We must as well.
Copyright (c) 2004 by Mary Ann Horton.
Permission granted to copy in whole, with attribution.
This is a parody of "How the Grinch Stole Christmas."

Someone saw a blonde eati...

Someone saw a blonde eating a Tootsie Roll Pop and asked her, "So, how many licks does it take to get to the center of a Tootsie Roll - Tootsie Pop?"

Without a thought, the blonde replied, "Beats me, but it took almost the whole day just to lick through the wrapper."