How does a meteor shower?...
How does a meteor shower?
Wife: Let's go out and have s...
Wife: Let's go out and have some fun tonight.
Husband: Okay, but if you get home before I do, leave the hall light on.

Funny video of the day - Funny video of the day Thursday, 20 January 2011
What Does A Kiss Taste Like?
One day a teacher had a taste test with her students. She picked a little boy to do the first test. She blindfolded him, put a Hershey kiss in his mouth and asked, "Do you know what it is?"
"No, I don't," said the little boy.
"Okay, I'll give you a clue. It's the thing your daddy wants from your Mom before he goes to work."
Suddenly, a little girl at the back of the room yelled, "Spit it out! It's a piece of Ass.
#joke
Only one kiss per yard...
Walking up to a department store's fabric counter, the pretty girl said, "I would like to buy this material for a new dress. How much does it cost?"
"Only one kiss per yard," replied the male clerk with a smirk.
"That's fine," said the girl. "I'll take ten yards."
With expectation and anticipation written all over his face, the clerk quickly measured out the cloth, wrapped it up, then teasingly held it out.
The girl snapped up the package, pointed to the old geezer standing beside her, and smiled, "Grandpa will pay the bill."
#joke
Texan Farmer Travels
A Texan farmer goes to Australia for a vacation. There he meets an Aussie farmer and gets talking. The Aussie shows off his big wheat field and the Texan says, "Oh! We have wheat fields that are at least twice as large".
Then they walk around the ranch a little and the Aussie shows off his herd of cattle. The Texan immediately says, " We have longhorns that are at least twice as large as your cows".
The conversation has, meanwhile, almost died when the Texan sees a herd of kangaroos hopping through the field. He asks, "And what are those"?
The Aussie asks with an incredulous look, "Don't you have any grasshoppers in Texas"?
#joke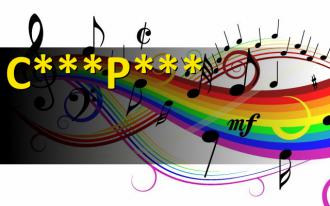 Replace asterisk symbols with ...
Replace asterisk symbols with a letters (C***P***) and guess the name of musician band. Length of words in solution: 8.
Monica Lewinsky was looking at...
Monica Lewinsky was looking at herself in a mirror.
Her frustration over her lack of ability to lose weight was depressing her.
In an act of desperation, she decided to call on God for help.
"God...if you take away my love handles, I'll devote my life to you," she payed.
And just like that, her ears fell off.
#joke
It had promised to be a sensat...
It had promised to be a sensational divorce case, with the wife accused of incredible escapades. Testifying before her own attorney, she projected an image of sweet innocence, told a tale of wifely fidelity and sacrifice, and was quite believable.
When it was time for cross-examination though, the husband's lawyer arose and said, "Isn't it true that on the night of June 12, in a driving rainstorm, you had sexual intercourse with a certain circus midget on the handle bars of a careening motorcycle as it raced across a private golf course reaching speeds in excess of seventy-five miles per hour?"
She turned pale but retained her remarkable self-control and composure.
Her voice was almost serene in its innocence as she asked, "What was that date again ?"
CAT DIARY, 7 entries
DAY 752 - My captors continue to taunt me with bizarre little dangling objects. They dine lavishly on fresh meat, while I am forced to eat dry cereal. The only thing that keeps me going is the hope of escape, and the mild satisfaction I get from ruining the occasional piece of furniture. Tomorrow I may eat another houseplant.
---------
DAY 761 - Today my attempt to kill my captors by weaving around their feet while they were walking almost succeeded, must try this at the top of the stairs. In an attempt to disgust and repulse these vile oppressors, I once again induced myself to vomit on their favorite chair...must try this on their bed.
---------
DAY 762 - Slept all day so that I could annoy my captors with sleep depriving, incessant pleas for food at ungodly hours of the night.
---------
DAY 765 - Decapitated a mouse and brought them the headless body, in attempt to make them aware of what I am capable of, and to try to strike fear into their hearts. They only cooed and condescended about what a good little cat I was...Hmmm. Not working according to plan.
---------
DAY 768 - I am finally aware of how sadistic they are. For no good reason I was chosen for the water torture. This time however it included a burning foamy chemical called "shampoo." What sick minds could invent such a liquid. My only
---------
DAY 771 - There was some sort of gathering of their accomplices. I was placed in solitary throughout the event. However, I could hear the noise and smell the foul odor of the glass tubes they call "beer." More importantly I overheard that my confinement was due to MY power of "allergies." Must learn what this is and how to use it to my advantage.
---------
DAY 774 - I am convinced the other captives are flunkies and maybe snitches. The dog is routinely released and seems more than happy to return. He is obviously a half-wit. The Bird on the other hand has got to be an informant. He has mastered their frightful tongue. (something akin to mole speak) and speaks with them regularly. I am certain he reports my every move. Due to his current placement in the metal room his safety is assured.
But I can wait; it is only a matter of time.
The Obedient Wife
There was a man who had worked all of his life and was a real miser when it came to his money. He loved money more than anything, and just before he died, he said to his wife, "Now listen. When I die, I want you to take all my money and put it in the casket with me, because I want to take my money to the afterlife with me."
And so he got his wife to promise him with all of her heart that when he died, she would put all of the money in the casket with him. One day he died. He was stretched out in the casket, the wife was sitting there in black, and her friend was sitting next to her.
When they finished the ceremony, just before the undertakers got ready to close the casket, the wife said, "Wait just a minute!"
She had a box with her. She came over with the box and put it in the casket. Then the undertakers locked the casket down and rolled it away. Her friend said, "Girl, I know you weren't foolish enough to put all that money in there with that man."
She said, "Listen, I'm a Christian; I can't life. I promised him that I was going to put his money in that casket with him, and that's what I did."
Her friend was amazed, "You mean to tell me you put all his money in the casket with him?"
"I sure did," said the wife. "I wrote him a check."
This joke was reprinted from "Laugh Yourself Healthy" by Charles and Frances Hunter, with permission of Strang Communications. Copyright 2008. All rights reserved.
#joke
After the Office Party
John, woke up after the annual office Christmas party with a pounding headache, cotton-mouthed and utterly unable to recall the events of the preceding evening.
After a trip to the bathroom, he made his way downstairs, where his wife put some coffee in front of him.
"Louise," he moaned, "tell me what happened last night. Was it as bad as I think?"
"Even worse," she said, her voice oozing scorn. "You made a complete ass of yourself. You succeeded in antagonising the entire board of directors and you insulted the president of the company, right to his face."
"He's an asshole," John said. "Piss on him."
"You did," came the reply. "And he fired you."
"Well, screw him!" said John.
"I did. You're back at work on Monday.
This Wife Is Too Jealous
There was once a wife so jealous that when her husband came home one night and she couldn't find hairs on his jackets she yelled at him, "Great, so now you're cheating on me with a bald woman!"
The next night, when she didn't smell any perfume, she yelled again by saying, "She's not only bald, but she's too cheap to buy any perfume!"
#joke
I think Cheney is starting to lose...
"I think Cheney is starting to lose it. After he shot the guy he screamed, 'Anyone else want to call domestic wire tapping illegal?'" -- Jay Leno
A man returned from vacation f...
A man returned from vacation feeling very ill. He went to see his doctor, and the doctor has him immediately rushed to the hospital for a range of tests. The man woke up after the tests in a private room at the hospital, and the phone by his bedside was ringing. "This is your doctor," said the voice on the other end. "We've reviewed the results of your tests and we've found you have a very nasty virus, which is extremely contagious."
"Oh my gosh! What are you going to do, doctor?"
"We're going to put you on a diet of pizza, pancakes and pita bread."
"Will that cure me?"
"No, but it's the only food we can slide under the door."