Question and answer blond jokes
Q: Why don't blondes call 911 in an emergency?
A: They can't remember the number.
Q: Why don't blondes call 911 in an emergency?
A: She can't find the number 11 on the telephone buttons.
Q: How many blondes does it take to change a lightbulb?
A: "What's a lightbulb?"
Q: How many blondes does it take to change a lightbulb?
A: Two. One to hold the Diet Pepsi, and one to call, "Daaady!"
Q: How do you get rid of blondes?
A: Form a circle, give each blonde a gun, and tell them they are a firing squad.
Q: Santa Claus, the Tooth Fairy, a dumb blonde, and a smart blonde are walking down the street when they spot a $10bill. Who picks it up?
A: The dumb blonde! because, there is no such thing as Santa Claus, the tooth fairy, or a smart blonde.
Q: Santa Claus, the Tooth Fairy, a dumb blonde, and a smart blonde are walking down the street when they spot a $10bill. Who picks it up?
A: None of them, two don't exist and the dumb blonde thought it was a gum wrapper.
Why did the turtle cross the r...
Why did the turtle cross the road?

To get to the shell station.

And then....

Why was the turtle so shiny when he left the shell station?

He used some turtle wax!


Funny video of the day - Public pee
Christmas jokes-Clean Living
It was Christmas and everyone seemed to he having a great time, but Father O'Rourke was not. He suddenly said to Father Kelly 'You know what. I'm fed up with all this good behaviour and clean living. Why don't go out and have good old sinful night out. We could drink, go with loose women and do whatever takes our fancy.' Are you mad?' replied Father Kelly 'This is a small town. Everyone knows who we are.' 'I don't mean we should do it here.' said his colleague. 'We could dress like everyone else and take the train to the city'
After much persuasion Father Kelly agreed to do so and off they went that night and partied until morning. They arrived home very much the worse for wear and it was then that the enormity of what they had done began to dawn on Father Kelly. 'Oh my God. We're going to have to confess our misdemeanor.' 'Don't worry.' replied Father O'Rourke 'I've already thought about this. You get changed and go into the confessional and I'll tell you all about my misdeeds and you can absolve me. Then, I'll do the same for you.'
So, a short while later Father O'Rourke went to the church and entered the confessional. 'Father, forgive me for I have sinned. I went out with a friend to celebrate Christmas last night and got drunk, had sexual relations with women, danced to wicked music and used foul language.' Father Kelly replied 'God is patient and forgiving and so am I. Do five Our Fathers, five Hail Marys and your sins will be forgiven.'
A short while later their positions were reversed and Father Kelly confessed everything in great detail. 'This is an outrage.' exclaimed Father O'Rourke. 'What kind of priest are you? Do five hundred Our Fathers, Five hundred Hail Marys, donate all you income for the next three months to the church, go right round the church on your knees fifty times, asking God's forgiveness as you do so. Then come back to me and maybe I'll consider absolution.' 'What?' said the astonished Father Kelly 'What about our agreement?' Father O'Rourke replied 'What I do with my time off is one thing, but I take my job very seriously.'
"Brokeback Mountain" is not ju...
"Brokeback Mountain" is not just a movie. It's also what Chuck Norris calls the pile of dead ninjas in his front yard.
Getting Old
- Long ago when men cursed and beat the ground with sticks, it was called witchcraft. Today, it's called golf.
- Eventually you will reach a point when you stop lying about your age and start bragging about it.
- The older we get, the fewer things seem worth waiting in line for.
- Some people try to turn back their odometers. Not me, I want to people to know "why" I look this way. I've traveled a long way and some of the roads weren't paved.
- How old would you be if you didn't know how old you are?
- When you are dissatisfied and would like to go back to youth, think of Algebra.
- You know you are getting old when everything either dries up or leaks.
- One of the many things no one tells you about aging is that it is such a nice change from being young.
- One must wait until evening to see how splendid the day has been.
- Ahh, being young is beautiful, but being old is comfortable.
- Old age is when former classmates are so gray and wrinkled and bald, they don't recognize you.
- If you don't learn to laugh at trouble, you won't have anything to laugh at when you are old.
- First you forget names, then you forget faces. Then you forget to pull up your zipper, then…Oh, my goodness, you forgot to pull your zipper down!
- If you jog in a jogging suit, lounge in lounging pajamas, and smoke in a smoking jacket, WHY would anyone want to wear a windbreaker??
And best of all…
- I don't know how I got over the hill without getting to the top.
#joke
King Neptune never learned to ...
King Neptune never learned to ride a pike.
FLEX WORDLE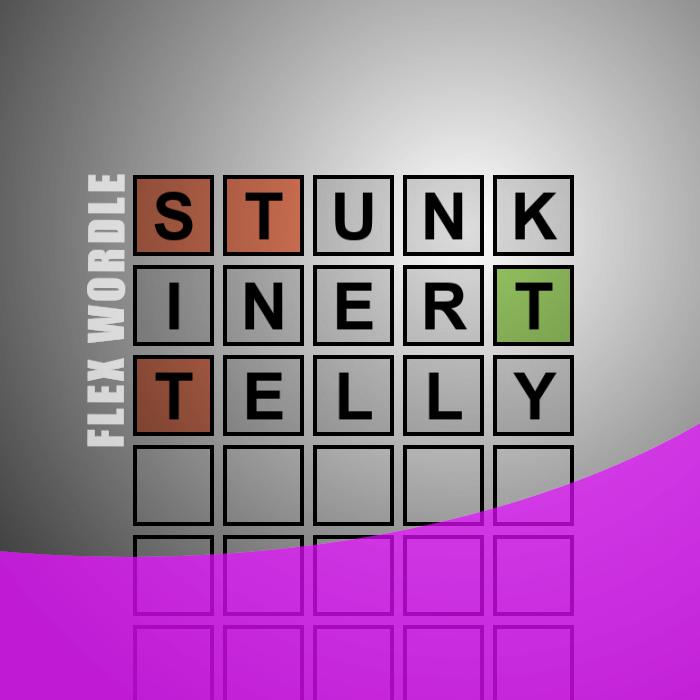 Guess the
WORDLE
in 3 tries. After each guess, the color of the tiles will change to show how close your guess was to the solution.
It was very crowded and noise ...
It was very crowded and noise in this Restaurant and this blond girl asks the waiter where the restroom was. And he says: - I can't hear you! So she gets close to his ear and asks again: - Can you please tell me where the ladies room is? And he replies: - On the other side! So she turns around and gets close to his other ear, and asks:-Can you please tell me where the ladies room is, please!
And he answers: - On the other side!
#joke
How Many Dogs does it Take to Screw in a Light Bulb?
Golden Retriever: The sun is shining, the day is young, we've got our whole lives ahead of us, and you're inside worrying about a stupid burned-out light bulb?
Border Collie: Just one. And I'll replace any wiring that's not up to code.
Dachshund: I can't reach the stupid lamp!
Toy Poodle: I'll just blow in the Border collie's ear and he'll do it. By the time he finishes rewiring the house, my nails will be dry.
Rottweiler: Go Ahead! Make me!
Shi-tzu: Puh-leeze, dah-ling. Let the servants. . . .
Lab: Oh, me, me!!! Pleeeeeeze let me change the light bulb! Can I? Can I? Huh? Huh? Can I?
Malamute: Let the Border collie do it.. You can feed me while he's busy.
Cocker Spaniel: Why change it? I can still pee on the carpet in the dark.
Doberman Pinscher: While it's dark, I'm going to sleep on the couch.
Mastiff: Mastiffs are NOT afraid of the dark.
Hound Dog: ZZZZZZZZZZZZZZZZZZZZZZ
Chihuahua: Yo quiero Taco Bulb.
Irish Wolfhound: Can somebody else do it? I've got a hangover.
Pointer: I see it, there it is, right there...
Greyhound: It isn't moving. Who cares?
#joke
Laura Kightlinger: Christmas Sadness
My grandmother, she passed away at Christmas time. So now, I have this built in sadness, you know, every holiday. Cause Im plagued with the thought of, you know, what she would have given me. What didnt I get to open this year?
If Noah Built an Ark in 2011
And lo, in the year 2011, the Lord came unto Noah, who was now living in the United States, and said:
"Once again, the earth has become wicked and over-populated, and I see the end of all flesh before me."
"Build another Ark and save two of every living thing along with a few good humans."
He gave Noah the blueprints, saying, "You have 6 months to build the ark before I will start the unending rain for 40 days and 40 nights."
Six months later, the Lord looked down and saw Noah weeping in his yard, but there was no ark.
"Noah! I'm about to start the rain! Where is the ark?"
"Forgive me, Lord," begged Noah, "but things have changed."
"I needed a building permit."
"I've been arguing with the inspector about the need for a sprinkler system."
"My neighbors claim that I've violated the neighborhood zoning laws by building the ark in my yard and exceeding the height limitations. We had to go to the Development Appeal Board for a decision."
"Then the Department of Transportation demanded a bond be posted for the future costs of moving power lines and other overhead obstructions, to clear the passage for the ark's move to the sea. I told them that the sea would be coming to us, but they would hear nothing of it."
"Getting the wood was another problem. There's a ban on cutting local trees in order to save the spotted owl."
"I tried to convince the environmentalists that I needed the wood to save the owls, but no go!"
"When I started gathering the animals, an animal rights group sued me. They insisted that I was confining wild animals against their will. They argued the accommodations were too restrictive, and it was cruel and inhumane to put so many animals in a confined space."
"Then the EPA ruled that I couldn't build the ark until they'd conducted an environmental impact study on your proposed flood."
"I'm still trying to resolve a complaint with the Human Rights Commission on how many minorities I'm supposed to hire for my building crew."
"Immigration and Naturalization are checking the green-card status of most of the people who want to work."
"The trades unions say I can't use my sons. They insist I have to hire only Union workers with ark-building experience.
"To make matters worse, the IRS seized all my assets, claiming I'm trying to leave the country illegally with endangered species."
"So, forgive me, Lord, but it would take at least 10 years for me to finish this Ark."
Suddenly, the skies cleared, the sun began to shine, and a rainbow stretched across the sky.
Noah looked up in wonder and asked, "You mean you're not going to destroy the world?"
"No," said the Lord. "The government beat me to it."
- Joke shared by Beliefnet member socaliflady
#joke
A man was walking along a Cali...
A man was walking along a California beach and stumbled across an old lamp. He picked it up and rubbed it and out popped a genie.
The genie said "OK, OK. You released me from the lamp... blah, blah, blah... This is the fourth time this month and I'm getting a little sick of these wishes so you can forget about three. You only get one wish!"
The man sat and thought about it for a while and said, "I've always wanted to go to Hawaii but I'm scared to fly and I get very seasick. Could you build me a bridge to Hawaii so I can drive over there to visit?"
The genie laughed and said, "That's impossible! Think of the logistics of that. How would the supports ever reach the bottom of the Pacific?
Think of how much concrete... how much steel!! No. Think of another wish."
The man said OK and tried to think of a really good wish. Finally, he said, "I've been married and divorced four times. My wives always said that I don't care and that I'm insensitive. So, I wish that I could understand women...know how they feel inside and what they're thinking when they give me the silent treatment... to know why they're crying, to know what they really want when they say 'nothing' ... to know how to make them truly happy."
The genie said, "You want that bridge two lanes or four?"
#joke
The stories from ER:
The stories from ER:

A man comes into the ER and yells "My wife's going to have her baby in the cab!"

I grabbed my stuff, rushed out to the cab, lifted the lady's dress, and began to take off her underwear. Suddenly I noticed that there were several cabs, and I was in the wrong one.

#joke
An elderly couple is vacationi...
An elderly couple is vacationing in the West. Sam always wanted a pair of authentic cowboy boots. Seeing some on sale one day, he buys them, wears them home, walking proudly. He walks into their room and says to his wife, "Notice anything different, Bessie?"
Bessie looks him over. "Nope."
Sam says excitedly, "Come on, Bessie, take a good look. Notice anything different about me?"
Bessie looks again. "Nope."
Frustrated, Sam storms off into the bathroom, undresses, and walks back into the room completely naked except for the boots. Again he asks, a little louder this time, "Notice anything different?"
Bessie looks up and down and says, "Sam, what's different? It was hanging down yesterday, it's hanging down today and it will be hanging down tomorrow!"
Furious, Sam yells, "And do you know why its hanging down, Bessie? It's hanging down because it's looking at my new boots!"
Bessie replies, "Should'a bought a hat, Sam!"
#joke
Give him an orange
One day in Contract Law class, Professor Jepson asked one of his better students, "Now if you were to give someone an orange, how would you go about it?"
The student replied, "Here's an orange."
The professor was livid. "No! No! Think like a lawyer!" The student then recited, "Okay, I'd tell him, 'I hereby give and convey to you all and singular, my estate and interests, rights, claim, title, calim and advantages of and in, said orange, together with all its rind, juice, pulp, and seeds, and all rights and advantages with full power to bite, cut, freeze and otherwise eat, the same, or give the same away with and without the pulp, juice, rind and seeds, anything herein before or hereinafter or in any deed, or deeds, instruments of whatever nature or kind whatsoever to the contrary in anywise notwithstanding..."
Marriage Certificate
Wife: 'What are you doing?'
Husband: Nothing.
Wife: 'Nothing...? You've been reading our marriage certificate for an hour.'
Husband: 'I was looking for the expiration date.'
Once a Cowboy
An old cowboy went to a bar and ordered a drink. As he sat there sipping his whisky, a young lady sat down next to him.
She turned to the cowboy and asked him,
'Are you a real cowboy?'
He replied,
'Well, I've spent my whole life on the ranch, herding cows, breaking horses, mending fences, so I guess I am.'
He then asked her what she was. She replied,
'I'm a lesbian. I spend my whole day thinking about women. As soon as I get up in the morning I think of women when I eat, shower, watch TV, everything seems to make me think of women.'
A little while later a couple sat down next to the old cowboy and asked him,
'Are you a real cowboy?'
He replied,
'I always thought I was, but I just found out I'm a lesbian.'
#joke
Join us on WhatsApp