Funny jokes-Under Seige
A royal castle was under siege from an infidel army. The only hope was to send one of the knights to get help, but the problem was that all of the horses had been killed in the battle.
"We must get help," said the king.
"I know," replied the leader of his army, "but we have no horses. If a knight goes on foot, he will be slain at once."
"Is there not another animal he can ride?" demanded the king. "What about that mighty wolfhound? It could surely bear the weight of a man."
"No, no," pleaded the army leader. "The wolfhound is too dangerous. Look at its snarling teeth. I wouldn't send a knight out on a dog like this."
#joke
Q: What did the traffic li...
Q: What did the traffic light say to the car?


A: Don't look I'm changing!

Funny video of the day - Smooth Exit
Chuck Norris doesn't brush his...
Chuck Norris doesn't brush his teeth, he scares the plaque off each morning by snarling in the mirror.
If you want to hand out commun...
If you want to hand out communion, you have to assign a wafer.
Redneck Inventor's Club Redneck Inventor's Club

Picture yourself in the middle of the Boonies with no water. What do you do? You reach in your back pocket and pull out a packet of powdered water. Yes, powdered water. Just add water and your powdered water becomes crystal clear drinking water. Only $29.95. Makes a great gift.

What if one night the power in your hose goes off and there is no light at all. You stumble around looking for a flashlight and when you finally find one there's no batteries. What do you do? Throw that flashlight away and buy yourself one of our very own solar powered flashlights. No batteries required, works great! Only $56.69. Everybody should own one.

Do you like canoing? I know I do, but sometimes I just wish I could go a little faster. Well now I can. Thanks to Ric, my canoe has speed holes in it and I go a lot faster. Only $3.25 per hole. Thanks Ric.

Let me tell you a story, one day I was flying my helicopter and my stabilizer went out. I tried to gain control of it but I was going down too fast. Now in any other helicopter you would crash, but not mine. Thanks to Ric, I bought my helicopter with an ejection seat so before I crashed I just pushed a button and up I flew. Only $2,129.99.

Do you like to spy on your neighbors? Shame on you. But if you do, you can't afford to pass-off this offer. Why for only $45.99 you can own a window with a built in peep hole. This way you can see them, but they can't see you.

#joke
Three Travelers
Three travelers, an American, a Russian, and an Egyptian, were circumnavigating the globe a la Jules Verne. The Russian man put his hand out and reached down into the clouds.
"Aaah!" he said. "We're right over my homeland."
"How can you tell?" asked the American.
"I can feel the cold air." he replied.
A few days later the African man put his hand through the clouds.
"Aah we're right over my homeland." he said.
"How do you know that?" asked the Russian.
"I can feel the heat of the desert."
Several more days later the American put his hand through the clouds.
"Aah, we're right over New York." The Russian and the African were amazed.
"How do you know all of that?!" they exclaimed.
The American pulled his hand in and held it up for them to see. "My watch is missing."
#joke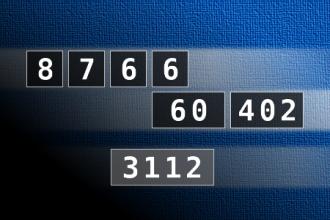 Calculate the number 3112
NUMBERMANIA: Calculate the number 3112 using numbers [8, 7, 6, 6, 60, 402] and basic arithmetic operations (+, -, *, /). Each of the numbers can be used only once.
Mo Mandel: Bought But Never Used
Our high school coach got caught with meth at a game. And he told the school that he had bought it, but never used it. Ive never bought drugs and not used them. Right? Theyre not condoms.
Nuns on the Highway
A cop pulls over a car full of nuns. The cop says, "Sister, the speed limit on this highway is 55 mph. Why are you going so slow?"
Sister replies, "I saw a lot of signs that said 41, not 55."
The copy says, "Sister, that's the name of the highway, not the speed limit."
"Silly me," the embarrassed nun says. "Thanks for letting me know. I'll be more careful."
But then the copy glances in the back seat where the other nuns are quaking with fear. He asks, "Excuse me, Sister, what's wrong with your friends?"
Sister says, "Oh, we just got off Highway 101."
#joke
Nursery school teacher says to...
Nursery school teacher says to her class, "Who can use the word 'Definitely' in a sentence?"
First a little girl says "The sky is definitely blue"
Teacher says, "Sorry, Amy, but the sky can be gray, or orange..."
Second little boy..."Trees are definitely green"
"Sorry, but in the autumn, the trees are brown."
Little Johnny from the back of the class stands up and asks:
"Does a fart have lumps?"
The teacher looks horrified and says "Johnny! Of course not!!!"
"OK...then I DEFINITELY shit my pants..."
#joke
Q: What did the traffic light ...
Q: What did the traffic light say to the car?
A: Don't look I'm changing!

Behind the wheel...
A highway patrolman pulled alongside a speeding car on the freeway. Glancing at the driver, he was astounded to see that the woman behind the wheel was knitting!
Realizing that she was oblivious to his flashing lights and siren, the trooper cranked down his window, turned on his bullhorn, and yelled, PULLOVER!"
"NO," the woman yelled back, "IT'S A SCARF!"
#joke
The Wailing Wall
A journalist assigned to the Jerusalem bureau takes an
apartment overlooking the Wailing Wall. Every day when she
looks out, she sees an old Jewish man praying vigorously. So,
the journalist goes down and introduces herself to the old
man.
She asks, "You come every day to the wall. How long have you
done that and what are you praying for?" The old man
replies, "I have come here to pray every day for 25 years. In
the morning I pray for world peace and then for the
brotherhood of man. I go home have a cup of tea and I come
back and pray for the eradication of illness and disease from
the earth."
The journalist is amazed. "How does it make you feel to come
here every day for 25 years and pray for these things?" she
asks.
The old man looks at her sadly. "Like I'm talking to a
wall."
#joke
Census...
Census Taker: 'How many children do you have?'
Woman: 'Four.'
Census Taker: 'May I have their names, please?'
Woman: 'Eenie, Meenie, Minie and George.'
Census Taker: 'Okay, that's fine. But may I ask why you named your fourth child George?'
Woman: 'Because we didn't want any Moe.'
#joke
Compassion With an Umbrella
A Western Buddhist woman was in India, studying with her teacher. She was riding with another woman friend in a rickshaw-like carriage, when they were attacked by a man on the street. In the end, the attacker only succeeded in frightening the women, but the Buddhist woman was quite upset by the event and told her teacher so. She asked him what she should have done - what would have been the appropriate, Buddhist response.
The teacher said very simply, "You should have very mindfully and with great compassion whacked the attacker over the head with your umbrella."
#joke
How do you sink an Australian ...
How do you sink an Australian submarine?
Knock on the window
Did you hear about the Australian shoplifter?
He was found crushed beneath the local supermarket.
An Australian was asked to donate to the church reroofing fund. So he gave some of the lead back
More to come!