Icing ...
A young man was visiting his brother and sister-in-law for the holidays. As he arrived at their house he found his young nephew, Timmy, helping them bake some cupcakes.
After they were done, his sister-in-law allowed Timmy to put the icing on. When the boy had finished, he brought them to the table.
"The cupcakes look delicious, Tim." his uncle said. He took a bite and said, "Timmy these are so good."
As he finished cupcake and took another, he again complimented his little nephew. "The cupcakes look beautiful, Tim," his uncle said. "How did you get the icing so neat?"
His nephew replied, "It was easy. I just licked them."
The uncle turned pale. He pointed to the plate of cupcakes. "You licked all of these?"
Timmie replied, "Well no. After a while my tongue got tired, and I got the dog to help."
#joke
The factory bell
Joe was an American manufacturer of machine parts. He had a prospective customer from Albania visiting him for imports of machinery to his country and Joe was showing him around his factory.
At noon, the lunch bell rang, and eight hundred workers immediately stopped work and left the building.
"Your workers are escaping!" cried the Albanian visitor. "You must stop them."
"They will come back, nothing to worry," said Joe. And indeed, after an hour, the bell rang again, and all the workers returned from their break.
After the orientation, Joe turns to his guest and says, "Would you like to place an order for any of these machines?"
"Forget the machines," says the guest. "How much do you want for that bell?"
#joke
Funny video of the day - May Fail Compilation 2012
Three men are in a hot-air bal...
Three men are in a hot-air balloon. Soon, they find themselves lost in a canyon somewhere.
One of the three men says, "I have an idea. We can call for help in this canyon and the echo will carry our voices far enough for someone to hear us."
So he leans over the basket and yells out, "Helllloooooo! Where are we?" (They hear the echo several times).
15 minutes later, the men in the balloon hear an echoing voice: "Helllloooooo! You're lost!!"
One of the men says, "That must be a Microsoft service tech!"
Puzzled, one of the other men asks, "Why do you say that?"
The man replies: "For three reasons:
(1) he took a long time to answer,
(2) he was absolutely correct, and
(3) his answer was absolutely useless."
#joke
What Men Call their Women
What's in a name? Apparently, a lot more than you (or I) ever thought there was. Here's what his pet name for you really means…..
Darling — Depends on how he says it. If he stresses the first syllable, then he's probably done something wrong or wants money.
Dear — Probably a leftover from his parents. Expect him to wear woolly cardigans, smoke a pipe and prefer a mug of Ovaltine to lager.
Sweetheart — If it's said patronizingly, it's not so sweet. But when uttered in earnest, it may send your own sweet heart aflutter.
Babe — Not to be confused with the film of the same name. Check for flares or signs that he's a 70s throwback. He's a bit of a medallion man. Chances are he's got his initials on his chunky ring. Leave immediately if he tries to sell you a second-hand car.
Baby doll — This type of man will probably require you to wear transparent frilly nighties even in the dead of winter. He doesn't want you to grow up, and obviously can't deal with real women.
Princess — Never trust a man who calls you princess. You may think you're being treated like royalty, but beware of Prince Charmings – they may be secretly plotting your over- throw.
Sexy — Fine if you're sexy. If you're not, who cares? He probably thinks you are anyway!!
My girlfriend — He's honest, open and probably glad to have you around. The next thing you know he'll be using your name!
The wife — If you're married then he probably thinks he owns you. If you're not, he probably thinks you act like his wife, in which case, he thinks he owns you.
My other half — You complete the set – he's only half a man without you. But it may make you feel as though you are losing your identity somewhere.
The missus — See The Wife.
My partner — He's right on. Probably likes eating tofu and hugging trees.
My significant other — He's even more right on. Probably thinks it's cruel to eat tofu and that trees need their own space.
She who must be obeyed — He thinks you're a nag, but probably doesn't lift a finger around the house.
#joke
Chuck Norris doesn't cheat dea...
Chuck Norris doesn't cheat death. He wins fair and square.
Daniel Tosh: Blaming the Amish
Am I the only person who blames global warming entirely on the Amish? Are they not a constant reminder of how awful life would be without all this great technology? Every time I want to cut back and conserve on natural resources, I just look at the Amish and Im like, F**k that.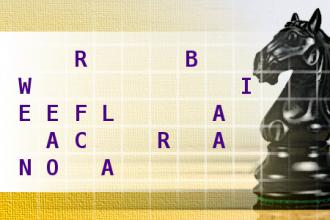 Chess Knight Move
Find the title of movie, using the move of a chess knight. First letter is L. Length of words in solution: 8,2,6.
Three sons left home, went out...
Three sons left home, went out on their own and prospered. They discussed the gifts they were able to give their elderly mother.
The first said: "I built a big house for our mother."
The second said: "I sent her a Mercedes with a driver."
The third said: "You remember how our mother enjoys reading the Bible. Now she can't see very well. So I sent her a remarkable parrot that recites the entire Bible. It took elders in the church 12 years to teach him. Mama just has to name the chapter and verse and the parrot recites it."
Soon thereafter, their mother sent out her letters of thanks. "William," she said, "the house you built is so huge. I live only in one room, but I have to clean the whole house.
"Arnold," she said, "I am too old to travel. I stay most of the time at home so I rarely use the Mercedes. And that driver is so rude! He's a pain!"
"But David," she said, "the chicken was delicious!"
#joke
Undercover Clergy
A minister, a priest and a rabbi went for a hike one day. It was very hot. They were sweating and exhausted when they came upon a small lake. Since it was fairly secluded, they took off all their clothes and jumped in the water.
Feeling refreshed, the trio decided to pick a few berries while enjoying their "freedom." As they were crossing an open area, who should come along but a group of ladies from town. Unable to get to their clothes in time, the minister and the priest covered their privates and the rabbi covered his face while they ran for cover.After the ladies had left and the men got their clothes back on, the minister and the priest asked the rabbi why he covered his face rather than his privates. The rabbi replied, "I don't know about you, but in MY congregation, it's my face they would recognize."
#joke
Question time
Mr. Smythe had been giving his second-grade students a short lesson on science. He had explained about magnets and showed them how they would pick up nails and other bits of iron. And now it was question time....
"Class," he said, "my name begins with the letter 'M,' and I pick up things....What am I?"
A little boy on the front row said, "You're a mother."
#joke
Kathleen Madigan: Smoking in Public
I was out last Sunday -- I didnt see any signs, nobody to ask, so I lit a cigarette. This woman lost all control of her bodily functions. Put it out, please, put it out. I turned around -- she was three pews away!
The Blind Skydiver
A blind man was describing his favorite sport, parachuting. When asked how this was accomplished, he said that things were all done for him: "I am placed in the door with my seeing eye dog and told when to jump. My hand is placed on my release ring for me and out I go with the dog."
"But how do you know when you are going to land?" he was asked. "I have a very keen sense of smell, and I can smell the trees and grass when I am 300 feet from the ground" he answered.
"But how do you know when to lift your legs for the final arrival on the ground?" he was again asked. He quickly answered: "Oh, the dog's leash goes slack."
#joke
Guiness a real drink
At a World Brewing Convention in the United States, the CEOs of various brewing organizations retired to the bar at the end of each day's conferencing.
Bruce, the boss of Fosters, shouted to the barman,
'in 'Strailya, we make the best bloody beer in the world, so pour me a Fosters, cobber.'
Rob, chief of Budweiser, calls out,
'In the States, we brew the finest beers of the world, and I make the king of them all. Give me a pint of Bud.'
Hans steps up next,
'In Germany we invented beer. Give me a Weisen, the real king of beers.'
Up steps Dutchman Jan, chief executive of Grolsch, who states that Grolsch is the ultimate beer and asks for one with two fingers of head on top.
Patrick, the CEO of Guinness, steps forward.
'Barman, give me a coke with ice please.'
The other four stare at him in stunned silence with amazement written all over their faces.
Eventually Bruce asks, 'Are you not going to have a Guinness, Pat?'
Patrick replies, 'Well, if you bastards aren't drinking, then neither am I'
Chuck Norris is the only perso...
Chuck Norris is the only person in the world that can actually email a roundhouse kick.