Hilarious jokes-Unpaid bills
Rick, a retail merchant sent an order to a manufacturer for 10,000 t-shirts amounting to $ 70000.

The manufacturer, noting that the previous bill hadn't been paid, told the accounts manager to check it. The accounts manager sent an e-mail to Rick saying, "We can't ship your new order until you pay for the previous one."
The next day the accounts manager received a reply from Rick. It said, "Please cancel the order. We can't wait that long."
#joke
Hospital Trolley
A beautiful young girl is about to undergo a minor operation. She's laid on a hospital trolley bed with nothing on, except a sheet over her. The nurse pushes the trolley down the corridor towards the operating theatre, where she leaves the girl on the trolley outside, while she goes in to check whether everything is ready. A young man wearing a white coat approaches, lifts the sheet up and starts examining her naked body. He puts the sheet back and then walks away and talks to another man in a white coat. The second man comes over, lifts the sheet and does the same examinations. When a third man does the same thing, but more closely, she grows impatient and says: "All these examinations are fine and appreciated, but when are you going to start the operation?"

The man in the white coat shrugged his shoulders: "I have no idea. We're just painting the corridor."
#joke
Funny video of the day - Minvelo mini bike
John Mulaney: Body Is Bad at Sports
My body is bad at sports: thats the problem. I say that my body is bad at sports because I think my brain is good at sports. I think that my brain understands how a human being could dribble down a basketball court and then make a layup. But then it has to outsource the job to my weird and feminine limbs. So when I play basketball, it looks like I just bought my body and I dont know how it works yet.
#joke
God knows....
Two rural church deacons who were having a sociable beer in the local tavern when they saw their minister drive by and take a good long look at their pickup trucks parked outside.
One deacon ducked down and said, "I hope the reverend didn't see us or recognize my pickup."
The other replied indifferently, "What difference does it make. God knows we're in here... and he's the only one who counts."
The first deacon countered, "But God won't tell my wife."
Jesus is watching
A burglar broke into a house one night. He shone his torch around looking for valuables.
When he picked up a CD player to place in his sack, a strange disembodied voice echoed from the dark, saying,
'Jesus is watching you.'
He nearly jumped out of his skin, clicked his flashlight off and froze.
When he heard nothing more after a little while, he shook his head, promised himself a holiday after the next score, and then clicked his light back on and began searching for more valuables.
Just as he pulled the stereo out so he could disconnect the wires, clear as a bell, he heard,
'Jesus is watching you.'
Freaked out, he shone his light around frantically looking for the source of the voice.
Finally, in the corner of the room, his torch came to rest on a parrot.
'Did you say that?' he hissed at the parrot.
'Yep,' the parrot confessed, and then squawked, 'I'm trying to warn you.'
The burglar relaxed.
'Warn me, eh? Who are you?'
'Moses,' replied the parrot.
`Moses?' The burglar laughed. 'What kind of stupid people would name a parrot Moses?'
The parrot replied, 'Probably the same kind of people that would name a Rottweiler Jesus.'
#joke
Veterinary Clinic
Glenn took his dog to the veterinary clinic, and laid its limp body on the table. The doctor pulled out his stethoscope, listened to the dog's chest for a moment, then shook his head sadly. "I'm sorry, but your dog has passed away."
"What?" Glenn screamed. "You haven't even done any tests! I want another opinion."
The vet left the room and returned in a few moments with a Labrador Retriever. The Retriever sniffed the dog on the table carefully from head to toe. Finally, the Retriever shook it's head and barked once (meaning "dead and gone").
The vet took the Labrador away and returned a few minutes later with a cat, which also sniffed carefully over the dog on the table before shaking its head and saying, "Meow" (meaning "he's gone").
After the cat jumped off the table, the vet handed Glenn a bill for $600. The man shook the bill at the vet. "$600!!!! Just to tell me my dog is dead?!!! That's outrageous!"
The vet explained. "If you had taken my word for it, the charge would have been $50, but with the Lab work and the cat scan…."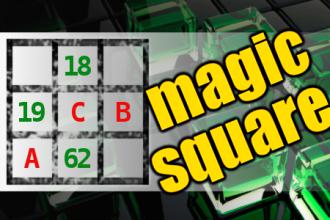 MAGIC SQUARE: Calculate A*B-C
The aim is to place the some numbers from the list (18, 19, 20, 23, 24, 25, 56, 61, 62, 63, 79) into the empty squares and squares marked with A, B an C. Sum of each row and column should be equal. All the numbers of the magic square must be different. Find values for A, B, and C. Solution is A*B-C.
They were going to release a C...
They were going to release a Chuck Norris edition of Clue, but the answer always turns out to be "Chuck Norris. In The Library. With a Roundhouse Kick."
A sweet little boy surprised h...
A sweet little boy surprised his grandmother one morning and brought her a cup of coffee. He made it himself and he was so proud. Anxiously, he waited to hear the verdict. The grandmother in all her life had never had such a bad cup of coffee. As she forced down the last sip, his grandmother noticed three of those little green army guys were in the bottom of the cup.
She asked, "Honey, why would three of your little army men be in the bottom of my cup?"
Her grandson replied, "You know grandma, it's like on TV. 'The best part of waking up is soldiers in your cup'."
#joke
A doctor is complaining to a mechanic...
A doctor is talking to a car mechanic, "Your fee is several times more per hour then we get paid for medical care."
"Yeah, but you see, doc, you have always the same model, it hasn't changed since Adam; but we have to keep up to date with new models coming every month."
Chemistry Song 04
Silent Labs
Silent labs, difficult labs
All with math, all with graphs
Observations of colors and smells
Calculations and graph curves like bells
Memories of tests that have past
Oh, how long will chemistry last?
Silent labs, difficult labs
All with math, all with graphs
Lots of equations that need balancing
Gas pressure problems that make my head ring
Santa Chlorine's on his way
Oh, Please Santa bring me an 'A'.
#joke
Robert Schmidt 11
The museum boasted owning the original version of Beethoven's unfinished basement.
What are imitation rhinestones?
If a word in the dictionary were misspelled, how would we know?
Let's say you stuff a cat's tail up his ass until it peeks out of his mouth, and you give the tip of its tail a sound yank. Would the cat turn inside out?
I recently changed my name to Resident Occupant. The local post office would like to speak with me but they're not sure where I live. Last week they used a barge to deliver my mail. But I don't think I'm getting it all. So if you happen to see any of it...
I'm getting a tattoo. It's going to be all over my whole body--a tattoo of myself. Only taller.
I was in the supermarket the other day, and I met a lady in the aisle where they keep the generic brands. Her name was "woman".
I have a decaffeinated coffee table. You'd never know it to look at it.
My neighbors don't like it when I talk to my plants ... I use a megaphone.
#joke
Join us on WhatsApp