Olive
A blonde was hunched over the bar, toothpick in hand, spearing futilely at the olive in her drink. A dozen times the olive eluded her. Finally, another patron, who had been watching intently from the next stool, became exasperated and grabbed the toothpick.
"Here, this is how you do it." he said, as he easily skewered the olive.

"Big Deal," muttered the blonde. "I already had him so tired out, he couldn't get away."
Really funny jokes-illegal to count
A Swedish tourist in New York was standing in front of the Empire State building, and started counting all the floors.
A policeman approached him and thought to himself: "This guy must be Swedish" and decided to take advantage of him. He went up to him and said: "Do you know that it is illegal to count the floors on buildings in the United States?"
The Swede replied: "No sir, I had no idea."
The police officer then said: "I'm afraid I'll have to charge you $10.00 per floor you counted."
The Swede then said: "Oh, I counted 50 floors, sir."
After the police officer left, the Swede thought to himself: "My, how these Americans are stupid! I told him that I had counted 50 floors when I had actually counted 51!"
Funny video of the day - Red Panda Baby surprise
Will you marry me?
There were these two elderly people living in a Florida mobile home park. He was a widower and she a widow. They had known one another for a number of years. Now, one evening there was a community supper in the big activity center. These two were at the same table, across from one another. As the meal went on, he made a few admiring glances at her and finally gathered up his courage to ask her, "Will you marry me?"
After a dramatic pause and precisely six seconds of 'careful consideration,' she answered. "Yes. Yes, I will."
The meal ended and with a few more pleasant exchanges and they went to their respective places.
Next morning, he was troubled. "Did she say 'yes' or did she say 'no'?"
He couldn't remember. Try as he would, he just could not recall. Not even a faint memory. With trepidation, he went to the telephone and called her.
First, he explained to her that he didn't remember as well as he used to. Then he reviewed the lovely evening past. As he gained a little more courage, he then inquired of her, "When I asked if you would marry me, did you say 'Yes' or did you say 'No'?"
He was delighted to hear her say, "Why, I said, 'Yes, yes I will' and I meant it with all my heart."
Then she continued, "And I am so glad that you called, because I couldn't remember who had asked me."
#joke
As Seen On Bumpers
* "Time is what keeps everything from happening at once."
* "Change is inevitable, except from a vending machine."
* "All generalizations are false."
* "As long as there are tests there will be prayer in public schools."
* "The gene pool could use a little chlorine."
* "I get enough exercise just pushing my luck!"
* "Sometimes I wake up grumpy. Other times I let him/her sleep."
* "Montana -- At least our cows are sane!"
* "Women who seek to be equal to men lack ambition."
* "Your kid may be an honor student but you're still an IDIOT!"
* "Friends don't let friends drive naked."
* "I don't suffer from insanity, I enjoy every minute of it!"
* "It's lonely at the top, but you eat better."
* "According to my calculations the problem doesn't exist."
* "A bartender is just a pharmacist with a limited inventory."
* "Forget about world peace. . . Visualize using your turn signal!"
* "Warning: Dates in calendar are closer than they appear."
* "Give me ambiguity or give me something else."
* "Make it idiot proof and someone will make a better idiot."
* "He who laughs last thinks slowest."
* "Always remember you're unique, just like everyone else."
* "Lottery: A tax on people who are bad at math."
* "Friends help you move. Real friends help you move bodies."
* "Very funny, Scotty. Now beam down my clothes."
* "Puritanism: the haunting fear that someone somewhere may be happy."
* "Consciousness: that annoying time between naps."
* "We are Microsoft. Resistance Is Futile. You Will Be Assimilated."
* "Be nice to your kids. They'll choose your nursing home."
* "Three kinds of people: those who can count and those who can't."
* "Why is 'abbreviation' such a long word?"
* "Ever stop to think, and forget to start again?"
* "I killed a 6-pack just to watch it die. "
* "Auntie Em, hate you, hate Kansas - Taking the dog. --Dorothy."
* "Lead me not into temptation, I can find it myself."
* "I'm out of bed and dressed, what more do you want?"
#joke
Le Stinkers
Why do the French Smell?
So blind people can hate them too!
A 17 year-old Antartican boy w...
A 17 year-old Antartican boy was hired to paint a white line down the middle of the highway. On the first day, he got off to a good start and he painted a white line 7 miles long. The next day, however, he painted a line only 4 miles long. On the third day, he was down to less than a mile. Finally, his friend Max asked him why he was doing less each day. The boy replied, "I guess it takes me longer and longer to get back to the bucket each day."
#joke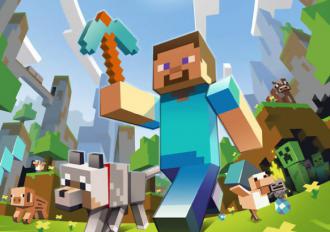 Guess the Game Name
Look carefully the picture and guess the game name.
Family Bible
A little boy opened the big and old family Bible with fascination, looking at the old pages as he turned them. Then something fell out, and he picked it up and looked at it closely. It was an old leaf from a tree that had been pressed in between the pages.
"Momma, look what I found," the boy called out.
"What have you got there, dear?" his mother asked.
With astonishment in the his voice, he answered, "It's Adam's Suit!"
#joke
Chuck Norris, who had grown ti...
Chuck Norris, who had grown tired of easy victories in fights, once fought himself to the death and won.
A dentist was getting ready to...
A dentist was getting ready to clean an elderly lady's teeth. He noticed that she was a little nervous, so he began to tell her a story as he was putting on his surgical gloves...
"Do you know how they make these rubber gloves?" She said, "No?"
"Well", he spoofed, "down in Mexico they have this big building set up with a large tank of latex, and the workers are all picked according to hand size. Each individual walks up to the tank, dips their hands in, and then walk around for a bit while the latex sets up and dries right onto their hands! Then they peel off the gloves and throw them into the big 'Finished Goods Crate' and start the process all over again."
And she didn't laugh a bit!!! Five minutes later, during the procedure, he had to stop cleaning her teeth because she burst out laughing.
The old woman blushed and exclaimed, "I just suddenly thought about how they must make condoms!"
#joke
A chicken and an egg are lying...
A chicken and an egg are lying in bed.
The chicken is smoking a cigarette with a satisfied smile on its face.
The egg is frowning and looking a bit pissed off.
The egg mutters, to no one in particular, "Well, I guess we answered THAT question!"
Where is God?
A couple had two little boys who were always getting into trouble. Their parents knew that if any mischief occurred in their village, their sons were probably involved.
The boys' mother heard that an elder in town had been successful in disciplining children, so she asked if he would speak with her sons. The elder agreed, but asked to see them separately.
So, the mother sent her youngest son first, in the morning. The elder, a huge man with a booming voice, sat the boy down and asked him sternly, "Where is God?" The boy's mouth dropped open, but he made no response.So the elder repeated the question in an even sterner tone, "Where is God!!?" Again the wide-eyed boy made no attempt to answer.
The elder raised his voice and bellowed, "WHERE IS GOD!?" The boy screamed and bolted from the room, ran directly home and dove into a closet, slamming the door behind him.
When his older brother found him hiding, he asked, "What happened?"
The younger brother, gasping for breath, replied, "We are in BIG trouble this time. God is missing, and they think WE did it!"
#joke
If you spell Chuck Norris in S...
If you spell Chuck Norris in Scrabble, you win. Forever.
Whiskey no worms
A man drinks a shot of whiskey every night before bed.
After years of this the wife wants him to quit, so she gets 2 shot glasses, filling 1 with water the other with whiskey.
She gets him to the table with the glasses and has his bait box there too.
She says "I want you to see this." She puts a worm in the water it swims around. She puts a worm in the whiskey and the worm dies.
She says "so what do you have to say about this experiment?"
He says "IF I DRINK WHISKEY I WON'T GET WORMS!"
#joke
That hard!
A man is in a hotel lobby. He wants to ask the clerk a question, but as he turns to go to the front desk, he accidentally bumps into a woman beside him and as he does, his elbow goes into her breast.
They are both startled and he says, 'Ma'am, if your heart is as soft as your breast, I know you'll forgive me.'
She replies, 'if your penis is as hard as your elbow, I'm in room 1221.'
#joke