Jokes of the day for Wednesday, 17 October 2018
Funny jokes, funny photo and funny video collected from the internet on Wednesday, 17 October 2018
Teacher: "Can someone tell me
Teacher: "Can someone tell me what an 'operetta' is?"
Student: "Easy. It's a woman who works for the phone company."

"The floor was so dus
"The floor was so dusty that it seemed to be suffering from sweep deprivation."
An older couple were lying in
An older couple were lying in bed one night. The husband was falling asleep but the wife was in a romantic mood and wanted to talk. She said, "You used to hold my hand when we were courting. "
Wearily he reached across, held her hand for a second and tried to get back to sleep.
A few moments later she said, "Then you used to kiss me."
Mildly irritated, he reached across, gave her a peck on the cheek and settled down to sleep.
Thirty seconds later she said, "Then you used to bite my neck."
Angrily, he threw back the bed clothes and got out of bed.
"Where are you going?" she asked.
"To get my teeth!"
#joke
The Cesium Song 10
Cesium (All through the Night)
(Tune, Fever)
(1)
Never know how much I need you,
Never know how much I'd dare,
When I mix you up with water,
I get a heat that's hard to bear.
I need my Cesium!
Burnin' brightly,
Cesium to give me light.
Cesium --
In the morning,
Cesium all through the night.
(2)
Sun lights up the daytime.
Moon lights up the night.
Cesium lights up heaven above,
With a brilliant sky-blue light.
I need my Cesium!
Burnin' hotly.
Cesium shinin' so bright.
Cesium --
In the morning,
Cesium to make me feel right.
(Coda)
Everybody,
Needs some Cesium,
Cesium to give 'em that glow.
Cesium --
Add some water,
Get a fire hot as down below!
(3)
Romeo, he had Cesium,
Cool water Juliette.
When they mixed it up together,
Things got as hot as they can get!
They needed Cesium!
Flamin' madly.
Cesium burnin' so blue.
Cesium --
Shared between them.
Cesium to make their love true.
(4)
Come to the end of my story.
Got to the point that I made.
Cesium's the stuff to heat you up,
And you ain't gonna find no shade!
You'll need cesium!
As you sizzle.
Cesium some comfort to earn.
Cesium --
It's almighty.
What a lovely way to burn!
--- Songs of Cesium #96
#joke
Snow Days
A heavy snowstorm closed the schools in one town. When the children returned to school a few days later, one grade school teacher asked her students whether they had used the time away from school constructively. "I sure did, teacher," one little girl replied. "I just prayed for more snow."
The Top 10 Signs You've Joined a Cheap HMO
10. Annual breast exam conducted at Hooters.
9. Directions to your doctor's office include, 'take a left when you enter the trailer park.'
8. Tongue depressors taste faintly of Fudgesicle.
7. Only proctologist in the plan is 'Gus' from Roto-Rooter.
6. Only item listed under Preventive Care feature of coverage is 'an apple a day.'
5. Your 'primary care physician' is wearing the pants you gave to Goodwill last month.
4. 'Patient responsible for 200% of out-of- network charges' is not a typo.
3. The only expense covered 100% is embalming.
2. With your last HMO, your Viagra pills didn't come in different colors with little 'M''s on them.
And The Number 1 Sign You've Joined a Cheap HMO...
1. You ask for Viagra. You get a Popsicle stick and duct tape.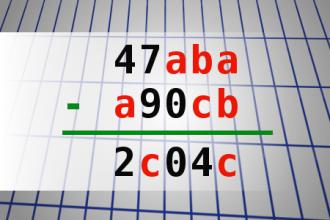 Find number abc
If 47aba - a90cb = 2c04c find number abc. Multiple solutions may exist.
Chuck Norris threw a grenade a...
Chuck Norris threw a grenade and killed 50 people. Then it blew up.
The Butt Biter
A few years ago when my girlfriend still lived with her parents, I managed to pull a real lu-lu. I came out of the bathroom at the end of the hall in her parents' home and as I walked past my girlfriend's bedroom I saw her making the bed.
She was kneeling on the bed facing away from me, trying to tuck the sheets under the far side of the mattress. Of course this meant her luscious behind was sticking up and waving invitingly in the air. Well, there's few things I like more than gently sinking my teeth into a girl's nice behind, a habit which my girlfriend had already become familiar with.
So naturally I snuk up behind her behind and bit her butt. Imagine my horror when her mother's incredulous face turns around and looks back at me! She didn't know what the hell I was up to!
Of course I could've died of embarrassment at that moment. I stuttered a few words saying how I thought it was her daughter's butt (I don't think that would necessarily go over too well either!), apologized and got out of there.
The next thing I did was march downstairs and immediately tell her husband what had just happened – I'd much rather he heard it from me than her! Of course he laughed his head off and they all still tease me about it to this day.
And I later found out that my middle-aged mother-in-law was actually kind of thrilled to have someone mistake her butt for that of a 25-year-old.
#joke
Chuck Norris can do a wheelie ...
Chuck Norris can do a wheelie on a unicycle.
Three old men
Three old men are talking about their aches, pains and bodily dysfunctions.
One 75-year-old man says: "I have this problem. I wake up every morning at 7 a.m. and it takes me 20 minutes to pee."
An 80-year-old man says: "My case is worse. I get up at 8 a.m. and I sit there and grunt and groan for half an hour before I finally have a bowel movement."
The 90-year-old man says: "Not me. At 7 a.m. I pee like a horse and at 8 a.m. I crap like a cow."
"So what's your problem?" asked the others.
"I don't wake up until 9:00."
#joke
Brother -in-law
A man suffered a heart attack and had by-pass surgery. He awakened to find himself in the care of nuns at a Catholic hospital.
As he was recovering, a nun asked him how he was going to pay the bill.
He replied in a raspy voice, "No health insurance."
The nun asked if he has money in the bank.
He replied "No money in the bank."
The nun asked " Do you have a relative who could help you?"
He said "Just a spinster sister who is a nun."
The nun, slightly preturbed, said "Nuns are not spinsters! Nuns are married to God."
The patient replied, "Then send the bill to my brother-in-law!"
Submitted by Calamjo
Edited by Curtis
#joke