A couple are sitting around on
A couple are sitting around one evening and the man says to his wife, "Marsha, we are about to celebrate our 40th wedding anniversary. We've had a wonderful life together, full of contentment and blessings. But there's something I've always wondered about. Tell me the truth. Have you ever been unfaithful to me?"
She hesitated a moment, then said, "Yes, Sidney, three times."
"Three times? How could that happen?" Sidney asks.
Marsha replied, "Well, do you remember right after we were married and we were so broke that the bank was about to foreclose on our little house?"
"Yes, dear, those were really difficult times," replied Sidney.
"And remember when I went to see the banker one night, and the next day the bank extended our loan?"
"Gosh, that's really hard to take," said Sidney. "But since things were so bad at the time, I guess I can forgive you. What was the second time? "
"Well," Marsha continued, "do you remember years later when you almost died of that heart problem because we couldn't afford an operation?"
"Yes, of course," said Sidney.
"Then you will remember that right after I went to see the doctor, he performed the operation at no cost?"
"Yes, I remember," said Sidney, "and as much as that shocks me!, I do understand that you did what you did out of love for me, so I forgive you. So, what was the third time?"
Marsha lowered her head and said, "Do you remember when you ran for president of your golf club and you needed 8 more votes?"
Bug In Salad
"Waiter! What is that bug doing in my salad?"
"Trying to find a way out, sir."
Who invented the first sof
Who invented the first soft drink? Answer: Adam. He made Eve's cherry pop.
"I recently took a po
"I recently took a pole and found out 100% of the occupants were angry with me when their tent collapsed."
A friend asked a gentleman how
A friend asked a gentleman how it is that he never married.
Replied the gentleman, "Well, I guess I just never met the right woman ... I guess I've been looking for the perfect girl."
"Oh, come on now," said the friend, "Surely you have met at least on girl that you wanted to marry."
"Yes, there was one girl once. I guess she was the one perfect girl, the only perfect girl I really ever met. She was just the right everything. I really mean that she was the perfect girl for me."
"Well, why didn't you marry her," asked the friend.
"She was looking for the perfect man," he said.
#joke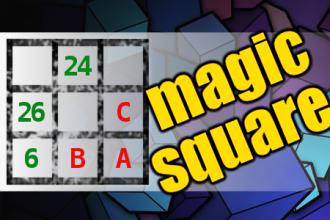 MAGIC SQUARE: Calculate A*B-C
The aim is to place the some numbers from the list (6, 7, 8, 24, 25, 26, 64, 65, 66) into the empty squares and squares marked with A, B an C. Sum of each row and column should be equal. All the numbers of the magic square must be different. Find values for A, B, and C. Solution is A*B-C.
Dead?
A funeral service is being held for a woman who has just passed away. At the end of the service the pall bearers are carrying the casket out when they accidentally bump into a wall, jarring the casket.
They hear a faint moan.
They open the casket and find that the woman is actually alive. She lives for ten more years, and then dies.
A ceremony is again held at the same place, and at the end of the ceremony the pall bearers are again carrying out the casket.
As they are walking, the husband cries out, "Watch out for the damn wall!"
#joke
Hahahahahaha
The joke is:
!!!!!!!!!!!!!!!!!!!!!!!!YOU!!!!!!!!!!!!!!!!!!!!!!!!!
#joke
Three men were discussing at a...
Three men were discussing at a bar about coincidences. The first man said, " my wife was reading a "tale of two cities" and she gave birth to twins"
"That's funny", the second man remarked, "my wife was reading 'the three musketeers' and she gave birth to triplets"
The third man shouted, "Good God, I have to rush home!"
When asked what the problem was, he exclaimed, " When I left the house, my wife was reading Ali baba and the forty Thieves"!!!
#joke
Maria Bamford: Fulfilling Potential
Im afraid that fulfilling my potential would really cut into my sitting around time.
Corporate Story
At a meeting, the Boss told a joke.
Everyone on the team laughed except one guy.
The Boss asked him, 'Didn't you understand my joke?'
The guy replied, 'Oh I understood it, but I resigned this morning.'
This reminds me of something y...
This reminds me of something yesterday at work. A colleague was relating a conversation he had with his young daughter, just a bit over 2 years old. They were discussing geography and…
"Where does mommy live?"
"Minneapolis."
"Where does grandma live?"
"Baltimore."
"Where does grandpa live?"
"Baltimore."
"And where does daddy live?"
"At work!"
Needless to say, he took the morning off that next […]
#joke