A guy had been feeling down fo
A guy had been feeling down for so long that he finally decided to seek the aid of a psychiatrist.
He went there, lay on the couch, spilled his guts then waited for the profound wisdom of the psychiatrist to make him feel better.
The psychiatrist asked him a few questions, took some notes then sat thinking in silence for a few minutes with a puzzled look on his face.
Suddenly, he looked up with an expression of delight and said, "Um, I think your problem is low self-esteem. It is very common among losers."
#joke
Third Time the Charm
My dad walked me down the aisle at my third wedding.
He said, "I keep giving you away... and they keep giving you back!"
"Our local wheat farm
"Our local wheat farmers had a flour-ishing harvest."
A woman went to a lawyer to di
A woman went to a lawyer to discuss divorcing her husband.
"Don't you love him anymore?" asked the lawyer.
"Oh, I still love him," she replied, "but all he ever wants is make love, I can't take it anymore."
"Instead of divorcing him, why don't you try charging him every time he wants to make love?" the lawyer suggested.
The exhausted wife decided to give the plan a try.
As soon as she walked into the house that night her husband put the move on her.
"Not so fast," she replied. "From now on it'll be $10 in the kitchen, $20 in the living room and $50 in the bedroom."
"Well, then," he said. "Here's $50."
The wife began walking to the bedroom.
"Hold on," he said, grabbing her hand. "That'll be five times in the kitchen!"
Horoscope humor...
How many members of your sign does it take to change a light bulb?
ARIES:
Just one. You want to make something of it?
TAURUS:
One, but just try to convince them that the burned-out bulb is useless and should be thrown away.
GEMINI:
Two, but the job never gets done-they just keep discussing who is supposed to do it and how it's supposed to be done!
CANCER:
Just one. But it takes a therapist three years to help them through the grieving process.
LEO:
Leos don't change light bulbs, although sometimes their agent will get a Virgo in to do the job for them while they're out.
VIRGO:
Approximately 1.000000 with an error of +/- 1 millionth.
LIBRA:
ER, two. Or maybe one. No, on second thought, make that two. Is that OK with you?
SCORPIO:
That information is strictly secret and shared only with the Enlightened Ones in the Star Chamber of the Ancient Hierarchical Order.
SAGITTARIUS:
The sun is shining, the day is young, we've got our whole lives ahead of us, and you're inside worrying about a stupid burned- out light bulb?
CAPRICORN:
I don't waste my time with these childish jokes.
AQUARIUS:
Well, you have to remember that everything is energy, so....
PISCES:
Light bulb? What light bulb?
#joke
Possible IBM Acronyms
IBM: It's Being Mended
IBM: Inmense Ball of Muck
IBM: I Believe in Memorex
IBM: It's Better than Macintosh!
IBM: Idiots Built Me
IBM: Intense Bowel Movement
IBM: Inferior But Marketable?
IBM: I've Been Mislead
IBM: It's Better Manually
IBM: Infinitly Better Macintosh
IBM: Indefinitly Boggled Machine
IBM: I Bought a Mac
IBM: I Blame Microsoft.
IBM: I Bought Macintosh
IBM: I'll Buy Macintosh
IBM: I've Been Moved
IBM: I've Been Mugged
IBM: Incontinent Bowel Movement
IBM: Identical Blue Men
IBM: Idiotic Bit Masher
IBM: Idiots Become Managers
IBM: Incompatible Business Machines
IBM: Incredibly Boring Machine
IBM: Infernal Bloody Monopoly
IBM: Institute of Black Magic
IBM: Internal Beaurocratic Mess
IBM: International Brotherhood of Magicians
IBM: Intolerant of Beards and Mustaches
IBM: It'll Be Messy
IBM: It's Backwards, Man
IBM: Itty Bitty Machines
IBM: Itty Bitty Morons
IBM: It Barely Moves
IBM: I Buy Mainframes
IBM compatible - IBM contemptible
#joke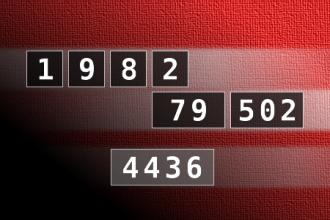 Calculate the number 4436
NUMBERMANIA: Calculate the number 4436 using numbers [1, 9, 8, 2, 79, 502] and basic arithmetic operations (+, -, *, /). Each of the numbers can be used only once.
Gourmet burgers joints are pop...
Gourmet burgers joints are popping up all over, thanks to the rise of the Hambourgeois.
Ronald McDonald in a N*dist Colony
Q: How do you find Ronald McDonald in a n*dist colony?
A: Look for sesame seed buns.
A man and his wife were sittin...
A man and his wife were sitting in the living room discussing a "Living Will"
"Just so you know, I never want to live in a vegetative state, dependent on some machine and fluids from a bottle. If that ever happens, just pull the plug."
His wife got up, unplugged the TV and threw out all the beer.
The Yiddish Parrot
Meyer, a lonely widower, was walking home one day. He was wishing something wonderful would happen to his life when he passed a pet store and heard a squawking voice shouting out in Yiddish: "Quawwwwk...vus macht du...!"
Meyer rubbed his eyes and ears. He couldn't believe it! Meyer stood in front of an African Grey that cocked his little head and said: "Vus? Kenst reddin Yiddish?"
In a matter of moments, Meyer purchased the bird and carried the parrot home. All night long he talked with the parrot...in Yiddish. The parrot listened while sharing some walnuts.
The next morning, Meyer began saying his prayers. The parrot wanted to pray, too. Meyer hand made a miniature yamulke for the parrot. The parrot also wanted to read Hebrew, so Meyer spent months teaching him the Torah.

On Rosh Hashanah, Meyer rose, got dressed, and was about to leave when the parrot demanded to go with him. Meyer explained that a synagogue was not a place for a bird, but the parrot pleaded and was carried to the synagogue on Meyer's shoulder.
Meyer was questioned by everyone, including the rabbi. At first, the rabbi refused to allow a bird into the building on the High Holy Days, but Meyer convinced him that the parrot could pray. Wagers were made on whether the parrot could speak Yiddish or not.
All eyes were on the two of them during services. The parrot was still perched on Meyer's shoulder as one prayer and song passed...but the parrot didn't say a word. Annoyed, Meyer said "Pray, parrot! You can pray...do it now while everybody's looking at you!" The parrot said nothing.
After services were over, Meyer realized he owed the synagogue over four thousand dollars. He marched home, saying nothing. Finally, several blocks from the temple, the bird began to sing an old Yiddish song.
Meyer stopped and looked at him. "You miserable bird...you cost me over four thousand dollars today. Why? After I taught you the morning prayers, taught you to read Hebrew and the Torah. And, after you begged me to bring you to a synagogue on Rosh Hashanah...Why did you do this to me?"
"Don't be an idiot," the parrot replied. "Think of the odds we'll get on Yom Kippur!"
#joke
Chuck Norris can cook minute r...
Chuck Norris can cook minute rice in 30 seconds.
A Texan farmer goes to Austral...
A Texan farmer goes to Australia for a vacation.
There he meets an Aussie farmer and gets talking.
The Aussie shows off his big wheat field and the Texan says, "Oh! We have wheat fields that are at least twice as large."
Then they walk around the ranch a little, and the Aussie shows off his herd of cattle. The Texan immediately says, "We have longhorns that are at least twice as large as your cows."
The conversation has, meanwhile, almost died when the Texan sees a herd of kangaroos hopping through the field. He asks, "And what are those?"
The Aussie replies with an incredulous look, "Don't you have any grasshoppers in Texas?"
#joke