In the fields, oxen just do th
In the fields, oxen just do their job. They care not for a plow's.
Apple announced today that it
Apple announced today that it has developed a breast implant that can store and play music. The iBoob will cost from $499 to $699, depending upon cup and speaker size.
The developers are hailing this as a major social breakthrough, because woman are always complaining about men staring at their breasts and not listening to them.
#joke
A monkey is sitting in a tree
A monkey is sitting in a tree smoking a joint when a lizard walks past and looks up and says to the monkey "Hey! What are you doing?"
The monkey says "Smoking a joint, come up and have some."
So the lizard climbs up and sits next to the monkey and they share a joint. After a while the lizard says his mouth is 'dry' and is going to get a drink from the river.
The lizard climbs down the tree, walks thru the jungle to the river and leans over the river to get his drink. The lizard is so stoned that he leans too far over and falls into the river.
A Crocodile sees this and swims over to the lizard and helps him to the side, then asks the lizard, "What's the matter with you?"
The lizard explains to the crocodile that he was sitting smoking a joint with a monkey in a tree, got too stoned and then fell into the river while taking a drink.
The crocodile says he has to check this out and walks into the jungle, finds the tree where the monkey is sitting, finishing a joint. He looks up and says "Hey you!"
The Monkey looks down and says, "Duuuuuuuuuude.......how much water did you drink?!"
#joke
Santa Baby
Can you please stop asking Santa for the perfect woman???
I almost got kidnapped 3 times today!!!
Man and wife in heaven....
A woman found herself standing at the Pearly Gates. St. Peter greeted her and said, "These are the Gates to Heaven, my dear. But you must do one more thing before you can enter."
The woman was very excited, and asked of St. Peter what she must do.
"Spell a word," St. Peter replied.
"What word?" she asked.
"Any word," answered St. Peter. "It's your choice."
The woman promptly replied, "Then the word I will spell is love. L-O-V-E."
St. Peter welcomed her in, and asked her if she would mind taking his place at the gates for a few minutes while he took a break. So the woman is left sitting in St. Peter's chair when a man approaches the gates, and she realizes it is her husband.
"What happened?" she cried, "Why are you here?"
Her husband stared at her for a moment, then said, "I was so upset when I left your funeral, I got in an accident. Did I really make it to Heaven?"
"Not yet," she replied, "You must spell a word first."
"What word?" he asked.
The woman responded, "Czechoslovakia."
#joke
A man walked into a bar, s...
A man walked into a bar, sat down, ordered 3 shots of whiskey, drank them, then left. This continued daily for several weeks.
Curious, the bartender asked him one day, "Why do you always order three shots of whiskey?"
The man answered, "Because my two brothers and I always used to have one shot each, and since they've both passed on, I've continued to order the three shots in their honor."
The bartender thought that this was a very noble thing to do, and welcomed the man every time he visited the bar.
Two weeks later, the man walked into the bar for his daily visit and ordered two shots of whiskey. Surprised, the bartender asked him why he only ordered two when had had always been ordering three.
The man answered, "Oh, I've decided to stop drinking."
#joke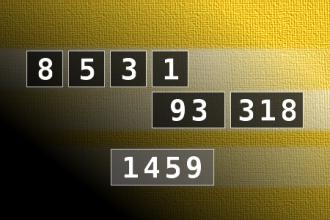 Calculate the number 1459
NUMBERMANIA: Calculate the number 1459 using numbers [8, 5, 3, 1, 93, 318] and basic arithmetic operations (+, -, *, /). Each of the numbers can be used only once.
Rain Rain Go Away
It's been raining for days now and my husband seems very depressed by it...
He keeps standing by the window, staring. If it continues, I'm going to have to let him in.
Bad weather
This old man went to a whorehouse and said to the manager that he wanted something different.
So the manager sent him up to room "69".
He got in there and this woman named Hurricane Sally stripped him down and began working wonders.
Suddenly she pissed on his stomach, he asked, "What the hell was that?"
She replied, "That is the cooling rain falling all over you."
She got at it again and farted in his face.
He said, "What the hell was that?"
She then again replied, "That is the warm ocean winds blowing."
Suddenly the man got up and started to get dressed.
Hurricane Sally said, "Where are you going?"
He said, "Hell, a man can't fuck with this kind of weather!"
Submitted by Curtis
Edited by Glaci
#joke
Siblings
A Sunday school teacher was discussing the Ten Commandments with her five and six year olds.
After explaining the commandment to "honor" thy Father and thy Mother, she asked, "Is there a commandment that teaches us how to treat our brothers and sisters?"
Without missing a beat one little boy (the oldest of a family) answered, "Thou shall not kill."
#joke
"Did you hear about t...
"Did you hear about the lost sausage? It was the missing link."