Anyone wanting to see Homer Si
Anyone wanting to see Homer Simpson ride a horse will have to pony up the d'oh.
Award Winner
My dentist was voted "Dentist Of The Year"....
He didn't get a trophy, they just gave him a little plaque.
Jesus Visits After the Resurrection
This story cannot be found in the scriptures, but it is told that after his resurrection, Jesus appeared to an old fisherman. "I am Jesus and I have returned to show God's love and power.""No, you're not Jesus. Go away! You're scaring all the fish," answered the old fisherman. "I see you are full of doubt. What would you have me do to show who I am?" "Walk across the river," the old fisherman tells Jesus. Jesus starts walking across the river, but he sinks and disappears under the water. After he swims back to shore, the old fisherman says to him, "See, you're not Jesus. You can't walk on water!" Jesus responds, "Well, I used to be able to do it, but then I got these holes in my feet!"
#joke
Three guys were on a trip to S
Three guys were on a trip to Saudi Arabia. One day, they stumbled into a harem tent filled with over 100 beautiful women. They started getting friendly with all the women, when suddenly the Sheikh came in. "I am the master of all these women. No one else can touch them except me. You three men must pay for what you have done today. You will be punished in a way corresponding to your profession."
The sheikh turns to the first man and asks him what he does for a living.
"I'm a cop," says the first man.
"Then we will shoot your penis off!" said the sheikh.
He then turned to the second man and asked him what he did for a living.
"I'm a firemen," said the second man.
"Then we will burn your penis off!" said the sheikh.
Finally, he asked the last man, "And you, what do you do for a living?"
The third man answered, with a sly grin, "I'm a lollipop salesman!"
#joke
A couple of puns...
Not too long ago a scientist tried to clone himself.However, his clone was very obnoxious and lewd, while the scientist was well received and respected. Finally fed up with his experiment gone wrong, he threw his clone off the roof of the laboratory; killingthe clone.He was arrested by the local police for... making anobscene clone fall.
--------------------
Two Eskimos sitting in a kayak were chilly, but when theylit a fire in the craft it sank-proving once and for all that you can't have your kayak and heat it, too.
#joke
Three Pastors were having lunc
Three Pastors were having lunch together ata diner. The first Pastor said, "Ya know,since summer started I've been havingtrouble with mice in my church. I've triedeverything--noise, spray, cats--nothingseems to scare them away.
The second Pastor then said "Yea, me too.I've got hundreds living in the basementof the church. I've set traps and even called an expert to get rid of them, yetthey still won't go away."
With a grin on his face, the third Pastorsaid, "I had the same problem so I baptizedall mine and made them members of the church... Haven't seen one back since!!!"
#joke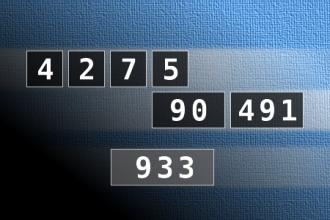 Calculate the number 933
NUMBERMANIA: Calculate the number 933 using numbers [4, 2, 7, 5, 90, 491] and basic arithmetic operations (+, -, *, /). Each of the numbers can be used only once.
Can't touch this
Chuck Norris can touch MC Hammer.
Boyfriend 4.0
Last year, many women upgraded their BOYFRIEND 3.1 to
BOYFRIEND PLUS 1.0
(marketing name: FIANCE 1.0) and then further upgraded
FIANCE 1.0 to
HUSBAND 1.0. They found that 1.0 is a memory hogger and
incompatible to
many other programs in their lives. HUSBAND 1.0 includes
plug-ins such
as MOTHER-IN-LAW, BROTHER-IN-LAW, and ANNOYING LOSER FRIENDS
although
market research has clearly shown that they are unnecessary
and
unwanted.
The upcoming BOYFRIEND 4.0 will change all that. Created by
leading
experts in the field and based upon years of research and
classroom
lectures, it includes the best of the old features, such as
the HANDYMAN
FUNCTION, and includes many new functions such as the
OPTIONAL
COMMITMENT FEATURE. Other immature functions, such as BEER
GUZZLING and
CAT CALLING have been removed, though they can still be
found on FRATBOY
1.1
BOYFRIEND 4.0 will include:
- An AUTOMATIC REMINDER BUTTON AND PAY ATTENTION FEATURE (so
I don't
have to repeat myself)
- MINIMIZE BUTTON
- SHUTDOWN FEATURE
- SHOPPING FUNCTION
- A BACK-UP ENERGY SUPPLY, so it won't fall asleep after sex
- A LAUNDRY, COOKING, & HOUSECLEANING FUNCTION
- DIAPER-CHANGING FUNCTION, for the more advanced users
- A SELF DESTRUCT SEQUENCE, so once it's uninstalled it
won't come back
- A MONOGAMY FEATURE
- AUTOMATIC OVERRIDE that kicks in right before they're
about to say
ANYTHING even remotely stupid
Nun Sees A Naked Man
A nun and a priest were traveling across the desert and realized halfway across that the camel they were using for transportation was about to die. They set up a make-shift camp, hoping someone would come to their rescue, but to no avail. Soon the camel died.
After several days of not being rescued, they agreed that they were not going to be rescued. They prayed a lot (of course), and they discussed their predicament in great depth. Finally the priest said to the nun, "you know sister, I am about to die, and there's always been one thing I've wanted here on earth--to see a woman naked. Would you mind taking off your clothes so I can look at you?"
The nun thought about his request for several seconds and then agreed to take off her clothes. As she was doing so, she remarked, "well, Father, now that I think about it, I've never seen a man naked, either. Would you mind taking off your clothes, too?"
With little hesitation, the priest also stripped. Suddenly the nun exclaimed, "Father! What is that little thing hanging between your legs?"
The priest patiently answered, "That, my child, is a gift from God. If I put it in you, it creates a new life."
"Well," responded the nun, "forget about me. Stick it in the camel!"
#joke
How To Please a Woman
A group of girlfriends are on vacation when they see a 5- story
hotel with a sign that reads: "For Women Only." Since they are
without their boyfriends and husbands, they decide to go in.
The bouncer, a very attractive guy, explains to them how it
works. "We have 5 floors. Go up floor-by-floor, and once you
find what you are looking for, you can stay there. It's easy to
decide since each floor has a sign telling you what's inside."
So they start going up and on the first floor the sign reads:
"All the men on this floor are short and plain." The friends
laugh and without hesitation move on to the next floor.
The sign on the second floor reads: "All the men here are short
and handsome." Still, this isn't good enough, so the friends
continue on up.
They reach the third floor and the sign reads: "All the men here
are tall and plain." They still want to do better, and so,
knowing there are still two floors left, they continued on up.
On the fourth floor, the sign is perfect: "All the men here are
tall and handsome." The women get all excited and are going in
when they realize that there is still one floor left. Wondering
what they are missing, they head on up to the fifth floor.
There they find a sign that reads: "There are no men here. This
floor was built only to prove that there is no way to please a
woman."
#joke
Christopher Titus: Terror Alert Level
Osamas dead. Why is the terror alert elevated or imminent? Why not chill? Cant I just fly, keep my shoes on and avoid X-ray-fueled testicular cancer?