Popular jokes (11 to 20)
Jokes sorted by popularity on social networks. Popularity is sum of all all comments, likes, pluses, tweets, etc. is new measure, independant from rating with our star rating system.
Grandpa, Did God Make You?
A little girl was sitting on her grandfather's lap as he read her a bedtime story. From time to time, she would take her eyes off the book and reach up to touch his wrinkled cheek. She was alternately stroking her own cheek, then his again. Finally she spoke up, "Grandpa, did God make you?""Yes, sweetheart," he answered. "God made me a long time ago.""Oh," she paused. "Grandpa, did God make me too?""Yes, indeed, honey," he said. "God made you just a little while ago."Feeling their respective faces again, the little girl observed, "God's getting better at it, isn't He?"
#joke
A blonde, wanting to earn some...
A blonde, wanting to earn some extra money, decided to hire herself out as a "handy-woman" and started canvassing a nearby well-to-do neighborhood. She went to the front door of the first house, and asked the owner if he had any odd jobs for her to do.
"Well, I guess I could use somebody to paint my porch," he said, "How much will you charge me?"
The blonde quickly responded, "How about $50?"
The man agreed and told her that the paint and everything she would need were in the garage.
The man's wife, hearing the conversation, said to her husband, "Does she realize that our porch goes all the way around the house?"
He responded, "That's a bit cynical, isn't it?"
The wife replied, "You're right. I guess I'm starting to believe all those 'dumb blonde' jokes we've been getting by e-mail lately."
A short time later, the blonde came to the door to collect her money.
"You're finished already?" the husband asked.
"Yes," the blonde replied, "and I had paint left over, so I gave it two coats."
Impressed, the man reached into his pocket for the $50.00 and handed it to her.
"And by the way," the blonde added, "it's not a Porch, it's a Lexus."
Build Me a Bridge
A man walking along a California beach was deep in prayer. Suddenly the sky clouded above his head and, in a booming voice, the Lord said, "Because you have TRIED to be faithful to me in all ways, I will grant you one wish."
The man said, "Build a bridge to Hawaii so I can drive over anytime I want."The Lord said, "Your request is very materialistic. Think of the enormous challenges for that kind of undertaking. The supports required to reach the bottom of the Pacific! The concrete and steel it would take! It will nearly exhaust several natural resources. I can do it, but it is hard for me to justify your desire for worldly things. Take a little more time and think of something that would honor and glorify me."
The man thought about it for a long time. Finally he said, "Lord, I wish that I could understand my wife. I want to know how she feels inside, what she's thinking when she gives me the silent treatment, why she cries, what she means when she says 'nothing's wrong,' and how I can make a woman truly happy."
The Lord replied, "You want two lanes or four on that bridge?"
#joke
A 90-year-old man said to his...
A 90-year-old man said to his doctor, "I've never felt better. I have an18-year-old bride who is pregnant with my child. What do you think about that?"
The doctor considered his question for a minute and then said, "I have anelderly friend who is a hunter and never misses a season. One day when he wasgoing out in a bit of a hurry, he accidentally picked up his umbrella insteadof his gun. When he got to the Creek, he saw a beaver sitting beside thestream. He raised his umbrella and went, 'bang, bang' and the beaver fell dead.What do you think of that?"
The 90-year-old said, "I'd say somebody else shot that beaver."
The doctor replied, "My point exactly."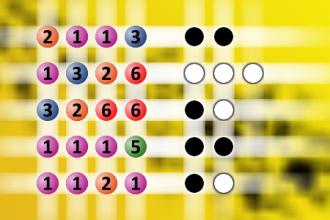 Find the right combination
The computer chose a secret code (sequence of 4 digits from 1 to 6). Your goal is to find that code. Black circles indicate the number of hits on the right spot. White circles indicate the number of hits on the wrong spot.
My wife and I went to the Coun...
My wife and I went to the County Agricultural Show and one of the first exhibits we stopped at was the breeding bulls. We went up to the first pen and there was a sign attached that said:
THIS BULL MATED 50 TIMES LAST YEAR
My wife playfully nudged me in the ribs ..... Smiled and said, "He mated 50 times last year, that's almost once a week".
We walked to the second pen which had a sign attached that said:
THIS BULL MATED 150 TIMES LAST YEAR
My wife gave me a healthy jab and said, "WOW~~That's more than twice a week! .......... You could learn a lot from him".
We walked to the third pen and it had a sign attached that said:
THIS BULL MATED 365 TIMES LAST YEAR
My wife was so excited that her elbow nearly broke my ribs, and said,"That's once a day .. You could REALLY learn something from this one".
I looked at her and said, "Go over and ask him if it was with the same cow".
My condition has been upgraded from critical to stable and the doctors say I should eventually make a full recovery.
A father put his three year ol...
A father put his three year old daughter to bed, told her a story and listened to her prayers which she ended by saying, "God bless Mommy, God bless daddy, God bless grandma and good-bye grandpa."
The father asked, "Why did you say good-bye grandpa?"
The little girl said, "I don't know daddy, it just seemed like the thing to do."
The next day grandpa died.
The father thought it was a strange coincidence.
A few months later the father put the girl to bed and listened to her prayers, which went like this: "God bless Mommy, God Bless daddy, and good-bye grandma."
The next day the grandmother died.
"Oh, my gosh", thought the father, "this kid is in contact with the other side."
Several weeks later when the girl was going to bed the dad heard her say: "God bless Mommy and good-bye daddy."
He practically went into shock. He couldn't sleep all night and got up at the crack of dawn to go to his office. He was nervous as a cat all day, had lunch sent in and watched the clock.
He figured if he could get by until midnight he would be okay. He felt safe in the office, so instead of going home at the end of the day he stayed there, drinking coffee, looking at his watch and jumping at every sound. Finally midnight arrived, he breathed a sigh of relief and went home.
When he got home his wife said "I've never seen you work so late, what's the matter?"
He said, "I don't want to talk about it, I've just spent the worst day of my life."
She said, "You think you had a bad day, you'll never believe what happened to me. This morning the milkman dropped dead on our porch."
#joke
Free Drinks For Everyone
One night, a drunk comes stumbling into a bar and says to the bartender: "Drinks for all on me including you, bartender." So the bartender follows the mans orders and says: "That will be $36.50 please." The drunk says he has no money so the bartender slaps him around and throws him out.
The next night the same drunk comes in again and orders a drink for everyone in the bar including the bartender. Again the bartender follows instructions and again the drunk says he has no money. So the bartender slaps him around and throws him out.
On the third night he comes in, the drunk orders drinks for all except the bartender. "What, no drink for me?" replies the bartender. "Oh, no. You get violent when you drink."
#joke
Husband (a doctor) and his wif...
Husband (a doctor) and his wife are having a fight at the breakfast table. Husband gets up in a rage and says, "And you are no good in bed either," and storms out of the house.
After sometime he realizes he was nasty and decides to make amends and rings her up. She comes to the phone after many rings, and the irritated husband says, "What took you so long to answer the phone?"
She says, "I was in bed."
"In bed this early, doing what?"
"Getting a second opinion!"
Pickup truck full of penguins...
A police officer sees a man driving around with a pickup truck full of penguins. He pulls the guy over and says, "You can't drive around with penguins in this town! Take them to the zoo immediately."
The guy obliges and drives away.
The next day, the officer sees the same guy driving around with the truck full of penguins again. This time, though, all the penguins are wearing sunglasses.
The police officer pulls the guy over and says, "I thought I told you to take these penguins to the zoo yesterday?"
The guy replies, "I did, and today I'm taking them to the beach."
#joke
Launderette reunion
Two elderly ladies meet at the launderette after not seeing one another for some time. After inquiring about each other's health, one asked how the other's husband was doing.
"Oh! Ted died last week. He went out to the garden to dig up a cabbage for dinner, had a heart attack and dropped down dead right there in the middle of the vegetable patch!"
"Oh dear! I'm so very sorry," replied her friend. "What did you do?"
"Opened a can of peas instead."
#joke