Blonde jokes - jokes about blondes (11 to 20)
| | |
| --- | --- |
| | Jokes about blondes. These are funny jokes with blondes! These are the jokes listed 11 to 20. |
The blonde walks into a pharma
The blonde walks into a pharmacy and asks the assistant forsome bottom deodorant. The pharmacist, a little bemused,explains to the woman that they don't sell bottom deodorant,and never have.
Unfazed, the blonde assures the pharmacist that she has beenbuying the stuff from this store on a regular basis, and wouldlike some more.
"I'm sorry," says the pharmacist, "we don't have any."
"But I always get it here," says the blonde.
"Do you have the container it comes in?"
"Yes!" said the blonde, "I will go and get it."
She returns with the container and hands it to the pharmacist wholooks at it and says to her, "This is just a normal stick ofunderarm deodorant."
The annoyed blonde snatches the container back and reads outloud from the container, "To apply, push up bottom."
Three blondes were having a pi
Three blondes were having a picnic in the park. One of the took out a can of "one-calorie" diet cola and poured it equally into three cups.
She drank hers and the second one did the same but the third blonde just stared at her cup suspiciously.
"I wonder who got the calorie?" she asked.

This is an actual job applicat
This is an actual job application that a 17 year old boy submitted to McDonald's in Florida... and they hired him because he was so honest and funny!
NAME: Greg Bulmash.
SEX: Not yet. Still waiting for the right person.
DESIRED POSITION: Company's President or Vice President. But seriously, whatever's available. If I was in a position to be picky, I wouldn't be applying here in the first place.
DESIRED SALARY: $185,000 a year plus stock options and a Michael Ovitz style severance package. If that's not possible, make an offer and we can haggle.
EDUCATION: Yes.
LAST POSITION HELD: Target for middle management hostility.
SALARY: Less than I'm worth.
MOST NOTABLE ACHIEVEMENT: My incredible collection of stolen pens and post-it notes.
REASON FOR LEAVING: It sucked.
HOURS AVAILABLE TO WORK: Any. PREFERRED HOURS: 1:30-3:30 p.m., Monday, Tuesday, and Thursday.
DO YOU HAVE ANY SPECIAL SKILLS?: Yes, but they're better suited to a more intimate environment.
MAY WE CONTACT YOUR CURRENT EMPLOYER?: If I had one, would I be here?
DO YOU HAVE ANY PHYSICAL CONDITIONS THAT WOULD PROHIBIT YOU FROM LIFTING UP TO 50 LBS?: Of what?
DO YOU HAVE A CAR?: I think the more appropriate question here would be "Do you have a car that runs?"
HAVE YOU RECEIVED ANY SPECIAL AWARDS OR RECOGNITION?: I may already be a winner of the Publishers Clearing house Sweepstakes.
DO YOU SMOKE?: On the job no, on my breaks yes.
WHAT WOULD YOU LIKE TO BE DOING IN FIVE YEARS?: Living in the Bahamas with a fabulously wealthy dumb sexy blonde super model who thinks I'm the greatest thing since sliced bread. Actually, I'd like to be doing that now.
DO YOU CERTIFY THAT THE ABOVE IS TRUE AND COMPLETE TO THE BEST OF YOUR KNOWLEDGE?: Yes. Absolutely.
SIGN HERE: Aries.

A blonde went to a flight scho
A blonde went to a flight school insisting she wanted to learn to fly. As all the planes were currently in use, the owner agreed to instruct her by radio on how to pilot the solo helicopter. He took her out, showed her how to start it and gave her the basics, and sent her on her way.
After she climbed 1000 feet, she radioed in. "I'm doing great! I love it! The view is so beautiful, and I'm starting to get the hang of this."
After 2000 feet, she radioed again, saying how easy it was to fly.
The instructor watched her climb over 3000 feet, and was beginning to worry that she hadn't radioed in. A few minutes later, he watched in horror as she crashed about half a mile away. He ran over and pulled her from the wreckage.
When he asked what happened, she said, "I don't know! Everything was going fine, but as I got higher, I was starting to get cold. I can barely remember anything after I turned off the big fan!"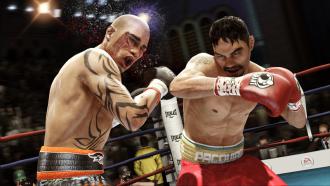 Look carefully the picture a...
Look carefully the picture and guess the game name.
A circus owner runs an ad for
A circus owner runs an ad for a lion tamer and two young people show up. One is a good looking lad in his mid-twenties and the other is a gorgeous blonde about the same age.
The circus owner tells them: I'm not going to sugar coat it. This is one ferocious lion. He ate my last tamer so you guys better be good or you're history. Here's your equipment: chair, whip and a gun. Who wants to try out first?"
The girl says, "I'll go first." She walks past the chair, the whip and the gun and steps right into the lion's cage. The lion starts to snarl and pant and begins to charge her. About half way there, she throws open her coat revealing her beautiful naked body. The lion stops dead in his tracks, sheepishly crawls up to her and starts licking her ankles. He continues to lick her calves, kisses them and rests his head at her feet.
The circus owner's mouth is on the floor. He says, "I've never seen a display like that in my life," He then turns to the young man and asks, "can you top that?"
The young man replies. "No problem, just get that lion out of the way."
A blonde, worried about the HI
A blonde, worried about the HIV crisis, walks into a drugstore and purchases a pack of condoms.
"That will be $1.08, please," says the clerk.
"What's the 8 cents for?" asks the blonde. "It says one dollar right here on the packaging."
"Tax," replies the clerk.
"Gee," says the blonde, "I thought you just rolled them on and they stayed put."
One day while on patrol, a pol
One day while on patrol, a police officer pulled over a car for speeding. He went up to the car and asked the driver to roll down her window. The first thing he noticed, besides the nice red sports car, was how hot the driver was! Blue eyes, blonde, the works.

"I've pulled you over for speeding, Ma'am. Could I see your drivers license?"

"What's a license???" replied the blonde, instantly giving away the fact that she was as dumb as a stump.

"It's usually in your wallet," replied the officer. After fumbling for a few minutes, the driver managed to find it. "Now may I see your registration?" asked the cop.

"Registration..... what's that....?" asked the blonde.

"It's usually in your glove compartment." said the cop impatiently. After some more fumbling, she found the registration.

"I'll be back in a minute." said the cop and walked back to his car. The officer phoned into the dispatch to run a check on the woman's license and registration. After a few moments, the dispatcher came back, "Ummm... is this woman driving a red sports car?"

"Yes." replied the officer

"Is she a drop dead gorgeous blonde?" asked the dispatcher

"Uh... yes." replied the cop.

"Here's what you do." said the dispatcher. "Give her the stuff back, and drop your pants."

"What!!? I can't do that. Its... inappropriate." exclaimed the cop.

"Trust me. Just do it." said the dispatcher.

So the cop went back to the car, gave back the license and registration and dropped his pants, just as the dispatcher said.

The blonde looked down and sighed..... "Ohh no... not another Breathalyzer......"
The Engineer had just returned
The Engineer had just returned from a week long seminar. His boss, instead of asking about the details, asked if were sick as he looked absolutely terrible.
"Well..." said the Engineer, "I met this blonde and turned out she was an engineer-in-training and wanted me to tutor her. One thing lead to another and we ended up back in her room having wild gorilla sex all night."
"OK," replied the boss, "that may explain your fatigue, but why are your eyes so red?"
"Well..." said the Engineer, "turns out she was married and had a baby at home. She started crying, and I started thinking about my own wife and kids, so I cried too."
"I see," chided the boss, "but that seminar ended Friday. How come you still appear so ragged?"
"Well..." said the Engineer, "you can't sit there and cry 4-5 times a day for four days and not look like this."

I Want To Buy That
A blonde goes into a nearby store and asks a clerk if she can buy the TV in the corner.
The clerk looks at her and says that he doesn't serve blondes, so she goes back home and dyes her hair black.
The next day she returns to the store and asks the same thing, and again, the clerk said he doesn't serve blondes.
Frustrated, the blonde goes home and dyes her hair yet again, to a shade of red.
Sure that a clerk would sell her the TV this time, she returns and asks a different clerk this time.
To her astonishment, this clerk also says that she doesn't serve blondes.
The blonde asks the clerk, "How in the world do you know I am a blonde?"
The clerk looks at her disgustedly and says,"That's not a TV -- it's a microwave!"
A redhead walks into a salon a...
A redhead walks into a salon and the hair stylist says your hair is gorgeous and the redhead runs her hand through her hair and says It's natural.
Then a brunette walks in and the stylist says I love you hair and the brunette runs her hand through her hair and says it's natural.
Then a blonde with green streaks walks in and the stylist says "That's different..."
The blonde sneezes, wipes it on her hand and runs her hand through her hair and says, "It's natural!"