Phrases ...
Phrases to really motivate staff:
"And your cry-baby whiny-assed opinion would be...?"
"I'm really easy to get along with once people learn to worship me."
"Thank you. We're all refreshed and challenged by your unique point of view."
"It sounds like English, but I can't understand a word you're saying."
"The fact that no one understands you doesn't mean you're an artist."
"I'll try being nicer if you'll try being smarter."
"I'm not being rude. You're just insignificant."
"You! Off my planet!"
"How many times do I have to flush before you go away?"
"When I want your opinion, I'll give it to you."
#joke
Mother Teresa Goes to Heaven
Mother Teresa died and went to heaven.
God greets her at the Pearly Gates. "Are you hungry, Mother Teresa?" says God.
"I could eat," Mother Teresa replies.
So God opens a can of tuna and reaches for a chunk of rye bread and they share it.
While eating this humble meal, Mother Teresa looks down into Hell and sees the inhabitants devouring huge steaks, lobsters, pheasants, pastries and wines. Curious, but deeply trusting, she remains quiet.The next day God again invites her to join Him for a meal.
Again, it is tuna and rye bread.
Once again, Mother Teresa can see the denizens of Hell enjoying caviar, champagne, lamb, truffles and chocolates.
Still she says nothing.
The following day, mealtime arrives and another can of tuna is opened.
She can't contain herself any longer. Meekly, she says: "God, I am grateful to be in heaven with You as a reward for the pious, obedient life I led. But here in heaven all I get to eat is tuna and a piece of rye bread, and in the Other Place they eat like emperors and kings! I just don't understand."
God sighs. "Let's be honest," He says. "For just two people, does it pay to cook?"
#joke
There was a very gracious lady...
There was a very gracious lady who was mailing an old family Bible to her brother in another part of the country.
"Is there anything breakable in here?" asked the postal clerk.
"Only the Ten Commandments." answered the lady.
A large two engine train was c...
A large two engine train was crossing America. After they had gone some distance one of the engines broke down. "No problem," the engineer thought, and carried on at half power.
Farther on down the line, the other engine broke down, and the train came to a standstill. The engineer decided he should inform the passengers about why the train had stopped, and made the following announcement:
"Ladies and gentlemen, I have some good news and some bad news. The bad news is that both engines have failed, and we will be stuck here for some time. The good news is that you decided to take the train and not fly."
#joke
A law professor was lecturing ...
A law professor was lecturing to his students and asked them if they were familiar with Roe vs. Wade. When none of the students volunteered an answer, he called on Bambi in the front row.
Bambi thought hard for a moment and then finally replied, "That was the decision Washington had to make before crossing the Delaware."
#joke
Say It With Flowers.....
A gentleman entered a busy florist shop that displayed a large sign that read "Say It With Flowers."
"Wrap up one rose," he told the florist.
"Only one?" the florist asked.
"Just one," the customer replied. "I'm a man of few words."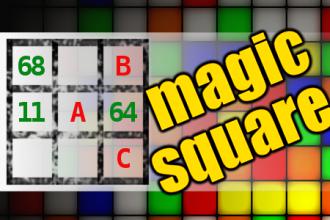 MAGIC SQUARE: Calculate A+B*C
The aim is to place the some numbers from the list (6, 10, 11, 24, 28, 29, 64, 68, 69, 73, 94) into the empty squares and squares marked with A, B an C. Sum of each row and column should be equal. All the numbers of the magic square must be different. Find values for A, B, and C. Solution is A+B*C.
Why can't a bankrupt farmer co...
Why can't a bankrupt farmer complain?


He's got no beef.


A young blonde woman is ...
A young blonde woman is distraught because she fears her husband is having an affair, so she goes to a gun shop and buys a handgun.
The next day she comes home to find her husband in bed with a beautiful redhead.
She grabs the gun and holds it to her own head. The husband jumps out of bed, begging and pleading with her not to shoot herself.
Hysterically the blonde responds to the husband, "Shut up... you're next!"
Did you hear about the mentall...
Did you hear about the mentally-challenged job applicant? At the bottom of his application form where it said "Sign Here," he wrote "Aquarius."
Question And Answer Jokes
Q: What do you get if you put 100 lawyers in your basement?
A: A whine cellar.
Q: What do you call a lawyer gone bad?
A: Your honor.
Q: What do you call a judge gone bad?
A: Senator.
Q: Have you heard about the lawyers' word processor?
A: No matter what font you select, everything comes out in fine print.
Q: What's the difference between a good lawyer and a great lawyer?
A: A good lawyer knows the law. A great lawyer knows the judge.
Q: When lawyers die, why don't vultures them?
A: Even a vulture has taste.
Q: What do you call a lawyer with an I.Q. of 10?
A: A lawyer.
Q: What do you call a lawyer with an I.Q. of 50?
A: Your honor.
Three ducks in court
Three ducks got arrested and appeared before a judge. The judge asked the first duck "whats your name?" Quack replied the duck. "And what did you get arrested for?" Blowing bubbles in the pond.
The second duck comes before the judge and is asked "whats your name?" Quack Quack replies the duck. "And what did you get arrested for?" Blowing bubbles in the pond.
The third duck appears before the judge and the judge says "I know I bet your name is Quack Quack Quack"
"Why no," the duck replies. "My name is bubbles!"
#joke
Talk Dirty to Me
What is it when a man talks dirty to a woman?
Sexual harassment.
What is it when a woman talks dirty to a man?
$3.99 a minute.
an explorer in the deepest Ama...
an explorer in the deepest Amazon suddenly finds himself surrounded by a bloodthirsty group of natives. Upon surveying the situation, he says quietly to himself, "Oh God, I'm fucked."
There is a ray of light from heaven and a voice booms out: "No you are NOT fucked. Pick up that stone at your feet and bash in the head of the chief standing in front of you."
So the explorer picks up the stone and proceeds to bash the living shit out of the chief.
As he stands above the lifeless body, breathing heavily and surrounded by 100 natives with a look of shock on their faces, God's voice booms out again: "Okay . . . NOW you're fucked."
#joke
All Categories
Q: How many Manchester City fans does it take to change a lightbulb?
A: None - they're quite happy living in the shadows.