When I Was Young - A Funny Computer Poem
A computer was something on TV
From a science fiction show of note
A window was something you hated to clean
And ram was the cousin of a goat.
Meg was the name of my girlfriend
And gig was a job for the nights
Now they all mean different things
And that really mega bytes.
An application was for employment
A program was a TV show
A cursor used profanity
A keyboard was a piano.
Memory was something that you lost with age
A CD was a bank account
And if you had a 3-inch Floppy
You hoped nobody found out.
Compress was something you did to the garbage
Not something you did to a file
And if you unzipped anything in public
You'd be in jail for a while.
Log on was adding wood to the fire
Hard drive was a long trip on the road
A mouse pad was where a mouse lived
And a backup happened to your commode.
Cut you did with a pocket knife
Paste you did with glue
A web was a spider's home
And a virus was the flu.
Author Unknown
#joke
I never gain weight despite ea...
I never gain weight despite eating a lot of spicy Italian subs. I owe it to my good meat-a-ballism.
Funny video of the day - Funny video of the day Friday, 01 April 2011
A businessman dragged himself ...
A businessman dragged himself home and barely made it to his chair before he dropped exhausted.
His sympathetic wife was right there with a tall cool drink and a comforting word. "My, you look tired," she said. "You must have had a hard day today. What happened to make you so exhausted?"
"It was terrible," her husband said. "The computer broke down and all of us had to do our own thinking."
#joke
Baptist Dinner
A group of country friends from the Cottonwood Baptist Church wanted to get together on a regular basis, socialize, and play games.
The lady of the house was to prepare the meal. When it came time for Al and Janet to be the hosts - Janet wanted to outdo all the others.
Janet decided to have mushroom-smothered steak. But, mushrooms are expensive. She then told her husband, "No mushrooms. They are too high."
He said, "Why don't you go down in the pasture and pick some of those mushrooms? There are plenty in the creek bed."
She said, "No, some wild mushrooms are poison."
He said, "Well, I see varmints eating them and they're OK.
So Janet decided to give it a try. She picked a bunch, washed, sliced, and diced them for her smothered steak.
Then she went out on the back porch and gave Ol' Spot (the yard dog) a double handful. Ol' Spot ate every bite.
All morning long, Janet watched Ol' Spot and the wild mushrooms didn't seem to affect him, so she decided to use them. The meal was a great success, and Janet even hired a helper lady from town to help her serve. She had on a white apron and a fancy little cap on her head.
After everyone had finished, they relaxed, socialized, and played 42 & Mexican dominoes.
About then, the helper lady from town, came in and whispered in Janet's ear. She said, "Mrs. Williams, Ol' Spot just died." Janet went into hysterics. After she finally calmed down, she called the doctor and told him what had happened.
The doctor said, "That's bad, but I think we can take care of it. I will call for an ambulance and I will be there as quick as possible. We'll give everyone enemas and we will pump out everyone's stomach Everything will be fine. Just keep them calm."
Soon they could hear the siren as the ambulance was coming down the road. The EMTs & the doctor had their suitcases, syringes, and a stomach pump.
One by one, they took each person into the bathroom, gave them an enema and pumped out their stomach. After the last one was finished, the doctor came out and said, "I think everything will be fine now, and he left."
They were all looking pretty weak sitting around the living room and about this time, the helper lady came in and said,
"You know that fellow that ran over Ol' Spot never even stopped"
A Recently Spotted Bumper Sticker:
"God is coming --
and is SHE pissed!"
Taylor was desperate for busin...
Taylor was desperate for business, and was happy to be appointed by the court to defend an indigent defendant.
The judge ordered Taylor, 'You are to confer with the defendant in the hallway, and give him the best legal advice you can.'
After a time, Taylor re-entered the courtroom alone.
When the judge asked where the defendant had gone, Taylor replied, 'You asked me to give him good advice. I found out that he was guilty, so I told him to split.'
#joke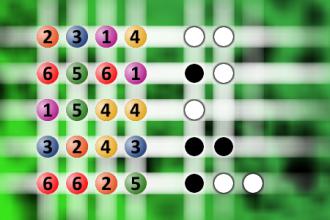 Which is a winning combination of digits?
The computer chose a secret code (sequence of 4 digits from 1 to 6). Your goal is to find that code. Black circles indicate the number of hits on the right spot. White circles indicate the number of hits on the wrong spot.
Pee in the pool....
Little Johnny was approached by the lifeguard at the public swimming pool.
"You're not allowed to pee in the pool," said the lifeguard. "I'm going to report you."
"But everyone pees in the pool," insisted Little Johnny.
"That may be," said the lifeguard, "but not from the diving board!"
#joke
Bingo sign
How do you get 500 old cows in a barn?
Put up a Bingo sign.
Submitted by Curtis
Edited by Calamjo
Nate Bargatze: Comedy for the Troops
When you do comedy to troops you stay on an army base, but in Bahrain you could actually leave the base and go to the downtown Bahrain. When you go out there theyre like, Look, its safe just dont draw attention to yourself. Dont wear American t-shirts and stuff. And youre like, All right thats fine, no American t-shirts. So what are you going to do about the white on my skin?
#joke
Business One-liners 17
Beware the fury of a patient man. - John Dryden
Beware the man of one book. - St. Thomas Aquinas
Beware the wrath of a patient person.
Blessed are those who go around in circles, for they shall be known as wheels.
Blessed is he who expects no gratitude, for he shall not be disappointed.
Blessed is he who has reached the point of no return and knows it for he shall enjoy living.
Boldly going forward because we cannot find reverse.
Build a system that even a fool can use, and only a fool will want to use it.
Build something foolproof and every fool will use it.
Bureaucracy: a method for transforming energy into solid waste.
#joke
Sherlock Holmes and Dr. Watson
Sherlock Holmes and Dr. Watson go on a camping trip, set up their tent, and fall asleep.
Some hours later, Holmes wakes his faithful friend. "Watson, look up at the sky and tell me what you see."
Watson replies, "I see millions of stars."
"What does that tell you?"
Watson ponders for a minute. "Astronomically speaking, it tells me that there are millions of galaxies and potentially billions of planets. Astrologically, it tells me that Saturn is in Leo. Timewise, it appears to be approximately a quarter past three. Theologically, it's evident the Lord is all-powerful and we are small and insignificant. Meteorologically, it seems we will have a beautiful day tomorrow. What does it tell you?"
Holmes is silent for a moment, then speaks. "Watson, you idiot, someone has stolen our tent."
#joke
1. "Weather at our destination...
1. "Weather at our destination is 50 degrees with some broken
clouds, but we'll try to have them fixed before we arrive. Thank you, and
remember, nobody loves you, or your money, more than Southwest Airlines."
2. "Your seat cushions can be used for flotation, and, in the
event of an emergency water landing, please paddle to shore and take
them with you with our compliments."
3. "As you exit the plane, make sure to gather all of your
belongings. Anything left behind will be distributed evenly among
the flight attendants. Please do not leave children or spouses."
4. And from the pilot during his welcome message: "Delta airlines
is pleased to have some of the best flight attendants in the
industry. Unfortunately, none of them are on this flight!"
5. Overheard on an American Airlines flight into Amarillo, Texas, on a particularly
windy and bumpy day: During the final approach, the Captain was really having to
fight it. After an extremely hard landing, the Flight Attendant said, "Ladies and Gentlemen, welcome to Amarillo. Please remain in your seats with your seat belts fastened
while the Captain taxis what's left of our airplane to the gate
#joke
Choking A Girlfriend
The following is supposedly a true story. To be included, besides being true, the story is most likely strange, weird, surprising, or funny.
Sunday, November 29, 1992
The Ontario Press Council dismissed a complaint filed by Allan Sorensen against the Toronto Sun, which had reported that Sorenson had choked his ex-girlfriend.
Sorensen's complaint was that his reputation was damaged because the Sun engaged in "speculation" that he had used only one hand to choke her (the other being forced into her mouth). In fact, he said he used both hands.
#joke
Restless Little Girl
A little girl became restless as the preacher's sermon dragged on and on. Finally, she leaned over to her mother and whispered, "Mommy, if we give him the money now, will he let us go?"