Happy Thanksgiving
Check out our latest
Thanksgiving jokes
and quotes on:
Thanksgiving jokes collection
If the Blarney Stone were a ma...
If the Blarney Stone were a man, would kissing it make me Gaelic?
Did you ever notice?
When ...
Did you ever notice?
When you put the two words
"The" and "IRS" together
it spells "THEIRS"?


Funny video of the day - Funny video of the day Monday, 04 April 2011
Harley Mechanic & Heart Surgeon
A mechanic was removing a cylinder-head from the motor of a Harley motorcycle when he spotted a well-known cardiologist in his shop.
The cardiologist was there waiting for the service manager to come and take a look at his bike when the mechanic shouted across the garage.
"Hey, Doc, want to take a look at this?"
The cardiologist, a bit surprised, walked over to where the mechanic was working on the motorcycle.
The mechanic straightened up, wiped his hands on a rag and asked, "So Doc, look at this engine. I open its' heart, take the valves out, repair any damage, and then put them back in, and when I finish, it works just like new. So how come I make $39,675 a year and you get the really big bucks ($1,695,759) when you and I are doing basically the same work?"
The cardiologist paused, smiled and leaned over, then whispered to the mechanic.....
"Try doing it with the engine running."
#joke
Improvements in Hell
An engineer died and ended up in Hell. He was not pleased with the level of comfort in Hell, and began to redesign and build improvements. After awhile, they had toilets that flush, air conditioning, and escalators. Everyone grew very fond of him.
One day God called to Satan to mock him, "So, how's it going down there in Hell?"
Satan replied, "Hey, things are great. We've got air conditioning and flush toilets and escalators, and there's no telling what this engineer is going to come up with next." God was surprised, "What? You've got an engineer? That's a mistake. He should never have gotten down there in the first place. Send him back up here."
"No way," replied Satan. "I like having an engineer, and I'm keeping him."
God threatened, "Send him back up here now or I'll sue!"
Satan laughed and answered, "Yeah, right. And just where are YOU going to get a lawyer?"
Thinking ahead ......
Twas the month after Christmas, and all through the house
Nothing would fit me, not even a blouse.
The cookies I'd nibbled, the eggnog I'd taste
At the holiday parties had gone to my waist.
When I got on the scales there arose such a number!
When I walked to the store (less a walk than a lumber).
I'd remember the marvelous meals I'd prepared;
The gravies and sauces and beef nicely rared,
The wine and the rum balls, the bread and the cheese
And the way I'd never said, 'No thank you, please.'
As I dressed myself in my husband's old shirt
And prepared once again to do battle with dirt---
I said to myself, as I only can
'You can't spend a winter disguised as a man!'
So--away with the last of the sour cream dip,
Get rid of the fruit cake, every cracker and chip
Every last bit of food that I like must be banished
'Till all the additional ounces have vanished.
I won't have a cookie--not even a lick.
I'll want only to chew on a long celery stick.
I won't have hot biscuits, or corn bread, or pie,
I'll munch on a carrot and quietly cry.
I'm hungry, I'm lonesome, and life is a bore---
But isn't that what January is for?
Unable to giggle, no longer a riot.
Happy New Year to all and to all a good diet!
Question And Answer
How did the aliens hurt the farmer?
They trod on his corn.
Did you hear about the farmer you ploughed his field with a steamroller ?
He wanted to grow mash potatoes!
What did the neurotic pig say to the farmer?
You take me for grunted.
Q: When is a farmer like a magician?
A: When he turns his cow to pasture.
Q: Why did the farmer call his pig "Ink"?
A: Because it was always running out of the pen.
Q: What do you call cattle with a sense of humor?
A: Laughing stock.
Q: Why can't the bankrupt cowboy complain?
A: He has got no beef.
#joke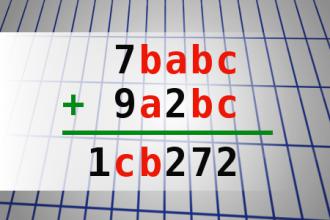 Find number abc
If 7babc + 9a2bc = 1cb272 find number abc. Multiple solutions may exist.
Definition of Modern Woman
She drives a Red Sport Car.
She has a hyphenated last name.
She thinks Cooking and Fucking are two cities in China.
Maria Bamford: Religious Worship
My mom is very religious, and she said, Whatever you think about all the time, thats what you worship. If thats the case, Id like everyone to pop open their Diet Coke cans and turn to page 37 of their People magazines.
A major network is planning th...
A major network is planning the show "Survivor" this winter. In response, Texas is planning "Survivor, Texas Style." The contestants will start in Dallas, travel through Waco, Austin, San Antonio, over to Houston, and down to Brownsville. They will proceed up to Del Rio, on to El Paso, then to Midland/Odessa, Lubbock, and Amarillo. From there, they proceed to Abilene, and on to Ft. Worth and back to Dallas.
Each will be driving a pink Volvo with a bumper sticker that reads, "I'm gay, I voted for Al Gore, and I'm here to confiscate your guns."
#joke
A man was walking along a Cali...
A man was walking along a California beach and stumbled across an old lamp. He picked it up and rubbed it and out popped a genie.
The genie said "OK, OK. You released me from the lamp... blah, blah, blah... This is the fourth time this month and I'm getting a little sick of these wishes so you can forget about three. You only get one wish!"
The man sat and thought about it for a while and said, "I've always wanted to go to Hawaii but I'm scared to fly and I get very seasick. Could you build me a bridge to Hawaii so I can drive over there to visit?"
The genie laughed and said, "That's impossible! Think of the logistics of that. How would the supports ever reach the bottom of the Pacific?
Think of how much concrete... how much steel!! No. Think of another wish."
The man said OK and tried to think of a really good wish. Finally, he said, "I've been married and divorced four times. My wives always said that I don't care and that I'm insensitive. So, I wish that I could understand women...know how they feel inside and what they're thinking when they give me the silent treatment... to know why they're crying, to know what they really want when they say 'nothing' ... to know how to make them truly happy."
The genie said, "You want that bridge two lanes or four?"
#joke
Couple in their nineties are b...
Couple in their nineties are both having problems remembering things.
During a checkup, the doctor tells them that they're physically
okay, but they might want to start writing things down to help them
remember.
Later that night, while watching TV, the old man gets up from his
chair.'Want anything while I'm in the kitchen?' he asks.
'Will you get me a bowl of ice cream?'
'Sure.'
'Don't you think you should write it down so you can remember it?'
she asks.
'No, I can remember it.'
'Well, I'd like some strawberries on top, too. Maybe you should write
it down, so's not to forget it?'
He says, 'I can remember that. You want a bowl of ice cream with
strawberries.'
'I'd also like whipped cream. I'm certain you'll forget that,
write
it down?' she asks.
Irritated, he says, 'I don't need to write it down, I can remember
it! Ice cream with strawberries and whipped cream - I got it, for
goodness sake!'
Then he toddles into the kitchen. After about 20 minutes,
The old man returns from the kitchen and hands his wife a plate of
bacon and eggs. She stares at the plate for a moment and says,
'Where's the toast ?'
Marriage Seminar
While attending a Marriage Seminar dealing with communication,
Tom and his wife Grace listened to the instructor,
'It is essential that husbands and wives know each other's likes and dislikes.'
He addressed the man, 'Can you name your wife's favorite flower?'
Tom leaned over, touched his wife's arm gently and whispered, 'It's Pillsbury, isn't it?
#joke
Passover Fish
how thirsty they were after walking so far. They were not able to drink from the walls of Red Sea water on either side since it was salt water.
Then, a fish out of a wall of water told Moses that he and his family heard the complaints of the people. Through their own gills, they could remove the salt from the water and force it out of their mouths to become fresh water for the Israelites to drink.
Moses accepted the fish's offer, but the fish and his family also had a demand: Their descendants had to be always present at the seder meal since they had a part in the Passover story.
Moses agreed to this and then said, "Go Filter, Fish!" To this day, this phrase remains the name of the fish (gefilter) eaten at Passover.
#joke
The top ten signs that someone is using your e-mail account
10. "Honey, why is an 18-wheeler from Amazon.com backing into our driveway?"
9. One Secret Service agent is sitting on your head while another is slapping cuffs on you.
8. Apparently, your flame war with DonCorleone@mafia.com is about to turn ugly.
7. When you log on, your computer says "You've got lawsuits!"
6. You're suddenly getting more Spam than the Hormel outlet store.
5. Sotheby's says the Rembrandt is yours and that you now owe them $71,000,000 and change.
4. You now have 130,000 ClubTop5 subscriptions and the list moderator is on the cover of Business Week.
3. Terse "Knock it off, Oedipus" e-mail from your Mom.
2. Your wife calls you at the office to report that Pogdi, your Pakistani mail-order bride, has arrived.
1. "The resistance welcomes your involvement. Your contact information has been forwarded to a local insurgent who will bring supplies and reinforcements to you immediately."
This document copyright © 1999 by Chris White.
#joke