Jokes of the day for Tuesday, 05 April 2016
Funny jokes, funny photo and funny video collected from the internet on Tuesday, 05 April 2016
The first-time father, beside
The first-time father, beside himself with excitement over the birth of his son, was determined to do everything right.
"So, tell me, Nurse," he asked as his new family headed out the hospital door, "what time should we wake the little guy in the morning?"

"The Environmental Co
"The Environmental Committee held a meeting on Saturday. They decided that we need to cut down on deforestation."
Google Ads
Wedding vows...
During the wedding rehearsal, the groom approached the pastor with an unusual offer. "Look, I'll give you $100 if you'll change the wedding vows.
When you get to me and the part where I'm to promise to 'love, honor and obey' and 'forsaking all others, be faithful to her forever,' I'd appreciate it if you'd just leave that part out." He passed the minister a $100 bill and walked away satisfied.
It is now the day of the wedding, and the bride and groom have moved to that part of the ceremony where the vows are exchanged. When it comes time for the groom's vows, the pastor looks the young man in the eye and says:
"Will you promise to obey her every command and wish, serve her breakfast in bed every morning of your life and swear eternally before God and your lovely wife that you will not ever even look at another woman, as long as you both shall live?" The groom gulped and looked around, and said in a tiny voice, "Yes."
The groom leaned toward the pastor and hissed, "I thought we had a deal."
The pastor put the $100 bill into his hand and whispered back, "She made me a much better offer."
#joke
Knock Knock Collection 148
Knock Knock
Who's there?
Phoebe!
Phoebe who?
Phoebe too expensive for me!
Knock Knock
Who's there?
Phyllis!
Phyllis who!
Phyllis in on the news!
Knock Knock
Who's there?
Ping Pong!
Ping Pong who?
Ping Pong the witch is dead....!
Knock Knock
Who's there?
Pizza!
Pizza who?
Pizza the pie!
Knock Knock
Who's there?
Plato!
Plato who?
Plato fish and chips please!
#joke
Where's my hat?
My uncle once spent days looking for his new hat. Finally, he decided that he'd go to church on Sunday and sit at the back.
During the service he would sneak out and grab a hat from the rack at the front door.
On Sunday, he went to church and sat at the back. The sermon was about the 10 commandments.
He sat through the whole sermon and instead of sneaking out he waited until the sermon was over and went to talk to the minister.
"Father, I came here today to steal a hat to replace the one I lost. But after hearing your sermon on the 10 Commandments, I changed my mind."
The minister said, "Bless you, my son. Was it when I started to preach on 'Thou shall not steal,' that changed your heart?"
My uncle responded, "No, it was the one on adultery. When you started to preach on that, I remembered where I left my hat."
Submitted by Calamjo
Edited by Yisman
#joke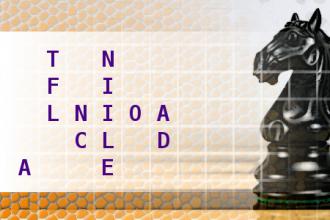 Chess Knight Move
Find the title of novel, using the move of a chess knight. First letter is L. Length of words in solution: 2,12.
A little boy got on the bus, s
A little boy got on the bus, sat next to a man reading a book, andnoticed he had his collar on backwards.
The little boy asked why he wore his collar that way. The man, who wasa priest, said, " I am a Father."
The little boy replied, "My Daddy doesn't wear his collar like that."
The priest looked up from his book and answered, "I am the Father ofmany."
The boy said, "My Dad has 4 boys, 4 girls and twograndchildren and he doesn't wear his collar that way."
The priest, getting impatient, said, "I am the Father of hundreds" andwent back to reading his book.
The little boy sat quietly thinking for a while, then leaned over andsaid,"Maybe you should wear your pants backwards instead of yourcollar."
#joke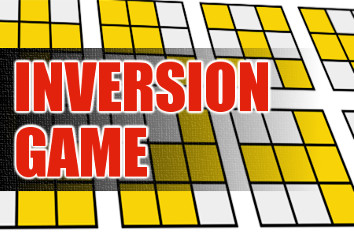 The goal of the game is to color all the 25 squares. Clicking will invert clors of all the sqauers within the shape of pattern.
The game is designed for all ages and stimulate children's creativity and reasoning.
King Solomon's Menagerie
A Sunday school teacher asked little Susie, "Who's your favorite person in the Bible?"
Susie said, "King Solomon."
"Can you tell us why?"
"Because he was so nice to ladies and to animals."
"What do you mean?"
"He had six hundred wives and three hundred porcupines."
-
Joke shared by Beliefnet member Arkansasannie
#joke
Q: If April showers bring may
Q: If April showers bring may flowers, what do mayflowers bring?
A: Pilgrims!
A man calls home to his wife a...
A man calls home to his wife and says, "Honey I have been asked to go fishing at a big lake up in Canada with my boss and several of his friends. We'll be gone for a week. This is a good opportunity for me to get that promotion I've been wanting, so would you please pack me enough clothes for a week and set out my rod and tackle box. We're leaving from the office and I will swing by the house to pick my things up. Oh! And please pack my new blue silk pajamas."
The wife thinks this sounds a little fishy but being a good wife she does exactly what her husband asked. The following weekend he comes home a little tired but otherwise looking good.
The wife welcomes him home and asks if he caught many fish. He says, "Yes! Lots of Walleye, some Blue gill, and a few Pike. But why didn't you pack my new blue silk pajamas like I asked you to do?"
The wife replies; "I did, they were in your tackle box."
#joke
A Collection Of Insults
When you're at a loss for words but want to tell someone that he or she is stupid, remember some these quips from our collection here at Aha! Jokes.
3K RAM free, no EMS.
A .22 caliber intellect in a .357 Magnum world.
A 10K brain attached to a 9600 baud mouth.
A 20th century man... The guy has no future.
A 3.5-inch drive, but data on punch cards.
A black-and-white mind working on a color-coded problem.
A brain like a BB in a boxcar / box of Corn Flakes.
A couple of slates short of a full roof.
A couplet short of a sonnet.
A cup and saucer short of a place setting.
A day late and a dollar short.
A deadbolt with a broken cylinder.
A doughnut short of being a cop.
A few beads short in her rosary.
#joke
First Time in Church
Mrs. Harrison took her three-year-old daughter, Jenny, to church for the first time.
After arriving, the church lights were lowered, and then the choir came down the aisle, carrying lighted candles.There was silence in the entire sanctuary until Jenny's voice was suddenly heard, loudly singing: "Happy birthday to you! Happy birthday to you..."

#joke
A guy falls asleep on the beac...
A guy falls asleep on the beach for several hours and gets a horrible sunburn all over his body.
He goes to the hospital and is promptly admitted after being diagnosed with second degree burns on his legs.
He was starting to blister and in pain by the time the doctor arrived. To help, the doctor prescribed an IV with saline and electrolytes, asedative, and a Viagra pill every four hours.
The attending nurse was rather surprised by the prescription and asked, "What good will Viagra do him?"
The doctor replied, "It will keep the sheets off his legs."