"I dug up a worm for
"I dug up a worm for fishing. It's the end of the line for him."
It seems that a young man volu
It seems that a young man volunteered for Navy service during World War II. He had such a high aptitude for aviation that he was sent right to Pensacola, skipping boot camp. The very first day at Pensacola, he soloed and was the best flier on the base. All they could do was give him his gold wings and assign him immediately to an aircraft carrier in the Pacific.
On his first day aboard, he took off and single-handedly shot down six Japanese zeroes. Then climbing up to 20,000 ft., he found nine more Japanese planes and shot them all down, too. Noting that his fuel was getting low, he descended, circled the carrier, and came in for a perfect landing on the deck.
He threw back the canopy, climbed out, and jogged over to the captain. Saluting smartly, he said, "Well, sir, how did I do on my very first day?"
The captain turned around, bowed, and replied, "You make one velly impoltant mistake!"
#joke
Answering Machine Message 147

We can't get to the phone right now because we were killed in the earthquake. Tragic, isn't it? But, leave a message anyway, someone is sure to get it eventually.


Excused Absence
Little Johnny did not go to school one day. The next day when the teacher asked him why, he said, "Our cow was on heat, so I had to take her to the bull."
"Oh I see," said the teacher, "but I'm sure your father could have done that."
"No ma'am, he couldn't have," said Johnny, "it has to be the bull"
#joke
When a woman wears leather clo
When a woman wears leather clothing
A man's heart beats quicker
His throat gets dry
He goes week in the knees
And he begins to think irrationally
Ever wonder why?
Because she smells like a new truck!!!

Horse Tears
A fellow walks into a bar very down on himself. As he walks up to the bar the bartender asks, "what's the matter?"
The fellow replies, "well I've got these two horses (sniff,sniff), and well... I can't tell them apart. I don't know if I'm mixing up riding times or even feeding them the right foods."
The bartender, feeling sorry for the guy, tries to think of somthing he can do.
"Why don't you try shaving the tail of one of the horses?"
The man stops crying and says, "that sounds like a good idea, I think I'll try it."
A few months later he comes back to the bar in worse condition than he was before.
"What's the matter now?"
the bartender asks.
The fellow, in no condition to be in public, answers, "I shaved the tail of one of the horses (sob, sob), but it grew back and I can't tell them apart again!"
The bartender, now just wanting him to shut up or leave says, "why don't you try shaving the mane, maybe that will not grow back."
The fellow stops crying, has a few drinks, and leaves. A few months later the fellow is back in the bar. The bartender has never seen anybody in this sorry of a state. Without the bartender even asking the fellow breaks into his problems. "I.. I shaved the (sob) mane of one of the (sniff) horses, and... it... it... grew back!"
The bartenter, now furious at the guy's general stupidity, yells, "for crying out loud, just measure the stupid horses. Perhaps one is slightly taller that the other one!" The fellow can not believe what the bartender has said and storms out of the bar.
The next day the fellow comes running back into the bar as if he had just won the lottery.
"It worked, it worked!" he exclaims.
"I measured the horses and the black one is two inches taller than the white one!"
#joke #walksintoabar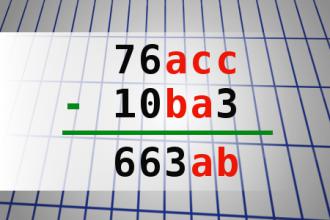 Find number abc
If 76acc - 10ba3 = 663ab find number abc. Multiple solutions may exist.
The Bored Man
There's a man named Ralph that goes into a bar, looking very depressed. A friend approaches him and asks, "Why the long face, Ralph?"
"Oh, I'm just bored. I know every person in the entire world now, and there's just nothing left to challenge me."
His friend says, "No, you can't know everyone. Do you know Paul McCartney?"
He says, "Sure, Paul's an old friend of mine. Here, I'll show you." He goes over to a phone, dials a number. His friend overhears a British accent, "Hey Ralph, how ya doing?"
He talks for a while, but when Ralph hangs up, his friend is not really sure that it was Paul McCartney on the other end of the line, so he asks him if he knows the president.Ralph says, "Sure, we go way back." This time he lets him listen in as he calls a private number. It sounds like the president on the other end of the line, and they go into a big discussion of the current economic scene, and Ralph offers a few suggestions. Drawing the conversation to a close, Ralph wishes him well and hangs up.
His friend is a little dumbfounded at this point. "Well, there must be someone that you don't know." He goes over a few more people in his mind, and thinks, 'He can't possibly know the Pope. After all, he's a Protestant.'
But Ralph claims to know him, so to convince himself otherwise, his friend desides to fly both himself and Ralph to the Vatican to get positive proof of Ralph's conviction.
So they arrive at the Vatican, and Ralph suggests that his friend wait out in St. Peter's Square until Ralph has cleared things with the Pope. He's standing in the courtyard, when who walks out onto the balcony of the private residence, arm in arm with the Pope, but Ralph.
Ralph looks down, sees that his friend has apparently passed out, and runs down to see what can be done for him. "What happened to you? Couldn't you accept the fact that I really do know the Pope?"
"No, I'd begun to accept that possibility. But what really took my breath away was some stranger standing next to me who said, 'Who's that guy standing there with Ralph?'"
#joke
Rabbi in the Catholic Hospital
Rabbi Levy had to spend time in a Catholic hospital. He became friends with the Sister who was a nurse there. One day, she came into his room and noticed that the crucifix on the wall was missing. She asked him good-naturedly, "Rabbi, what have you done with the crucifix?"
"Oh, sister," chuckled Rabbi Levy, "I just figured one suffering Jew in this room was enough."
#joke
Mike Birbiglia: Crying Over a Book
I was on the subway the other day, and the guy next to me was crying over a book. He was actually crying. So, I leaned over -- I go, You dont know how to read, either?
Who Would Steal?

The two partners in a law firm were having lunch when suddenly one of them jumped up and said, "I have to go back to the office - I forgot to lock the safe!"
The other partner replied, "What are you worried about? We're both here."