Rising unemployment rate
Q: What's the worst thing about the rising unemployment rate?
A: It's harder to screw your girlfriend when her husband's always home.

Like Noodles
How are men like noodles?
They're always in hot water, they lack taste, and they need dough.

Stealing From A Store
This is supposedly a true story, it happened in a small town of the province of Quebec, Canada, in October 1996. They showed the video surveillance tape on the news, and even the anchorman was laughing through it.
A robber came into a convenience store wearing a ski mask and a gun wanting to empty the cash register. He took the clerk to the backstore and locked her up in the fridge. Unfortunately, when he came back to the front of the store, a customer had come in. So he took *off* the ski mask and the gloves, and pretended to be filling in for the clerk. The customer wanted a lottery ticket, so he tried to help her out, by pressing a whole bunch of buttons on the machine (thus leaving fingerprints everywhere), but the machine was not cooperating.
Meanwhile, another customer walks in. Finally, he tells the first customer (after about 5 minutes of close-up shots from the camera) that the machine is not working and that he won't be able to help her. The robber *makes the sale* to the second customer and he leaves as well.
The robber then puts back on his gloves to take the money (after touching just about everything in sight *without* gloves), and hides his face with the palm of his hands as he is leaving. This scene lasted well over 10 minutes, during which, you see and hear the robber as well as in a movie.
The day after excerpts of the tape were aired, the phones at the police station were ringing off the hook. Apparently, even though no reward had been offered, people thought he was too stupid to deserve anything else!
He had to turn himself in that same day.
#joke
The Preacher and the Peanuts
A preacher visits an elderly woman from his congregation. As he sits on the couch, he notices a large bowl of peanuts on the coffee table. "Mind if I have a few?" he asks. "No, not at all!" the woman replied. They chat for an hour and, as the preacher stands to leave, he realizes that instead of eating just a few peanuts, he emptied most of the bowl. "I'm terribly sorry for eating all your peanuts. I really just meant to eat a few." "Oh, that's all right," the woman says. "Ever since I lost my teeth, all I can do is suck the chocolate off them."-
Joke shared by Beliefnet member goden1
#joke
Kid's Prayer
A four-year-old girl was learning to say the Lord's Prayer. She was reciting it all by herself without help from her mother.
She said, "And lead us not into temptation, but deliver us some e-mail."
When my three-year-old son ope...
When my three-year-old son opened the birthday gift from hisgrandmother, he discovered a water pistol. He squealed with delight andheaded for the nearest sink. I was not so pleased. I turned to Mom and said, "I'msurprised at you. Don't you remember how we used to drive you crazy with waterguns?"
Mom smiled and then replied....."I remember."
#joke
FLEX WORDLE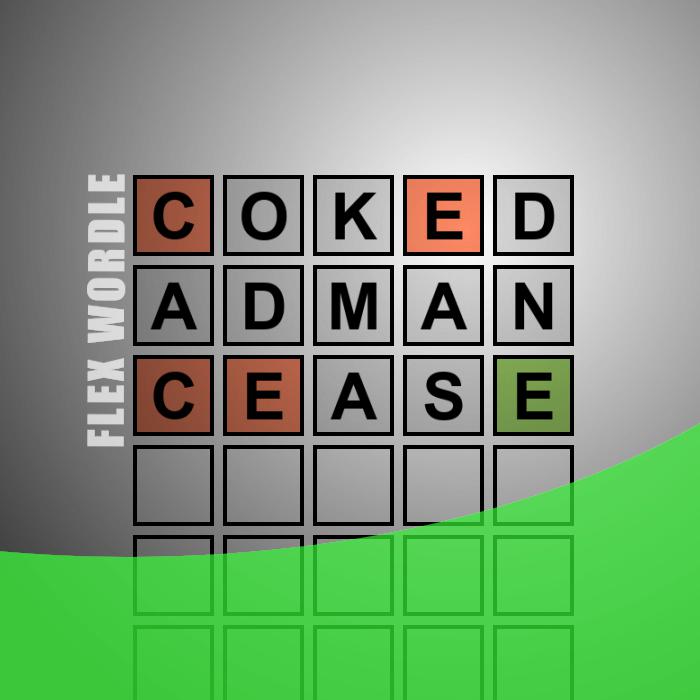 Guess the
WORDLE
in 3 tries. After each guess, the color of the tiles will change to show how close your guess was to the solution.
On his birthday, Chuck Norris ...
On his birthday, Chuck Norris randomly selects one lucky child to be thrown into the sun.
How much?
A man meets a woman at a bar and asks her
"Would you have sex with me for 10 million dollars?"
Without skipping a beat she screams
"Yes!"
The man then asks
"What about for $20?"
She looks at him sideways and says
"What do you think I am, a whore?"
The man says
"We've already established that you are, now we're just negotiating."
#joke
i know him
A small town prosecuting barrister called his first witness to the stand in a trial - a attractive middle aged lady. He approached her and asked, "Ms. Jones, do you know me?"
She responded, "I do know you Mr. Leigh. I've known you since you were a young boy. And frankly, you've been a big disappointment to me. You lie, you cheat on your wife, you manipulate people and talk about them behind their backs. You think you're a rising big shot when you haven't the brains to realise you never will amount to anything more than a two-bit paper pusher. Yes, I know you."
The lawyer was stunned. Not knowing what else to do he pointed across the room and asked, "Mrs. Williams, do you know the defence attorney?"
She again replied, "Why, yes I do. I've known Mr. Knowles since he was a youngster, too. I used to baby-sit him for his parents. And he, too, has been a real disappointment to me. He's lazy, bigoted, he has a drinking problem. The man can't build a normal relationship with anyone and his law practice is one of the shoddiest in the entire state. Yes, I know him."
At this point, the judge rapped the courtroom to silence and called both barristers to the bench. In a very quiet voice, he said with menace, "If either of you asks her if she knows me, you'll be jailed for contempt!"
Microsoft Support
A helicopter was flying around above Seattle yesterday when an electrical malfunction disabled all of the aircraft's electronic navigation and communication equipment. Due to the clouds and haze the pilot could not determine his position or course to steer to the airport. The pilot saw a tall building, flew toward it, circled, drew a handwritten sign and held it in the helicopter's window. T he sign said "WHERE AM I?"
in large letters.
People in the tall building quickly responded to the aircraft, drew a large sign and held it in a building window. Their sign said, "YOU ARE IN A HELICOPTER.'
The pilot smiled, waved, looked at his map and determined the course to steer to SEATAC (Seattle/Tacoma) airport and landed safely.
After they were on the ground, the co-pilot asked the pilot how the "YOU ARE IN A HELICOPTER" sign helped determine their position.
The pilot responded, "I knew that had to be the MICROSOFT building because they gave me a technically correct but completely useless reply.
#joke
Biblical Babysitter
Q. Who is the greatest babysitter mentioned in the Bible?
A. David. He rocked Goliath into a very deep sleep.
Join us on WhatsApp