Many professional sculptors co
Many professional sculptors complain of extreme pain when listening to Clay Aiken.
The Forgetful Actor
An actor had been out of work for years because he always forgot his lines. One day he got a phone call from a director who wanted him for an important part in a play. All the actor had to say was, "Hark! I hear the cannon roar!"
Opening night arrived, and while he waited in the wings, the actor muttered to himself, "Hark! I hear the cannon roar! Hark! I hear the cannon roar!" The time for the entrance finally came. As the actor made his appearance onstage, he heard a loud BOOOOM! He turned around and said, "What the heck was that?"
#joke
10. I Hate Every Bone In Her B
10. I Hate Every Bone In Her Body But Mine
9. I Ain't Never Gone To Bed With an Ugly Woman But I've WokeUp With A Few
8. If The Phone Don't Ring, You'll Know It's Me
7. I've Missed You, But My Aim's Improvin'
6. Wouldn't Take Her To A Dogfight 'Cause I'm ScaredShe'd Win
5. I'm So Miserable Without You It's Like You're Still Here
4. My Wife Ran Off With My Best Friend And I Miss Him
3. She Took My Ring and Gave Me the Finger
2. She's Lookin' Better with Every Beer
And the Number One Country & Western song is...
1. It's Hard To Kiss The Lips At Night That ChewedMy Ass All Day
A group of American tourists w
A group of American tourists were on a guided tour through an ancient castle in Europe.
"Ladies and gentlemen," the guide said, "this castle is over 700 years old. Nothing has been altered or touched in all those years."
"Sounds like they have the same cheap landlord I have!" exclaimed one of the tourists.
#joke
Fun at the zoo!
Little Johnny wanted to go to the zoo and pestered his parents for days. Finally his mother talked his reluctant father into taking him.
"So how was it?" his mother asked when they returned home.
"Great," Little Johnny replied.
"Did you and your father have a good time?" asked his mother.
"Yeah, Daddy especially liked it," exclaimed Little Johnny excitedly, especially when one of the animals came home at 30 to 1!"
#joke
CAT DIARY, 7 entries
DAY 752 - My captors continue to taunt me with bizarre little dangling objects. They dine lavishly on fresh meat, while I am forced to eat dry cereal. The only thing that keeps me going is the hope of escape, and the mild satisfaction I get from ruining the occasional piece of furniture. Tomorrow I may eat another houseplant.
---------
DAY 761 - Today my attempt to kill my captors by weaving around their feet while they were walking almost succeeded, must try this at the top of the stairs. In an attempt to disgust and repulse these vile oppressors, I once again induced myself to vomit on their favorite chair...must try this on their bed.
---------
DAY 762 - Slept all day so that I could annoy my captors with sleep depriving, incessant pleas for food at ungodly hours of the night.
---------
DAY 765 - Decapitated a mouse and brought them the headless body, in attempt to make them aware of what I am capable of, and to try to strike fear into their hearts. They only cooed and condescended about what a good little cat I was...Hmmm. Not working according to plan.
---------
DAY 768 - I am finally aware of how sadistic they are. For no good reason I was chosen for the water torture. This time however it included a burning foamy chemical called "shampoo." What sick minds could invent such a liquid. My only
---------
DAY 771 - There was some sort of gathering of their accomplices. I was placed in solitary throughout the event. However, I could hear the noise and smell the foul odor of the glass tubes they call "beer." More importantly I overheard that my confinement was due to MY power of "allergies." Must learn what this is and how to use it to my advantage.
---------
DAY 774 - I am convinced the other captives are flunkies and maybe snitches. The dog is routinely released and seems more than happy to return. He is obviously a half-wit. The Bird on the other hand has got to be an informant. He has mastered their frightful tongue. (something akin to mole speak) and speaks with them regularly. I am certain he reports my every move. Due to his current placement in the metal room his safety is assured.
But I can wait; it is only a matter of time.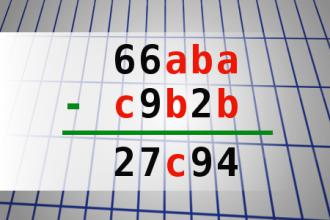 Find number abc
If 66aba - c9b2b = 27c94 find number abc. Multiple solutions may exist.
School Notes
These are real notes written from parents in a Mississippi School District. (Spellings have been left intact.)
My son is under a doctor's care and should not take P.E. today. Please execute him.
Please excuse Lisa for being absent. She was sick and I had her shot.
Dear School: Please ekscuse John being absent on Jan. 28, 29, 30, 31, 32, and also 33
Please excuse Roland from P.E. for a few days.Yesterday he fell out of a tree and misplaced his hip.
John has been absent because he had two teeth taken out of his face.
Chris will not be in school cus he has an acre in his side.
Please excuse Jimmy for being. It was his father's fault.
I kept Billie home because she had to go Christmas shopping because I don't know what size she wear.
Please excuse Jennifer for missing school yesterday. We forgot to get the Sunday paper off the porch, and when we found it Monday, we thought it was Sunday.
Maryann was absent December 11-16, because she had a fever, sore throat, headache and upset stomach. Her sister was also sick, fever and sore throat, her brother had a low grade fever and ached all over. I wasn't the best either, sore throat and fever. There must be something going around, her father even got hot last night.
There is no Ctrl button on Chu...
There is no Ctrl button on Chuck Norris' computer. Chuck Norris is always in control.
Gabriel Iglesias: Looking for a Pregnancy Test
I dont even have a clue as to where to find a pregnancy test. Im looking at all the aisles -- they dont have one that says oops.
Death Bed
A man lies on his deathbed, surrounded by his family: a weeping wife and four children. Three of the children are tall, good-looking and athletic; but the fourth and youngest is an ugly runt.
"Darling wife," the husband whispers, "assure me that the youngest child really is mine. I want to know the truth before I die, I will forgive you if-"
The wife gently interrupts him. "Yes, my dearest, absolutely, no question, I swear on my mother's grave that you are his father."
The man then dies, happy. The wife mutters under her breath: "Thank God he didn't ask about the other three."
#joke